back to "The Grand Tour" index
Neville Malkin's "Grand Tour" of the Potteries
buildings of Cobridge





next: Little Sisters of the Poor, Cobridge
previous: Bennett home, Cobridge
contents: index of buildings outlying the town centres

No 54 - Christ Church, Cobridge
'Coberidge New Church,'
[built 1839-40]. South west view of the church built in Gothic Revival style, in brick and stone. Showing the south aisle, and the tower of four stages with crenellation and pinnacles. There is a low stone wall built closely around the church.
Artist: Thomas Peploe Wood.
[Reproduced by permission of the
Trustees of the William Salt Library, Stafford]
A parish consisting of Cobridge, Sneyd Green, and Abbey Hulton was created out of St John's parish in 1844. The church is built of yellow brick in simple Gothic style and was designed by Lewis Vulliamy according to the Victoria County History (Vol VIII, p.124) and by L G Hales, a local brass founder, according to Pevsner. The church was enlarged and 'beautified' in 1845-6, and the chancel was extended in 1900.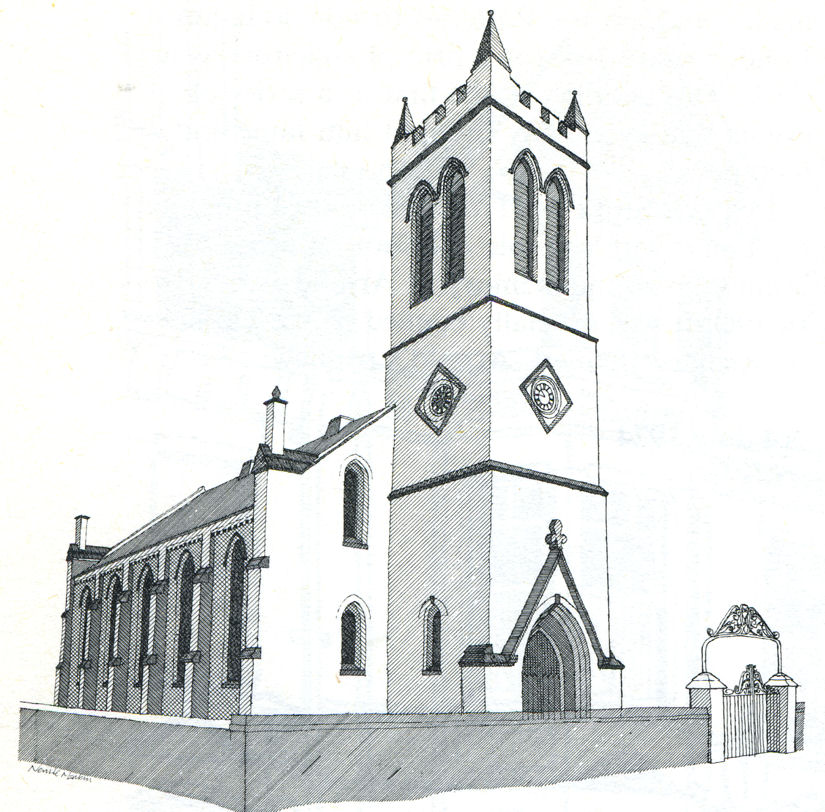 Christ Church, Cobridge
pen drawing by Neville Malkin - April 1975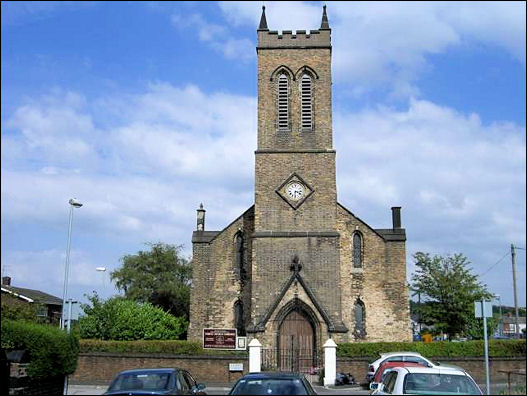 Christ Church, Cobridge
renovated in 2001
photos: Steve Lewin - July 2006
"In a commanding position in Waterloo Road, Cobridge, stands the pleasant building of Christ Church, constructed mainly of yellow brick with stone pinnacles, caps and facings. Intended to accommodate 550, it was erected in 1838-40 by L. G. Hales, a local brass founder, at an estimated cost of £1,500. Most of the money was generously contributed by the Rev. E. Whieldon, Rector of Burslem, and £700 by the Incorporated Society and the diocesan church-building society.

The name Cobridge appears to have originated during the early 18th century and probably refers to its elevated position on a ridge. "Cob", in local dialect, meant "big", or a person of high standing.

At one time the whole of this area was known as Rushton (Risctone) and joined with Hulton (Heltone) in the Domesday Survey, being then in the possession of Robert de Stafford. There appear to be very early ecclesiastical roots in this area because in 1223, Rushton, along with other estates in the vicinity that were the property of Henry of Audley, were given to the Abbott and monks of Hulton shortly after the foundation of their monastery. They continued to cultivate Rushton Grange until the dissolution of the Abbey in 1538. In 1539, Rushton Grange was granted by Henry VIII to James Leveson who sold it almost immediately to Richard Biddulph for £130 7s. Much of the land on the eastern side of Waterloo Road, then called Grange Lane, was gradually disposed of for various developments, but the Biddulph family retained most of the land on the western side until about a century ago."

Neville Malkin 9th April 1975


take a 'walk' around Cobridge

follow the route of the monks from Hulton Abbey to Rushton Grange




next: Little Sisters of the Poor, Cobridge
previous: Bennett home, Cobridge
contents: index of buildings outlying the town centres




back to "The Grand Tour" index

---