back to "The Grand Tour" index
Neville Malkin's "Grand Tour" of the Potteries
buildings outlying Longton





next: Cheddleton Flint Mill
previous: Longton Cottage Hospital
contents: index of buildings outlying Longton
No 109 - The Alhambra Cinema, Normacot
[since demolished]

Alhambra Picture House, Normacot - c.1914-5
© Lovatt Collection, Stoke-on-Trent Archive - Staffordshire Past Track
Staffordshire Past Track

The Alhambra picture house stood on Upper Normacot Road. It was built in 1914 by T. C. Wild, a Longton pottery owner, later Lord Mayor of Stoke-on-Trent. The cinema closed in 1977, and stood derelict until it was demolished in 1994.
One of the films advertised on the walls of the building is 'The Escape of Jim Dolan', a western made in 1913, starring Tom Mix. This photograph must have been taken very soon after the cinema opened, and the commissionaire can be seen standing by the entrance.

The Alhambra Cinema, Normacot
pen drawing by Neville Malkin - August 1974
[since demolished]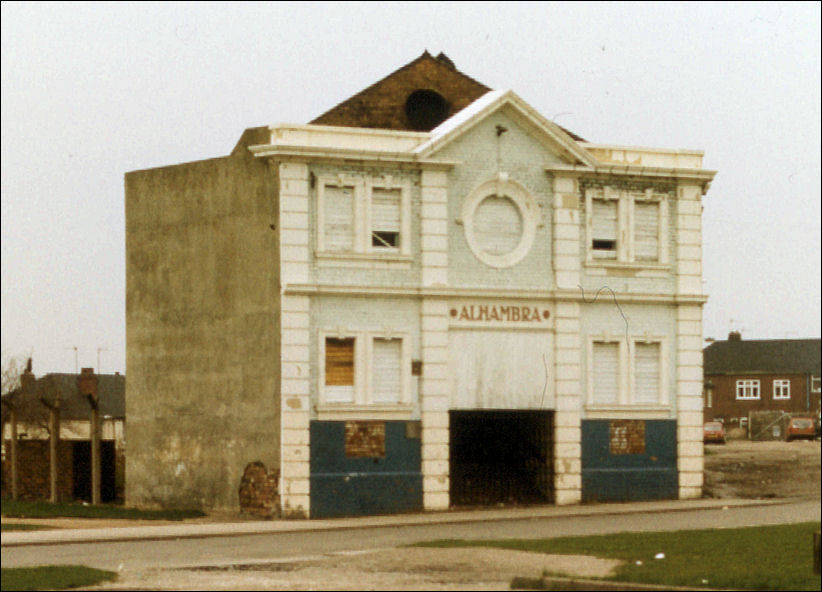 The Alhambra Cinema, Upper Normacot Road, Normacot
photo: 1987 - Eileen Hallam

"One of last remaining old cinemas in the City, the Alhambra, stands alone in the recently-created wastelands of Normacot. Those who grew up and worked in this community probably enjoyed many happy hours in this local picture house.

There was a time when you could have had the choice of six different programmes in the Longton area alone.
There was the Broadway, Alexandra, Empire, Criterion, Royal and the Alhambra, which is the only survivor.

But Stoke has none. The Danilo is now a bingo hall; the Majestic, with its grand facade, is now the site of Woolworths; the Hippodrome, which originated as a live theatre before becoming a cinema, no longer exists, and the Princes is used for warehousing.
Do you remember the Hanley cinemas?
The Capitol, where, if you sat in the front rows, you would get cramp in the back of the neck looking up at the high screen, and the Palace, a converted ice-rink, where binoculars were an asset. Then there was the Empire, with its many pillars; the Roxy; and the Regent, which projected the first talkies and where you could listen to that fabulous organ during the interval or dine in the restaurant to the accompaniment of a palm court orchestra.
Newcastle had the three Rs - The Rio, Rex and Roxy. 1 have spent many a happy hour in the luxury of the Coliseum in Burslem, but the old Palladium, which projected silent films, was long before my time. There were many more, such as the Kozy in Trent Vale, the Royale in Fenton, the Abbey at Abbey Hulton, etc.
In an amazingly short time the Potteries' cinemas have declined from about 30 to a mere half a dozen."



Alhambra cinema in Normacot.
photo: Andrew Beardmore in 1994 not long before the building was demolished.

---




next: Cheddleton Flint Mill
previous: Longton Cottage Hospital
contents: index of buildings outlying Longton
---
Related Pages
---
Alhambra - one of Stoke-on-Trent Cinemas
Normacot - an ancient and important history which dates back to the Domesday Book.
---
external links..
---
---