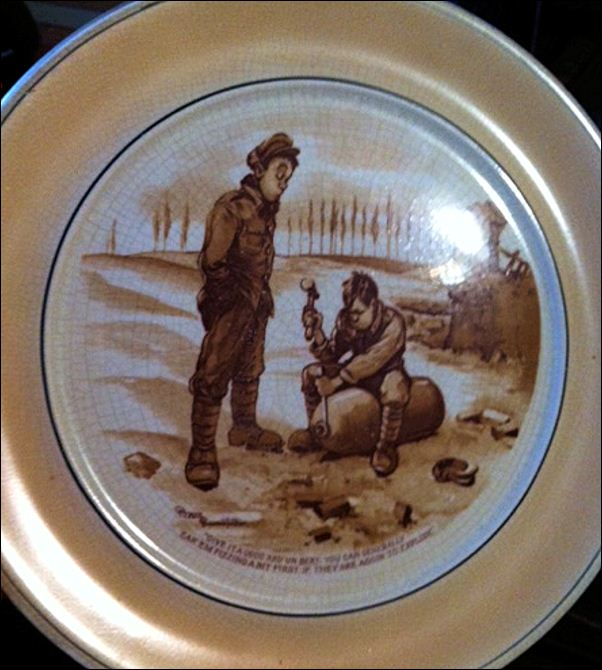 a number of 'Fragments From France' cartoons were reproduced on items from the Grimwades range of pottery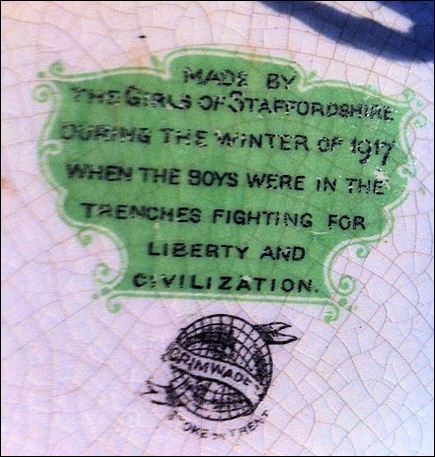 Made by the Girls of Staffordshire during the winter
of 1917 when the boys were in the trenches
fighting for liberty and civilization
GRIMWADES STOKE-ON-TRENT

Towards the end of 1917 the owners of The Bystander granted Leonard Grimwade permission to reproduce a limited number of 'Fragments From France' cartoons on items from the Grimwades range of pottery then in production.
The first piece to be made by the Staffordshire firm bearing one of Bruce Bairnsfather's cartoons was their 'War Time butter dish for a family of ten' and this was quickly followed by a whole range of pieces, from plates and plaques to teapots, flower pots, jugs, tobacco jars—in fact, just about any item of pottery you can think of, all featuring the famous Bairnsfather cartoons.

Bairnsfather Ware was an immediate success, and for the remainder of the duration of the war, the Grimwades factory churned out thousands of pieces featuring the Fragments from France drawings.
Many early pieces feature the back stamp "Made by the Girls of Staffordshire during the Winter of 1917 when the boys were in the Trenches fighting for Liberty and Civilisation."
With the end of the war in November 1918 this was changed to either "A Souvenir of the Great War" or "A Momento of the Great War", with the dates of commencement, Armistice and the Signing of Peace underneath.

information from: brucebairnsfather.org.uk
---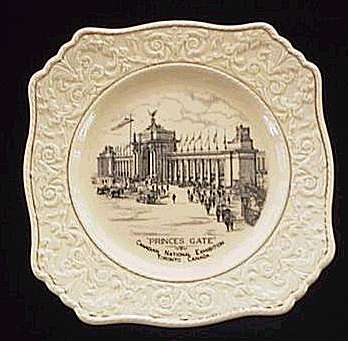 Plate, 10" corner to corner, Showing "Princes Gate"-Canadian National Exhibition, Toronto, Canada. Plate is marked on back, Royal Winton, Grimwade, England.
---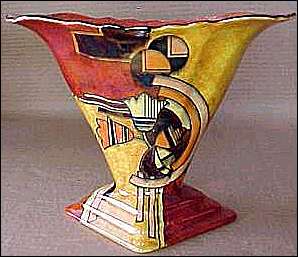 Centerpiece or mantle vase with flower frog and candle holder. A very neat Art Deco design with a luster finish. 7-1/2" tall and 10-1/2" wide. Made in England by Royal Winton, Grimwades. Circa 1940.
---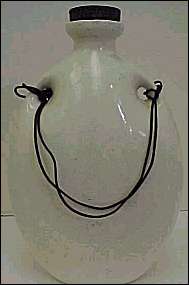 Grimwades English Stoneware Hot Water Bottle
Bottle measure 10 1/2" high.
---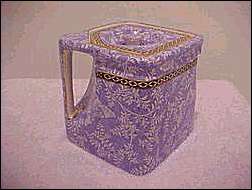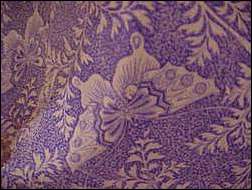 GRIMWADES ROYAL WINTON DECO CUBE TEAPOT 1930'S IN A STUNNING BLUE AND WHITE DESIGN FEATURING BUTTERFLIES AND FOLIAGE. ONLY PART OF OUTSIDE NOT PATTERNED IS INSIDE OF HANDLE. TEAPOT LID HAS RECESSED KNOB, LID AND BODY HAVE STYLISH BAND IN BLACK, WHITE & GOLD. HEIGHT 4&1/8", WIDTH & DEPTH 4".
---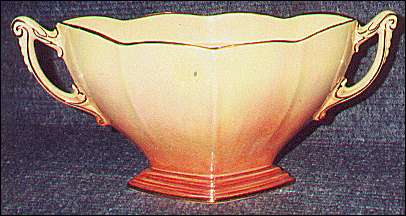 Centerpiece bowl. It measures 13 1/2" from handle to handle and 6 1/2" high. The mark on the bottom reads Royal Winton, Grimwades, Made In England, with the letter A below.
---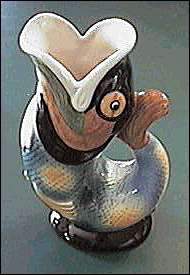 Royal Winton / Grimwades majolica fish pitcher,marked on bottom, "Royal Winton Made in England gurgling jug".
Measures 8.75" tall,
---