| | |
| --- | --- |
| Grimwades Ltd | |
Location and period of operation:
| | | | |
| --- | --- | --- | --- |
| Grimwades Ltd | Stoke | 1900 | 1995 |
Earthenware manufacturer - originally at the Winton Pottery, on the border of the towns of Hanley and Stoke, Stoke-on-Trent, England.
Around March 1900 the business of Grimwade Bros was incorporated as Grimwades Ltd.

The partners were Leonard Lumsden Grimwade (the founder) and his brothers Sydney and Edward.

The business expanded rapidly and they took over a number of potteries:

By the time of the First World War the Grimwade business employed 1,000 people and by the early 1920s had become one of the largest manufacturers of earthenware in the North Staffordshire potteries, with 1,500 employees.

The name "Royal Winton Ware" was in use from as early as 1897 it was around 1929 that 'Royal Winton' was introduced as a recognisable trade name by Grimwades Ltd.

The founder, Leonard L. Grimwade was killed in a road accident in January 1931.
(see biography of Leonard L. Grimwade)

In 1933 control of the business passed to James Plant, the son of the original owner of the Stoke Pottery. Under his leadership the company went from strength to strength.

In 1964 Grimwades Ltd was acquired by the Howard Pottery Group and the business traded as Royal Winton
Previously: Grimwade Bros
Subsequently: Royal Winton

---

Grimwades'
New Art Toilet Set
the 'Melon'


Pottery Gazette - January 1906


Grimwades advert for their stand at the Festival of Empire
held at The Crystal Palace, London
---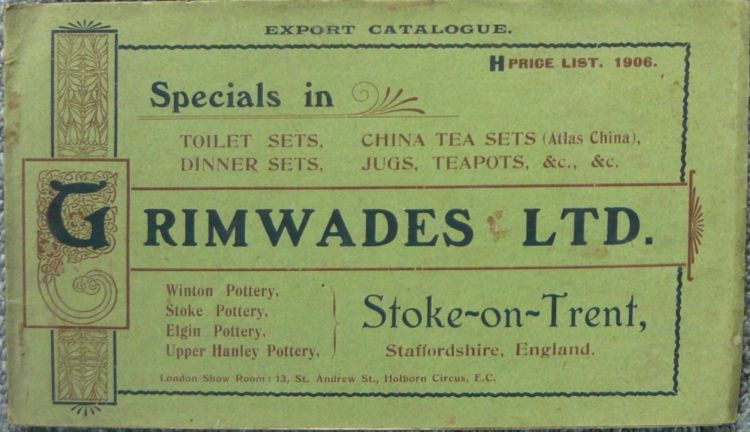 ---
Initials used on ware for identification:
UPPER HANLEY POTTERY
STOKE POTTERY
ROYAL WINTON
RUBIAN ART
GRIMWADES
---

Grimwades Limited
Stoke-on-Trent
NANCY is the pattern name - the registration
number shows that the pattern was registered in 1902
fragment found on the mud banks of the River Thames in 2021
courtesy: Adam Walczak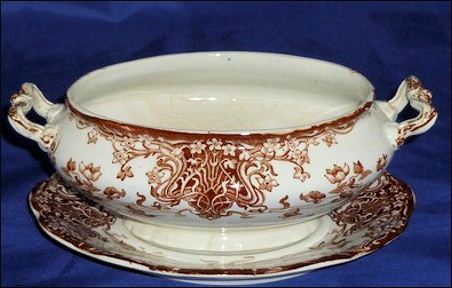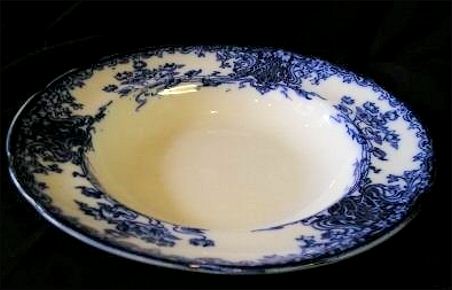 examples of a tureen and a soup bowl in the Nancy pattern
---

jug by Grimwades in their Adam Style pattern
introduced c.1904

The name of the pattern is 'Adam' after the famous neo-classical architect and designer Robert Adam

detail of the rams head on the handle


Grimwade's
Winton GB
Stoke-on-Trent
England

impressed mark ADAM
---
Atlas China
Stoke-on-Trent
Grimwade
England
this mark revived by Grimwades
c. 1930-36
---
Click the links below for more information:
---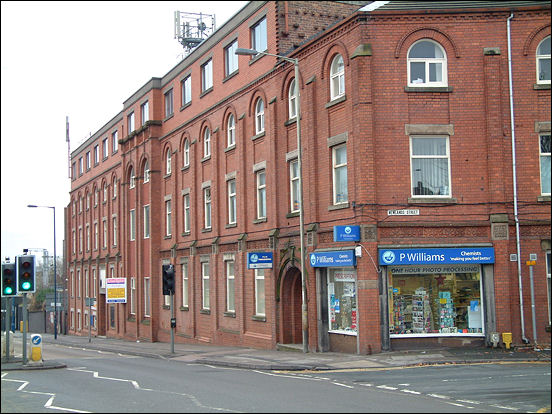 Winton Pottery
"Messrs. Grimwade Brothers established their Winton Pottery (Stoke) in about 1886.
A wide range of useful and decorative earthenware was produced."
From: Jewitts 'Ceramic Art of Great Britain 1800-1900.
---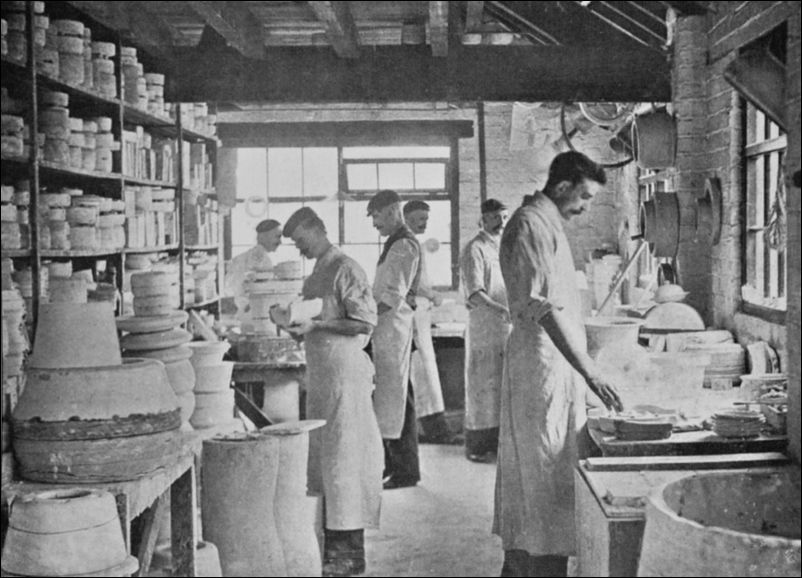 Mould Makers' Shop, Winton Pottery
---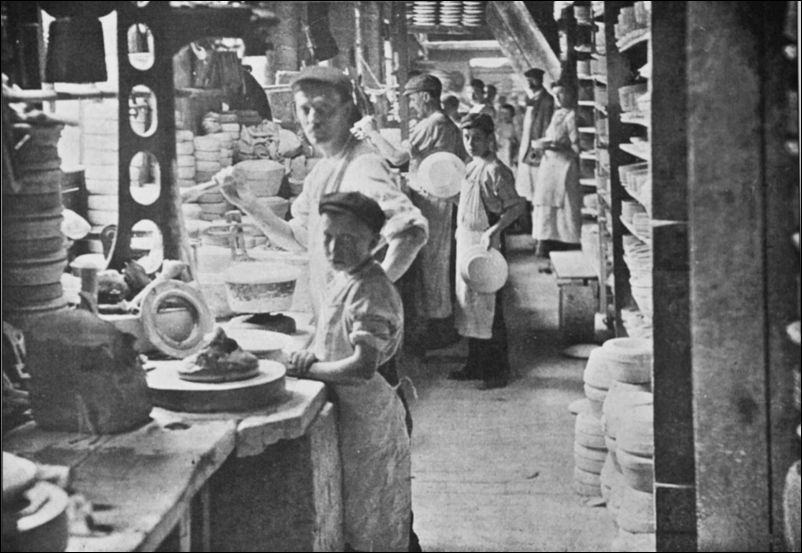 plate making at the Stoke pottery
---
Aerographing for decorating by compressed air
---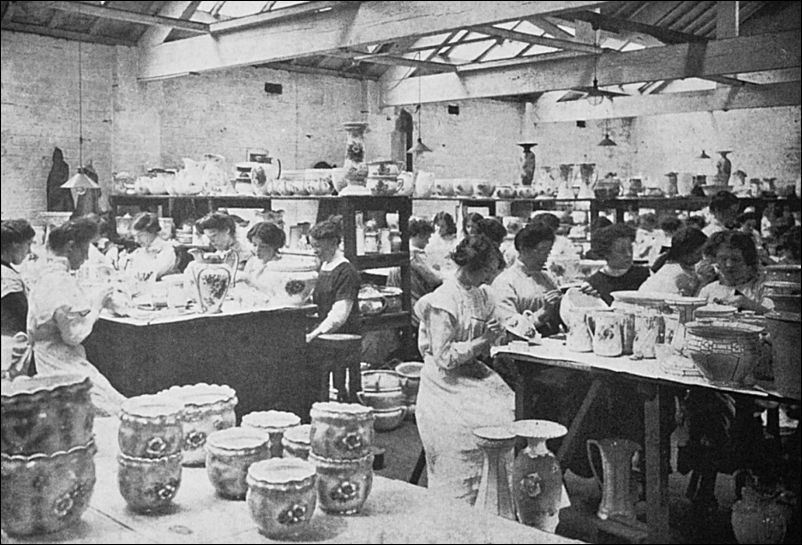 Gilding and enamelling the Royal Winton Ware
---
| Grimwades and Davenport patterns |
---
Questions, comments, contributions? email: Steve Birks
---

GRIMWADE, Leonard Lumsden (c. 1863-1931), pottery manufacturer, Stoke upon Trent.
Leonard Grimwade was born in Ipswich about 1863, the son of Richard Grimwade. He began his business life with his uncle as a dry salter in Ipswich. He came to the Potteries as a modeller but quickly moved to manufacturing.
He was joined by his brother, Sydney, by 1886, and worked the Winton Pottery. The style became Grimwade's Ltd. in March 1900.
Leonard Grimwade went for a time to Australia but returned to the Potteries.
In association with Brittain's, of Cheddleton (the paper manufacturers), he devised a thin printing tissue with a detachable backing, known as 'Duplex' paper, which facilitated the handling of lithographic sheets. The invention helped to make the litho process commercially viable.

He is also credited with installing the first continuous process kiln, in 1901. In this process, known as the Climax kiln, the ware was packed into iron cages on wheels.
A serious fire at the Winton factory in 1916 led to Leonard Grimwade's proposing that Stoke on Trent should have at least three motor fire engines.
A Liberal free-trader Leonard Grimwade was elected to Stoke upon Trent council and was also appointed to the local magistrates' bench. He was secretary of the Potteries Association for the Promotion of Federation, founded in 1907, and published 160 favourable replies to a circular letter to leaders of trade and industry in his Book of Opinions. Questioned by counsel for Fenton during the passage of the federation bill through Parliament and asked where he lived Leonard Grimwade replied "I sleep in Wolstanton but I live in the Potteries". He unsuccessfully contested the parliamentary election in Hanley as a Liberal in 1918. He was a member of King Street, Newcastle, Congregational church.
He modified his free-trade views to some extent during the First World War, by which time his five factories employed 1,000 people. In December 1917 he printed a message from the prime minister asking for economy in consumption of food on reduced sized butter dishes, milk jugs and plates, which sold at one shilling each.
He married twice and had two sons and two daughters. His first wife, Marion, was elcted to the Stoke Board of Guardians in 1897. He was killed in a road accident on 26 January 1931 and was buried in Hartshill cemetery.
Sources: Jewitts, Pottery Gazette 2 March 1931; VCH ii., People of the Potteries.
---