| | |
| --- | --- |
| Grimwades Ltd | |
Location and period of operation:
| | | | |
| --- | --- | --- | --- |
| Grimwades Ltd | Stoke | 1900 | 1995 |
Manufacturer of Earthenware, Majolica and Jet. Grimwades Ltd at Winton, Upper Hanley and Elgin Potteries Stoke. (1900+)
Previously: Grimwade Bros at Winton Pottery, Hanley and Stoke (1886-1900)
Subsequently: From 1995 Grimewades Ltd trading as Royal Winton

In 1900 took over J Plant. In 1908 took over Heron Cross Pottery. In 1910 took over Atlas China
---

Grimwades'
New Art Toilet Set
the 'Melon'

Pottery Gazette - January 1906
---
---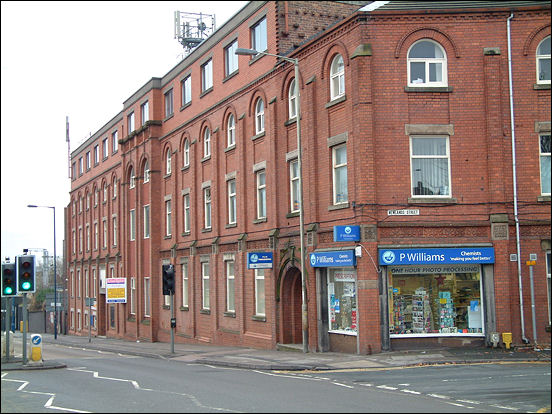 Winton Pottery
"Messrs. Grimwade Brothers established their Winton Pottery (Stoke) in about 1886.
A wide range of useful and decorative earthenware was produced."
From: Jewitts 'Ceramic Art of Great Britain 1800-1900.

---
| Grimwades and Davenport patterns |
---
Initials used on ware for identification:
UPPER HANLEY POTTERY
STOKE POTTERY
ROYAL WINTON
RUBIAN ART
GRIMWADES
---

Grimwades Limited
Stoke-on-Trent
NANCY is the pattern name - the registration
number shows that the pattern was registered in 1902
fragment found on the mud banks of the River Thames in 2021
courtesy: Adam Walczak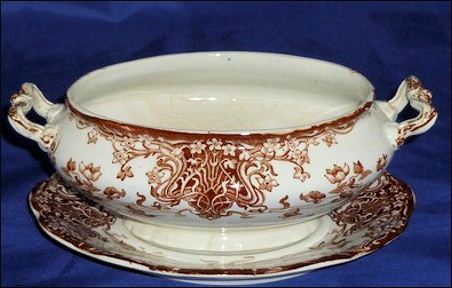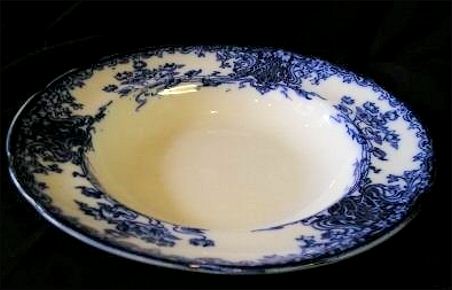 examples of a tureen and a soup bowl in the Nancy pattern
---
Atlas China
Stoke-on-Trent
Grimwade
England
this mark revived by Grimwades
c. 1930-36
---
Click the links below for more information:
---

GRIMWADE, Leonard Lumsden (c. 1863-1931), pottery manufacturer, Stoke upon Trent.
Leonard Grimwade was born in Ipswich about 1863, the son of Richard Grimwade. He began his business life with his uncle as a dry salter in Ipswich. He came to the Potteries as a modeller but quickly moved to manufacturing.

He was joined by his brother, Sydney, by 1886, and worked the Winton Pottery. The style became Grimwade's Ltd. about 1890.

Leonard Grimwadewent for a time to Australia but returned to the Potteries.

In association with Brittain's, of Cheddleton (the paper manufacturers), he devised a thin printing tissue with a detachable backing, known as 'Duplex' paper, which facilitated the handling of lithographic sheets. The invention helped to make the litho process commercially viable.

He is also credited with installing the first continuous process kiln, in 1901. In this process, known as the Climax kiln, the ware was packed into iron cages on wheels.

A serious fire at the Winton factory in 1916 led to Leonard Grimwade's proposing that Stoke on Trent should have at least three motor fire engines.

A Liberal free-trader Leonard Grimwade was elected to Stoke upon Trent council and was also appointed to the local magistrates' bench. He was secretary of the Potteries Association for the Promotion of Federation, founded in 1907, and published 160 favourable replies to a circular letter to leaders of trade and industry in his Book of Opinions. Questioned by counsel for Fenton during the passage of the federation bill through Parliament and asked where he Iived Leonard Grimwade replied 'I sleep in Wolstanton but I live in the Potteries'. He unsuccessfully contested the parliamentary election in Hanley as a Liberal in 1918. He was a member of King Street, Newcastle, CongregationaI church.

He modified his free-trade views to some extent during the First World War, by which time his five factories employed 1,000 people. In December 1917 he printed a message from the prime minister asking for economy in consumption of food on reduced sized butter dishes, milk jugs and plates, which sold at one shilling each.

He married twice and had two sons and two daughters. His first wife, Marion, was elcted to the Stoke Board of Guardians in 1897. He was killed in a road accident on 26 January 1931 and was buried in Hartshill cemetery.

Sources: Jewitts, Pottery Gazette 2 March 1931; VCH ii.
---
From the "Royal Winton" web site: www.royalwinton.co.uk

"The Royal Winton brand has always been synonymous with quality and design and has roots in Stoke-on-Trent, England that go back over one hundred years. Originally known as Grimwade Brothers it was founded by Leonard Lumsden Grimwade. Leonard had shown a natural talent for modelling pottery and it was in this field that his infant business began, in 1885. He was soon joined in the business by his older brother, Sidney Richard, another potter.

By 1890 new showrooms had been purchased in Stoke-on-Trent and London. It is a measure of the company's success that by 1906 Grimwades Limited was operating from four factories in the potteries.

Leonard experimented with new methods of manufacture and he developed the enamel climax Rotary Kiln, Duplex Lithographic transfers and other ground breaking techniques.

In 1913 King George V and Queen Mary visited the potteries and the brothers issued a catalogue to commemorate the event. The Queen purchased a Winton Teaset and was delighted to be presented with a gift of a Mecca Foot Warmer (an oval ceramic hot water bottle).

In 1928 'Marguerite' the first Royal Winton Chintz pattern was launched and was an immediate success. These tightly grouped, highly detailed and vibrant all over floral patterns were to become a milestone in the company's reputation for versatility and beauty. Following an advertisement in the 'Potteries gazette' in 1929, Royal Winton became the established trade name for Grimwades Limited and has remained so through to the present day.

Leonard Grimwade died in 1931, but his legacy survived and the company went from strength to strength under the leadership of James Plant.

Over succeeding decades Royal Winton introduced more than 60 Chintz patterns and became the leading producer of this style of decoration, exporting to most commonwealth countries and the USA.

Discontinued in the early 1960's due to the high production costs associated with this style of decoration, Royal Winton Chintz has become highly desirable in the antique market today. Collectors Clubs have been established world-wide and many reference books have been published, with Christie's of London running auctions dedicated to Chintz pottery.

In 1995 the company was purchased by its current owners who reverted back to the original company name of Grimwades Limited trading as Royal Winton. Chairman Ian Davis commented "It soon became apparent that we had acquired a company with a unique heritage."

Since acquisition some of the more popular Chintz patterns have been reintroduced on a range of giftware, tableware and limited Edition pieces. Hand crafted in the 'Potteries', Staffordshire England; Royal Winton Chintz undergoes eighteen separate production processes and is fired four time. Old lithographing techniques have been resurrected to achieve the all over floral effect demanded by Chintz lovers.

The year 1995 has been incorporated into the backstamp of the new Chintz to avoid confusion with antique pieces.

In March 1997 the first new piece of Royal Winton Chintz for nearly forty years was introduced and unveiled at the chintz convention in Pasadena, Californa. A spectacular piece, an 11" octagonal vase in the Florence pattern, it received resounding approval.

The company has witnessed many changes over the past century but one thing has never altered, its dedication to quality, design and beauty which excites many buyers from around the world."



---
questions/comments/contributions? email: Steve Birks