Examples of Alfred Meakin Ware

[ Index of Ware ]
[ Index Page for Alfred Meakin ]

Identifying marks on Alfred Meakin Ware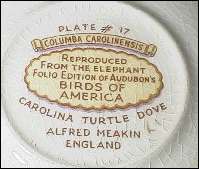 Alfred Meakin. It is endorsed by the National Audubon Society and features Birds of America. This pattern is the CAROLINA TURTLE DOVE , #17 in the series. The beautifully detailed transfer prints are from the Elephant Folio Edition of Audubon's BIRDS OF AMERICA book. Plate measures 11" in diameter, the salad plate measure 8 3/4", the cup and saucer are standard size. It has a white embossed border of flowers and leaves.
---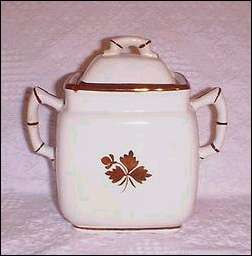 The bottom reads: Royal Ironstone China, Alfred Meakin England along with its emblem. This item measures 7" high to the top of the lid handle, and 7" across from side handle to handle.
---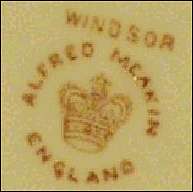 sandwich set, comprises of tray, which is 12 1/2 by 6 inches and 6 side plates which measure just under 6 inches.


more examples
of Alfred Meakin Ware


questions/comments? email: steve birks