| | |
| --- | --- |
| Brian Wood Ceramics | |
Location and period of operation:
| | | | |
| --- | --- | --- | --- |
| Brian Wood Ceramics | Longton | 1997 | January 2003 |
Earthenware manufacturer producing figures and reproduction 'art deco' ware.
The name 'Brian Wood' was made from the surnames of the partners:- Margaret Brian, Sharon Brian, Deborah Wood.
January 2003 Brian Wood Ceramics became a division of Staffordshire China Limited.

The founding partners of Brian Wood Pottery
from left, Sharon Brian, Margaret Brian, Deborah Wood
Marks used on ware for identification: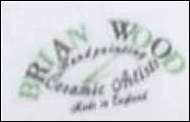 Brian Wood
handpainting
Ceramic Artists
Made in England


Deborah Wood
much of the ware is 'signed'


---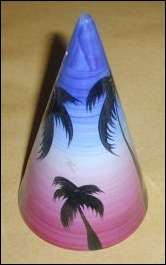 'Bandos' by Brian Wood
a signed piece which is a sugar sifter.
Printed on base is 'Brian Wood Handpainting Ceramic Artists made in England' and is signed by Sharon Brain.
It is approx 13 cm high and 7.5 cm wide

from the BRIAN WOOD "Parklife" range
This vase is constructed from three white conical shapes, with two small black handles, decorated with the "Parklife" design. It carries the BRIAN WOOD backstamp and the word "PARKLIFE"
Standing 6.25" high and approx. 7.5" across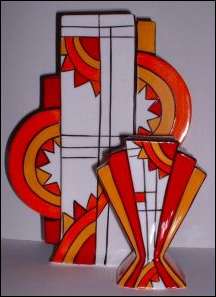 Jazz pattern vases from Brian Wood of Staffordshire.
The large vase measures 20cm tall & 15cm wide. The small vase is 10.5cm tall and 7.5cm wide. The Vases are signed "A Hulse" The style, colour and design are dynamic and vibrant with red, orange and black on a white background.
The Style is of the 1930's Art Deco period.


Fat Cow Figure from Brian Wood Ceramics
'ENTREPRENEUR BUYS FAILED POTTERY FIRM
An artware pottery firm in North Staffordshire has been saved from collapse after being bought from the hands of receivers.
Accountants Clarke Bell today confirmed pottery entrepreneur Hugh Padley has taken over the brand and business of Longton-based Brian Wood after its closure with the loss of five staff, including the three founding directors.

The company has been absorbed into Fenton-based fledgling firm Staffordshire China where Mr Padley has developed a 'potter's co-operative' to help small manufacturers survive.

Mr Padley, a former managing director of Spode, said he had acted out of a "burning passion" to keep ceramic manufacturing in Stoke-on-Trent.
He said: "I could not bear to watch the talent that Brian Wood had to offer go down the tube. It is the sort of company we need to see more of - one that will innovate and develop new products while maintaining production here in the Potteries."

A spokesman for Manchester-based accountants Clarke Bell said it was too early to uncover the reasons for Brian Wood's failure or the extent of the company's deficiencies, although the cause is understood to be financial.
Sentinel Sunday had reported how the current economic climate was likely to trigger an increase in insolvencies and bankruptcies in the new year, at a time when they are at the highest since the 1992 recession.

Mr Padley said the three founding partners - Margaret Brian, her daughter Sharon and Deborah Wood - had already been taken on, although further recruitment was expected.

Margaret had been a manageress in Portmeirion's hand-painting department with Deborah one of her top hand painters, while Sharon worked as a figurine painter in Wedgwood's Coalport division. All three lost their jobs in the autumn of 1997.
They pooled their redundancy cash and grew the business out of its original premises in Anchor Road, Longton, in 1991.
The company received wide critical acclaim. Last February, TV designer Laurence Llewelyn Bowen named an entire Brian Wood range when he saw designs by the firm at the Spring Fair at the Birmingham NEC. He named it Hardwick after Bess of Hardwick, an artist who created tapestries at Hardwick Hall.
The firm stirred up interest with its Cheeky Cow range of bovine figurines with unflattering but evocative names such as Mad Cow and newly-launched Two-faced Cow.'

Sentinel Newspaper 25 Jan 2003

---

Questions / comments / contributions?
email: Steve Birks
26/01/2003