| | |
| --- | --- |
| Josiah Spode | |
'Royal Worcester & Spode' as the company is now known, declared its difficulties on 6th November 2008, and went into administration.
In April 2009 it was announced that the Stoke based Portmeirion pottery company had bought Spode and Royal Worcester from the hands of administrators, thus ensuring the continuance of these names.
Location and period of operation:
Josiah Spode

I & II

Stoke

c.1770

1833

Copeland and Garrett
Stoke

1833
1847
W T Copeland
Stoke
1847
1867
W. T. Copeland and Sons
Stoke
1867
1932
W. T. Copeland and Sons Ltd
Stoke
1932
1970
Spode
Stoke
1971
1976
Royal Worcester Spode Ltd
Stoke
1976
to present
see more on Spode and it's history

The Spode company has been producing high quality ceramic products on the same factory site since it was established by Josiah Spode I in the late 1700s.

Josiah Spode was an apprentice of Whieldon in 1749.
In 1762 Spode joined Turner and Banks in a pottery (on the same site as the Spode works of today). In the same year Turner left and Spode took over as manager. In 1770, he took over the works on mortgage, becoming sole proprietor and complete owner in 1776.

In 1797 Josiah the first died and his son (also named Josiah) took his place. In 1805 Josiah Spode II invented a type of earthenware in which felspar was also an ingredient – the now almost universal 'Stone China'

William Copeland had become a partner in 1797 and after Josiah Spode II died in 1827, William Copeland's son, William Taylor Copeland, bought the business from the Trustees of Josiah Spode III. Thus in 1833 William Taylor became sole owner. But he took unto himself a partner, Thomas Garrett and the firm became 'Copeland and Garrett', continuing so until 1847.

The firm remained in the Copeland family until 1966, trading under a number of names, the Spode brand name was used alongside the Copeland name throughout the 19th and 20th centuries, often styled 'Copeland late Spode'. The firm was merged with the Carborundum Group of Companies in 1966 and in 1971 reverted to the original name `Spode'. It was subsequently merged with Worcester Royals Porcelain Co to become Royal Worcester Spode Ltd in 1976.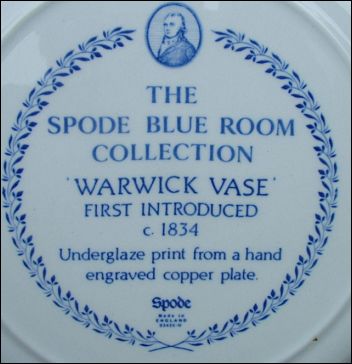 the Warwick Vase pattern was reissued by Spode post 1970
- see more on the Warwick Vase -

email: Steve Birks