Aestheticism in pottery

The Aesthetic Movement refers to a period of time in the late 19th century (1860-1900)
which was an escape from formal Victorian years.
'Aestheticism' was a movement in the arts, literature and decorative arts that emphasised the ideal of beauty in art and society as an end in itself. The Aesthetes believed in beauty in art for its own sake and dismissed the idea that art should have a moral or utilitarian purpose.

The aesthetic movement had its origins in the early 1870s and survived until about the turn of the century. In the United Kingdom it had its greatest impact in the visual arts and the pre-Raphaelite painter Dante Gabriel Rossetti was a leading figure in the movement.

In literature, the writer and playwright Oscar Wilde is the best known aesthete, in 1882 he visited Ontario, Canada and gave a lecture titled "The House Beautiful". This lecture featured the early Aesthetic art movement, also known as the "Ornamental Aesthetic" art style, where local flora and fauna were celebrated as beautiful and decorative.

Aestheticism was an elitist movement with little impact beyond the arts and literature and generally had limited impact on the general population.

For a period aesthete symbols and themes appear on English pottery. Ceramics demonstrating aesthetic style tend to be decorated with Japanese-inspired motifs including sunflowers, chrysanthemums, magnolia, hawthorn blossom and the peacock. Simplicity and geometric shapes were often included.

aesthetic movement brown transfer serving dish in the Brazil pattern
---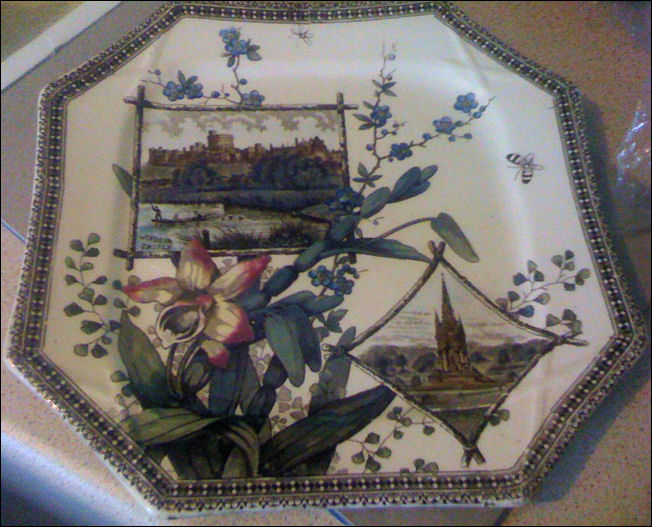 one of the plates in THE WORLD series

The World - Wallis Gimson & Co.

Influenced by the Aesthetic Movement, the patterns in this series reflect the period's keen interest in nature and travel to exotic lands. Wallis Gimson's designs featured exotic blooming orchids and wildflowers mixed often with maiden hair fern fronds and butterflies.

The central elements of the design are two cartouches each with a separate world-renowned city, building, architectural feature, or monument.

This series of patterns was first registered on May 27, 1884, with production ending sometime prior to the close of the factory in 1890.
---

transferware lidded jugs in the aesthetic style
---