Location and period of operation:
| | | | |
| --- | --- | --- | --- |
| Wallis Gimson & Co | Fenton | 1882 | 1890 |
Earthenware manufacturer at the Lane Delph Pottery, Fenton, Stoke-on-Trent

Gimson specialised in making ware in a series such as The World and Achivements of notable Victorians.

in February the patrership between Joseph Gimson the younger and Thomas Wallis Gimson was dissolved and Thomas W Gimson continued on his own account.

At the time of bankruptcy of the business it was Thomas Wallis Gimson who was trading as Wallis Gimson & Co
formerly: Pratt & Simpson
London Gazette
February 21, 1888

notice of the dissolution of the partnership btween
Joseph Gimson the younger and Thomas Wallis Gimson
---
London Gazette
March 7, 1890

notice of a Deed for Assignment for Creditors
---
Marks and initials used on ware for identification:
WALLIS GIMSON &
CO
---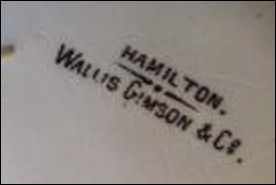 WALLIS GIMSON & Co
'HAMILTON' is the pattern name
---

registration number 7624 - corresponds to the year 1884
GRAPES is the pattern name
A printed mark of a beehive was used with
the name Wallis Gimson & Co
although they included the words 'TRADE MARK'
it was probably not registered to them as the beehive
mark was widely used by pottery manufacturers


on marks with beehives
---

THE WORLD


THE WORLD
WALLIS GIMSON & Co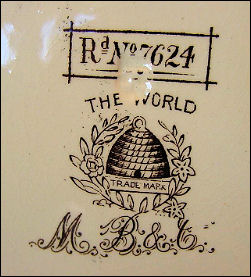 THE WORLD
M B & Co
M B & Co are likely to be importers or distributors
The World - Wallis Gimson & Co.
Influenced by the Aesthetic Movement, the patterns in this series reflect the periodís keen interest in nature and travel to exotic lands. Wallis Gimson's designs featured exotic blooming orchids and wildflowers mixed often with maiden hair fern fronds and butterflies.
The central elements of the design are two cartouches each with a separate world-renowned city, building, architectural feature, or monument.
All of the patterns were printed in dark brown with two versions produced; one in the single underglaze brown and the second printed in brown and painted with four vibrant colors underglaze. Gilding on the edge of the border is occasionally found on the printed and painted version.
This series of patterns was first registered on May 27, 1884, with production ending sometime prior to the close of the factory in 1890.
---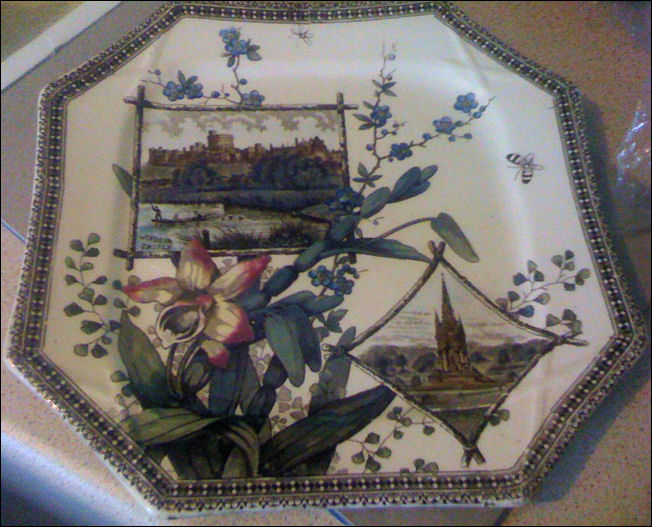 one of the plates in THE WORLD series
Windsor Castle and the Albert Memorial
---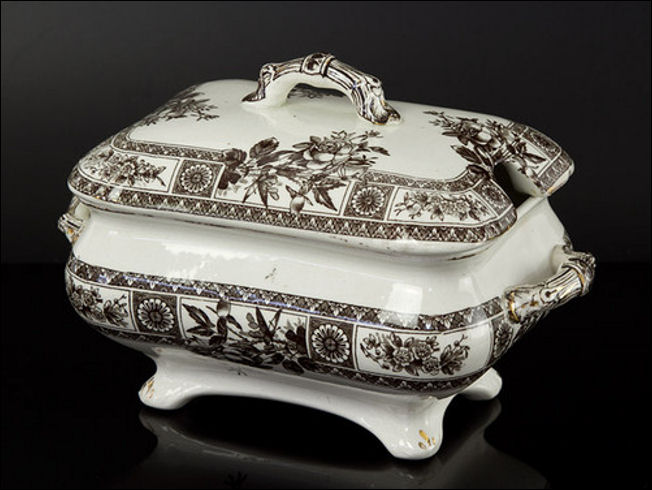 A small tureen with the pattern name GARFIELD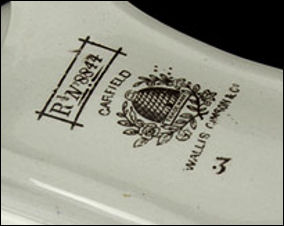 the registration number 8844 dates from 1885
---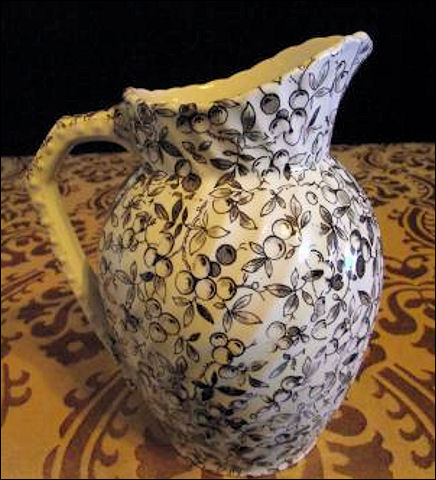 small vase made by Wallis Gimson & Co
the pattern name is HAMILTON
---

William Gladstone Plate made by Wallis Gimson & Co
This is not a memoriam plate as many think (Gladstone passed away in 1898).

This plate was produced about 10 years earlier as part of a series which celebrated the achievements of many Victorian figures.

The octagonal shaped series was made by Wallis Gimson & Co and this example is marked - many are not.
---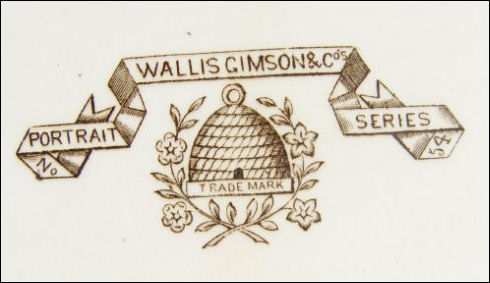 WALLIS GIMSON & Co

Mark on the Portrait Series plates
- No. 54 was the Queen Victoria Jubilee Plate below

Queen Victoria Jubilee Plate
---

plate produced to commemorate the
Golden Jubilee of Queen Victoria in 1887

Manufacturered for
Silber & Fleming Ltd
57 Wood St
London E.C.

although there is no manufacturer mark on the plate the registration number 613164 tells us that the design was registered by Wallis Gimson & Co. of Fenton on the
6th December 1886
Silber & Fleming were a large London based retailer
---
questions / comments / contributions? email: Steve Birks
---