The Warburton family of Potters
Background to the Warburton family:
In 1766 members of the Warburton family were prominent among the list of trustees of the Cobridge school.
They were a Catholic family and originality were tenants of the Biddulph family on part of the Grange estate. They bought a large part of the land sold by the Biddulph family on the east side of the estate. Here in the early 18th century John (or Joseph) Warburton built a Potworks for the manufacture of white stoneware with a considerable export trade to Holland.
By the time he died in 1752 he had amassed a considerable property which included an estate in Cheshire for which he paid £1,000 as well as land in Cobridge.
His two sons operated two separate potteries. John Warburton, the eldest, ran a works in Hot Lane until his death at the age of 40 in 1760. The younger son, Joseph Warburton, had a Potworks in Cobridge which he worked until his death in 1769.
---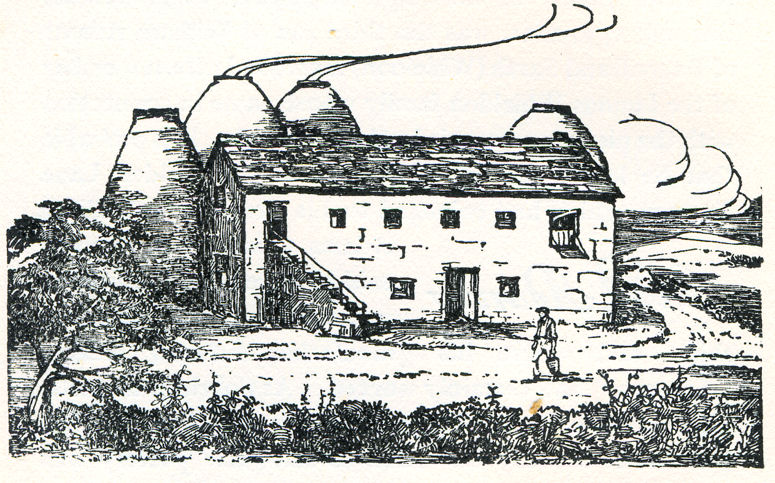 Warburton and Adams manufactory at Cobridge c.1759
operated by Joseph Warburton [b.1723 d.1769] and also used by Richard Adams [b.1739 d.1811]
picture: "Ten Generations of a Potting Family"
---
Warburton Family:
A family of potters working at Fenton Low and Cobridge in the late eighteenth and early nineteenth centuries.
Joseph Warburton (1694-1752) was one of the most important potters in the early part of the eighteenth century. His factory was in Hot Lane (on the boundary of Burslem and Cobridge).
He was succeeded by his son John (1720-61) who married Ann Daniel (1713-98) the 'Widow' Warburton who decorated pottery for Josiah Wedgwood.
Mrs Warburton had her son Thomas (d.1798) as partner and traded as Ann Warburton & Son.
Jacob Warburton, another son, had a factory at Cobridge. He was born 1741 and died 1826, and became a principle in the New Hall concern.
Other members of the Warburton family had factories at Cobridge:
Joseph (d.1827) as a manufacturer of common earthenware;

James, maker of garden ports, saggers, chimney pipes and quarries; and

John who made earthenware.

Peter Warburton (b.1773 d.1813) made cream-coloured ware at Bleak Hill, Cobridge, and had as partner his younger brother Francis until 1802, when the latter went to France and set up as manufacturer of cream coloured ware at La Charité-sur-Loire.
Reginald G. Haggar, 'The Warburton Family of Cobridge', Apollo, 1955
---
John Warburton:
John was one of the sons of Joseph Warburton (1694-1752).
John Warburton (b.1720 d.1761) and successors. Earthenware manufactory, Hot Lane, Cobridge, Staffordshire.
DATES AND OWNERS
The factory worked by John Warburton was in existence in 1710 and was in fact one of the largest in the Potteries at that time.
John Warburton's widow carried on the business after his death, and through their son, Thomas Warburton, the firm remained the hands of the Warburton family for more than a century.
MARK
WARBURTON (impressed)
WORK
Primarily makers of cream-coloured wares. These were much improved during Mrs. Warburton's management of the business.
The factory was also engaged at this period in independent enamelling, much of it for Wedgwood who sent quantities of tableware to Hot Lane for this purpose. Marked pieces are extremely rare.
Mankowitz & Haggar, 'The Concise Encyclopedia of English Pottery and Porcelain'
---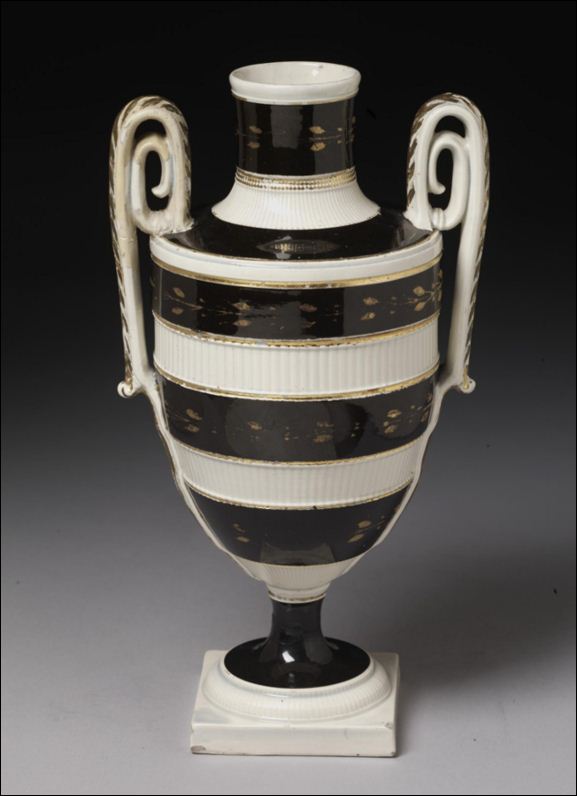 two-handled vase of earthenware, amphora-shaped,
Jacob Warburton factory, Cobridge, ca. 1790
maker: Jacob Warburton (b.1740/1 - d.1826)
Marked with an impressed WARBURTON
© V&A Museum
---
Peter Warburton:
Peter Warburton (b.1773 d.1813). Manufacturer of cream-coloured earthenware first of all in partnership with Francis Warburton (his younger brother) until 29 March 1802 when the partnership was dissolved (Staffordshire Advertiser, 3 April 1802) and subsequently on his own accord at Bleak Hill Cobridge.
Between 1804 and 1810 he became a partner in the New Hall joint stock company.
In 1810 he took out a patent for transfer-printing in gold.
He died 24 January 1813 (Staffordshire Advertiser, 30 January 1813). He married Mary, daughter of Francis Emery, who survived until 6 November 1837.
The mark of Peter and Francis Warburton was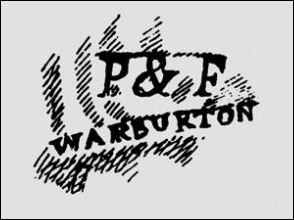 P & F
Warburton
Mankowitz & Haggar, 'The Concise Encyclopedia of English Pottery and Porcelain'
---
---