The inner part is the kin proper. It is a round structure with a domed roof, the CROWN, and its wall are approximately one foot thick.
Iron bands known as BONTS, set about twelve inches apart, run right round the circular oven to strengthen it as it expands and contracts during the firing.
A doorway, the CLAMMINS or WICKET, surrounded by a stout iron frame and just large enough for a man with a SAGGAR on his head to pass through , is built into the kiln.


Entrance to Spode Pottery Works, Stoke
Main entrance to the Spode Pottery Works on Church Street. Established c.1770, the pottery still occupies its original site. The factory chimney is visible behind
---
POTTERY has been manufactured at Spode's Church Street site since around 1750, more than 10 years before Josiah Spode established his business in 1767.
The success of the venture meant Josiah was able to buy the Church Street factory from his former employer, William Banks.
In the late 18th century Josiah produced what has been described as the single most significant development in the history of his industry – the perfection of the formula for fine bone china.
The Prince of Wales visited the factory in 1806 and, impressed by what he saw, asked Spode to produce the banqueting service for his coronation as George IV. The company has held Royal Warrants ever since, and has also received commissions from the East India Company, Charles Dickens and the Shah of Persia.
In 1867 the company's official trade name was changed to WT Copeland and Sons, only reverting back to Spode in 1970.
Spode is renowned for its blue and white Willow pattern, developed by the original Josiah Spode from a pattern called Mandarin in about 1790.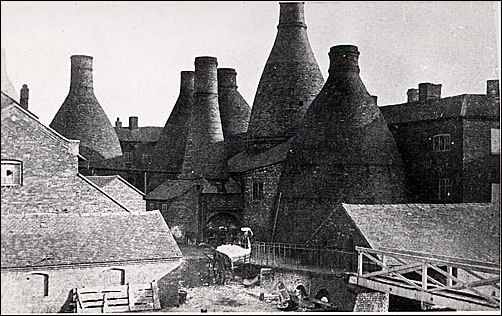 Bottle kilns at the Spode works c.1900-1930
All these coal fired kilns have now been demolished
and replaced with electric fired kilns.
- only the base of one of the old kilns remains.
© The Potteries Museum & Art Gallery
---