1st May 2009 was the 250th anniversary of the iconic Wedgwood company, which was formed by the famous Josiah Wedgwood at the Ivy House Works in Burslem on 1st May 1759.
Wedgwood merged with the well-known Irish brand Waterford Crystal in the 1980s to create Waterford Wedgwood. In January 2009 Waterford Wedgwood went into administration - it was purchased by KPS Capital in March 2009 and so the famous brand name was saved.
---
Josiah Wedgwood was born into a family of potters on 12 July 1730, at Burslem, Staffordshire. His father's death in 1739 led him to an early start working as a 'thrower' in the pottery of his eldest brother, Thomas, to whom he was later apprenticed.
Thomas refused Josiah a partnership in the business, so the younger man moved first to a small pottery run by John Harrison, then more happily to the firm of Thomas Whieldon of Fenton. After this Wedgwood opened works of his own, first at his cousin's Ivy House and later at the Brick House factory (both at Burslem). At these works, Wedgwood made many models himself, and also prepared clay mixes.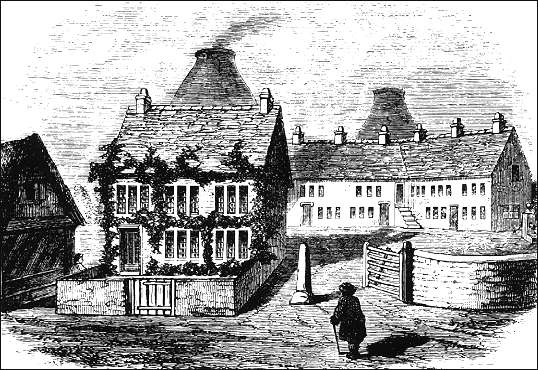 The Ivy House Works, Burslem
Josiah Wedgwood's first factory
he started business here on his own - 1st May 1759
In June 1769, he opened a new factory at Etruria, near Stoke-on-Trent, in partnership with Thomas Bentley. Attached to the factory was a village where Wedgwood's workmen and their families could live in decent surroundings.
Wedgwood greatly improved the clumsy ordinary crockery of the day, introducing durable, simple and regular wares. His cream coloured earthenware was christened 'Queen's Ware' after Queen Charlotte, who appointed him queen's potter in 1762. Other eminent patrons included Empress Catherine II of Russia, who ordered 952 such pieces in 1774.
Wedgwood was elected a fellow of the Royal Society in 1783, primarily for inventing the pyrometer to measure oven temperatures. He took a keen interest, too, in efficient factory organisation, and in improving the transport of raw materials and finished wares by canals, such as the Grand Trunk Canal, and by road.
In 1780, when Wedgwood's long-term business partner died, he asked his friend Erasmus Darwin for help. Darwin's son would later marry Wedgwood's daughter, and they were the parents of Charles Darwin, the naturalist who formulated the theory of evolution. Charles would himself, in turn, marry a Wedgwood.
When Wedgwood died on 3rd January 1795 he left a thriving business and a fortune to his children.

more on Wedgwood