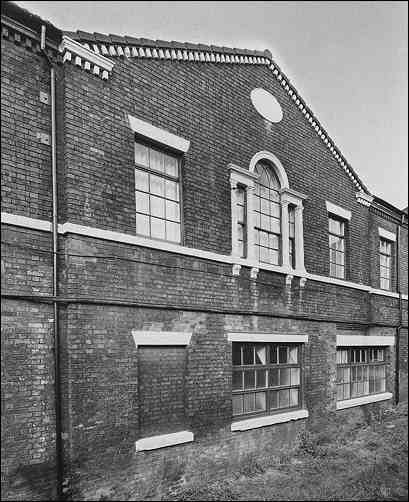 Front elevation of Mason's Ironstone Works
showing the Venetian window
photo - © Potworks / Godden
---
Broad Street Works, Hanley
The works of John Astbury (d. 1743) is said to have passed to John Baddeley (d. 1772) and so would be identified with the pottery on the west side of High Street (now Broad Street), Shelton.
His sons John & Ralph Baddeley succeeded him - by the 1780's the works were held by Ralph alone

The works were taken over by the partnership of Ridgway, Morley and Wear and it was Francis Morley who continued there until 1859 when the Ashworth Brothers took control. Francis Morley bought many of Charles Mason's moulds when the latter went bankrupt in 1848, and established the factory as the producer of Mason's famous Ironstone China, though it also continued producing earthenware.
In 1840/1 - 348 employees: that is 125 males 69 females, adults; 42 males, 7I female, under 21; 23 boys, 18 girls; under 13.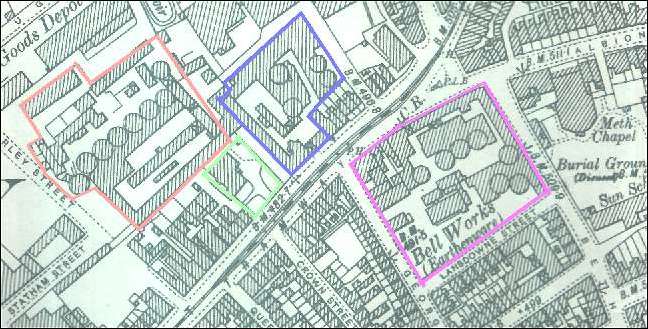 1898 OS map of the top end of Broad Street, Shelton

Orange: Broad Street Works
Blue: Phoenix Works
Purple: Bell Works
Green: White House (home of Richard Hicks)
also on the top right is Albion Street and the Bethesda Methodist Chapel

---
EVIDENCE TAKEN IN THE STAFFORDSHIRE POTTERIES By SAMUEL SCRIVEN, Esq. (1840/1)
Messrs. RIDGWAY, MORLEY, WEAR, and Co., Iron-Stone China and Earthenware Factory.
PRESSING ROOM
No. 93. Thomas Furnival,
aged 58
I have been a potter 51 years, first as a moulder; and have through every department; am now the overlooker or manager of the works. It is my duty to hire and discharge all the hands. We employ now, being low, 348 persons, that is 125 males 69 females, adults; 42 males, 7I female, under 21; 23 boys, 18 girls; under 13.
The premises stand upon about three acres, more or less : and consist of 60 rooms; seven ovens, and five offices, well drained and lighted by candles ; there is no engine of any kind except jiggers. The people come at six in the summer, and seven in the winter, and leave at six; there is sometimes over-work when orders come in; and they work 'till nine. The plate-makes, saucer-makers, and bowlers take on their boys with the consent of the overlooker, and pay them by the day.
All paid by the master, are paid in hard cash. We sometimes for the people advance sums of money, and let them work it out ; we sometimes do that with the men, and let the boys work it out, or girls, but we have no such thing as written contracts with parents for the employment of children. All advances are made for the benefit of the people, and are considered favours. We should not advance money to a drunken character.
We consider the dipping as the most unhealthy process in the department, that indeed is the only one ; the scouring is bad, but the women do not continue long in it ; they get married and leave. I think potters' children are tolerably healthy ; they look white, but that is from the clay, which is not pernicious. We have no boys as painters in the works, the painting is done here by men and women.
I do not know that I have any other information to give.
---

Broad Street, Hanley, from Ashworth's chimney
Bottle ovens were still a prominent feature of the landscape in the late 1960s, judging by this spectacular view from the top of one of Hanley's tallest chimneys. In fact, it was the last opportunity to capture this particular scene for posterity because the towering stack at Ashworth's pottery was demolished after the picture was taken.

With Broad Street running down the centre, the photograph shows scores of old properties which have vanished to make way for the Potteries Way ring road.
These included a small estate of prefab houses built to meet a post-war housing shortage. A reader brought up in one of the prefabs says when these houses were provided they were the only ones in that area with a bathroom and inside toilet. They also boasted 'warm air ducting', which preceded central heating.

In the bottom right-hand corner are a bottle oven belonging to Mason's Ironstone pottery and one end of Old Betty Plant's sweet factory The works in the centre with three bottle ovens close together is an electrical porcelain firm which was known as EOA — Electrical Ordinance and Accessories.
Shelton Parish Church stands out in the middle distance.
Swinnerton's pottery and Cannon Street Schools also visible on the left.
The chimney in front of the church — formerly part of Dix's Brewery — is one of the few still standing today.
However, everything in the picture was later dwarfed by the 240-foot-high Unity House, built in the mid-1970s on a site previously occupied by some of the prefabs.

Sentinel Newspaper 25 Jan 2003