The Middleport Pottery of Burgess, Dorling and Leigh
Burgess and Leigh Victorian potworks opened in 1888, famous world over for Burleigh ware. A listed building and rescued from the receiver in 1999 by William and Rosemary Dorling and run as a going concern. Now renamed 'Burgess Dorling and Leigh'.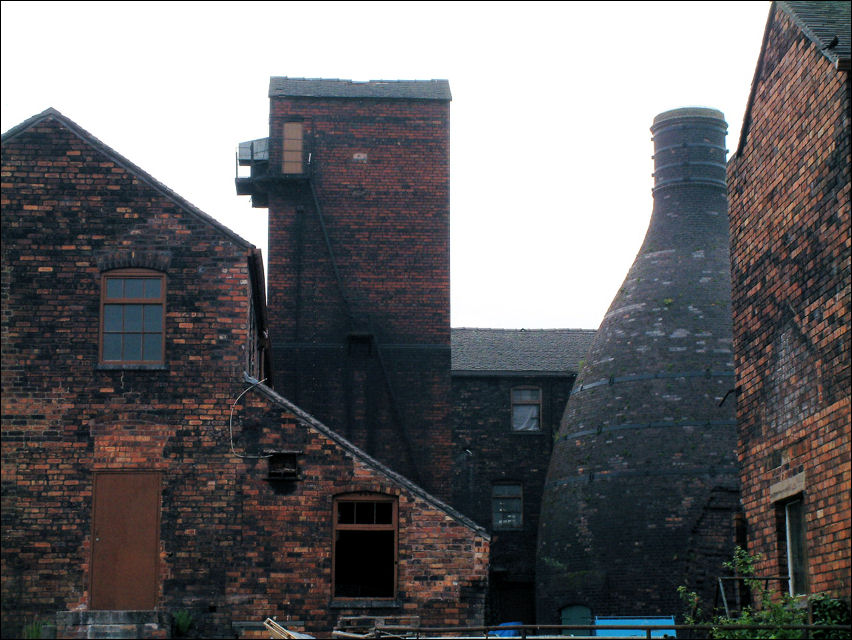 The Middleport Pottery of Burgess, Dorling and Leigh
On the left is a mangle (drying tower) - at 80 foot (24 meters) it is the tallest surviving in the Potteries.
The mangle is lined with steam fed pipes which is produced by the Lancashire Boiler. The biscuit fired ware is dipped in glaze and then stacked on the mangle to let them dry.
The ware moves up the inside of the mangle, each full revolution takes 50 minutes).

In the heyday of the pottery industry there were up to 4,000 bottle kilns in Stoke-on-Trent with as many as 2,000 still standing in the 1950's. The Clean Air Act sounded the death-knell for the smoky, coal fired oven. There are 46 still standing today - most are listed buildings.
Of the original coal fired kilns this one on the right of the picture survived because part of the kiln forms the wall of the factory.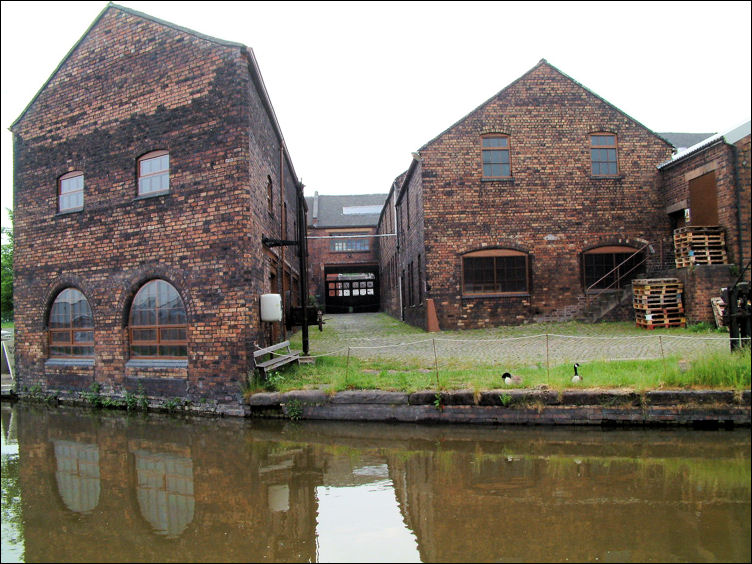 the rear of the works - on the Trent and Mersey Canal
The partners Burgess & Leigh had started business in the 1850's in Tunstall, moved to the Central Pottery [ on Central Pottery], Burslem in 1862 to the Hill Pottery in 1867 [ on Hill Pottery] before moving in 1888 to the Middleport Works which were purpose built for them.

The works were built on the site of an old saggar manufactory by the Trent and Mersey Canal, in an undeveloped area, which soon after the erection of the new factory gained a wharf and boat yard, and quickly became surrounded by terraced housing.

The impressive frontage on Port Street, Middleport, Burslem.
Two story front range, built of plan red brick with a tiled roof.
It has five evenly spaced gabled bays, four of them with lunette windows
and the fifth forming the arched coach entrance at the northern end
of the works.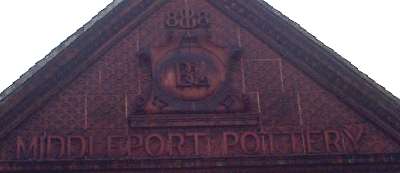 1888
B&L
Middleport Pottery

Burleigh Ware - famous world over
Starts life in this Stoke-on-Trent factory.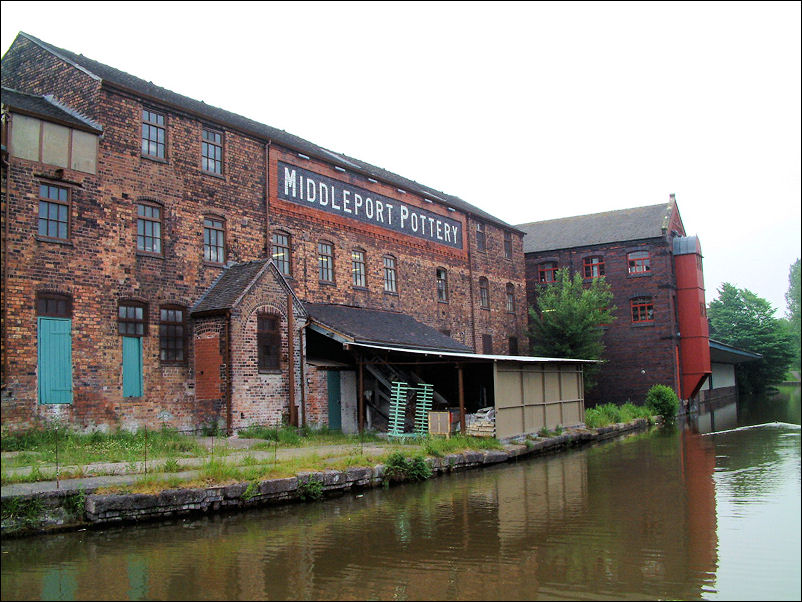 The Middleport Pottery factory name is visible for miles away,
across the Fowlea Valley.
The works was located (as were many other pottery factories) on the side of the Trent and Mersey Canal which was opened over a 100 years before the works in 1777. The ability to bring raw material in and transport the finished ware out was essential for an efficient operation.

The canal is no longer used by the pottery manufacturers but pleasure craft are regularly seen.

In its heyday the canal would have been as busy as our motorways, there were many factories surrounding Burgess and Leigh and directly opposite on the other canal bank was a lime kiln.