The bridle path, Dresden
a short trip off the beaten path




click the "contents" button to get back to the main index & map
previous: Moneto House, Ricardo Street, Dresden
next: Pall Mall, Hanley
Historian Fred Hughes writes....
Longton Freehold Land Society bought Spratslade Farm, half a mile or so south of Longton for £5,000. In the 1870's they profited by selling plots of land and by financing the building of houses. When it was finished they called it Dresden. Historian Steve Birks reminds me that this impressive Victorian venture was encouraged by Liberal politicians who were eager for the votes of the new householders.
"The connections are recorded in the names of the streets, most of which are the original." says Steve.
"Dresden streets were named after prominent national Liberals like Richard Cobden MP, founder of the Anti-Corn-Law League; Charles Pelham Villiers and Lord John Russell. There were also some local Liberals like Stafford MP John Wise, and John Lewis Ricardo, MP for Stoke. All these are remembered in street names including the tenth Earl Carlisle, a Liberal Unionist MP for Birmingham who had financial connections with the Rev James Taylor, the founder of the Freehold Land Societies. The one political exception to have a street named after him is Robert Peel, the Tory Prime Minister who instituted Free Trade policy resulting in the abolition of export duties – the so-called Corn Laws."

When the Longton society bought Spratslade Farm it had to accommodate an ancient bridle path leading from Longton to Trentham. The streets were designed in geometric blocks and the bridle path was included as a pedestrian way between the old Belgrave Road and the new Ricardo Street. Few changes have been made where some terraces have been replaced by council houses. But the lane, part of which is now named Bridle Path, remains largely untouched. Lillian Pullin, age 73 lives here.
"I came to Dresden forty-years ago," she recalls. "We had a house in Russell Street and then a bungalow on Bridle Path about two years ago. They split Villiers Street in two with one half being renamed Beadnell Street back in 1970. A lot of old shops went as well. One we called the Tonks, but I don't know why. Same with another called the Tin Shop. Different times and different values I suppose."
Today's bridle path seems relatively peaceful and undisturbed. But further along a couple of elderly residents grumble about noise at night when youths gather to behave irresponsibly. Spray-can graffiti provides evidence of tribal gatherings, though the crude daubs and ridiculous nom-de-plumes of these nocturnal expressionists confirm they are not bona-fide artists.
"The trouble is," one pensioner tells me, "Nobody seems bothered these days. I'm fed-up of ringing the council and you never see the police down here."
Dresden's bridle path indeed isn't used so much these days by pedestrians, which is possibly why the gangs collect in quiet isolated pockets. Originally bridle paths were busy places. Their routes were difficult to negotiate by wheeled traffic and so packhorses were led by their harnessing tackle, particularly along the precipitous inclines of Dresden.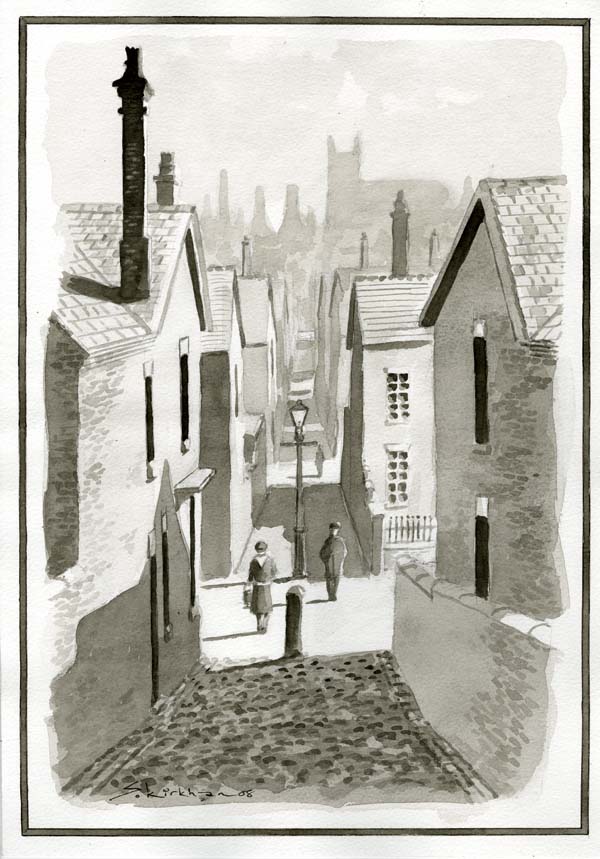 Dresden - the backs - the bridle path

Sid Kirkham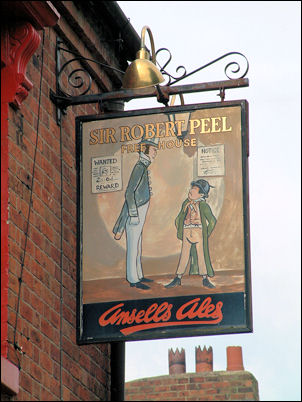 a beautifully hand-painted swinging-sign records its transfer to Ansells in the 1970's

The vertical narrow bridle path climbing from Belgrave Road to Ricardo Street interrupts a number of streets on the way. Alongside one of these crossings in Peel Street, the splendidly-named Sir Robert Peel public house sits in modest dignity. Few pubs in North Staffordshire carry so much visible history as this old Victorian beer-house. Acid-etched original windows tell you it was first owned by Parkers Brewery. Then a beautifully hand-painted swinging-sign records its transfer to Ansells in the 1970's, while high above the door the familiar scroll of Bass hints at another attempt at permanency. The red-painted entrance door is like any old terraced house – but it is original. Can you imagine grandfathers bent over hands of cribbage in gas-lit corners telling tales of times past? And that's how it nearly is today, except karaoke has replaced the weekend piano sing-along. Catherine Whitehurst and Linda Green are the current tenants.

Acid-etched original windows tell you it was first owned by Parkers Brewery
"I've lived in Dresden for 23 years," says Catherine. "We manage the pub for the owner and basically cater for the local trade. But unfortunately business, in common with the public-house industry generally, has declined quite a bit. We don't open during the day until five-ish; this suits the locals and people coming from work. I have to say our business does rely on karaoke which is very popular. So we build events around this at weekends and a couple of nights in the week."
Pub regular is Dresden resident Albert Brian, age 67.
"There used to be pubs all over this part of Longton," he claims. "There's still is a lot around here but more than enough have been demolished. The Dunrobin, the Sailor Boy and the Lord John Russell have all gone. I suppose they served their time. Nothing lasts forever. But they still pull the best pint in Longton in Sir Robert Peel."
I suppose a dedicated customer would say that. Nevertheless 32 year-old self-employed plumber Gary Harris agrees. He goes out of his way to call every night.
"I like to use a pub that is quiet and traditional so I can wind-down and gather my thoughts after a hard day. A couple of pints and I'm off home," he says.


high above the door the familiar scroll of Bass hints at another attempt at permanency
The best thing about Sir Robert Peel is the formality the management and customers assume when speaking its name. Not for them some soft abbreviations like Bob's or Bobbies. Nicknames like Peeler's or Corner-Pin are never used in reference to this old pub; no suggestion of say 'Cath's Place'. No! It's Sir Robert Peel, all or nothing. And nothing resonates with Victorian social improvement more than a pub's name. Here it stirs the ghosts of the political reformers that still seem to haunt Dresden's streets and alleys.


"Discovering old path awakens a realisation of social history," concurs Steve. "Dresden's bridle path was here before the houses. It cut through Spratslade Farm and Sutherland's estates to Trentham and Stafford. It was a link with other trading towns and it's wonderful to see how well it has survived."
---

More on the Bridle Path in Dresden

Dresden and the Longton Freehold Land Society