Burgess and Leigh Ware
[ Photos of Factory ] [ Pottery Marks ] [ Newspaper Article ]
[ History of Burgess and Leigh ]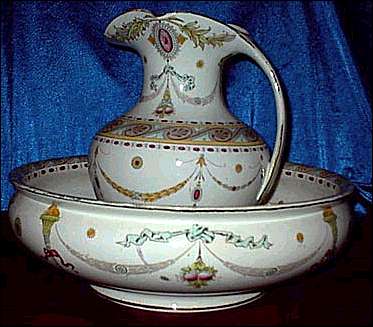 An art deco/nouveau style pitcher and bowl,
numbered (decal numbered 485142 and embossed Rd.468915 and
hand written blue numbers perhaps 45 22 11), stating Middleport pottery/B&L
(fancy lettering)/Paxton.
Tableware
Burleighware Art Deco designs also included a large selection of tea, coffee and dinnerware. "Zenith" is the most popular shape from this period with an angular design and hand painted decoration of landscapes or flowers. Other shapes are "London" and "Imperial".


Jugs
Burgess and Leigh produced a vast range of yellow novelty jugs. Other jug colours were produced, but the yellow jugs are the most sought after by collectors. These jugs have handles modelled as animals, figures, sporting characters and even the rare and most sought after guardsman.


Vases
There is a good range of Burgess and Leigh vases to collect including Strong geometric shaped lozenge vases and trumpet shaped flower vases with moulded birds.




questions/comments? email: steve birks