Sutherland Pottery, Fenton
---
By 1877 there was a pottery works on this site which was noted on the OS map as 'Encaustic Tile Works'

Thomas Forester started earthenware manufacture at the works in 1884 and continued until 1887/8 (a couple of years longer than that recorded by Jewitt).

Forester then took Joseph Booth Hulme into partnership c.1887 and they operated as Forester and Hulme. This partnership continued until December 1892 when Thomas Forester left the business.

Hulme then entered into partnership with John James Christie - operating as Hulme & Christie. This partnership continued until June 1900 when Joseph Hulme left the business.

There was then a short lived partnership between John James Christie and Francis (Frank) William Beardmore. This ended in November 1901 when Christie left the business and Beardmore continued on his own - initially retaining the trading name Christie and Beardmore.

In 1903 the business name was changed to Frank Beardmore & Co. The business was wound up c1913
---

NOTE: There was another pottery works in the Stoke-on-Trent area which used the name 'Sutherland' - the Sutherland Works in Normacot Road, Longton (built c.1850)
---
NOTE: There three men named Thomas Forester who operated pottery works in the Fenton/Longton area of Stoke-on-Trent - all at the same time.
Thomas Forester Son & Co - at the Sutherland Pottery, Fenton
Thomas Forester & Co - at the Melbourne Works, Longton
Thomas Forester & Sons (Ltd) - at the Phoenix Works, Longton
---
Sutherland Pottery
"Messrs. Thomas Forester, Son & Co started potting at the Sutherland Works in about 1884. The produced china and earthenware dinner, tea, desert and toilet sets..... In 1885 they were succeeded by Messrs. Forester & Hulme and by Hulme & Christie from 1893 to 1902."
From Jewitt's "Ceramic Art of Great Britain, 1800-1900"
---

Map showing the former location of the Sutherland Pottery
the location is now a car park and Fenton open air market.
---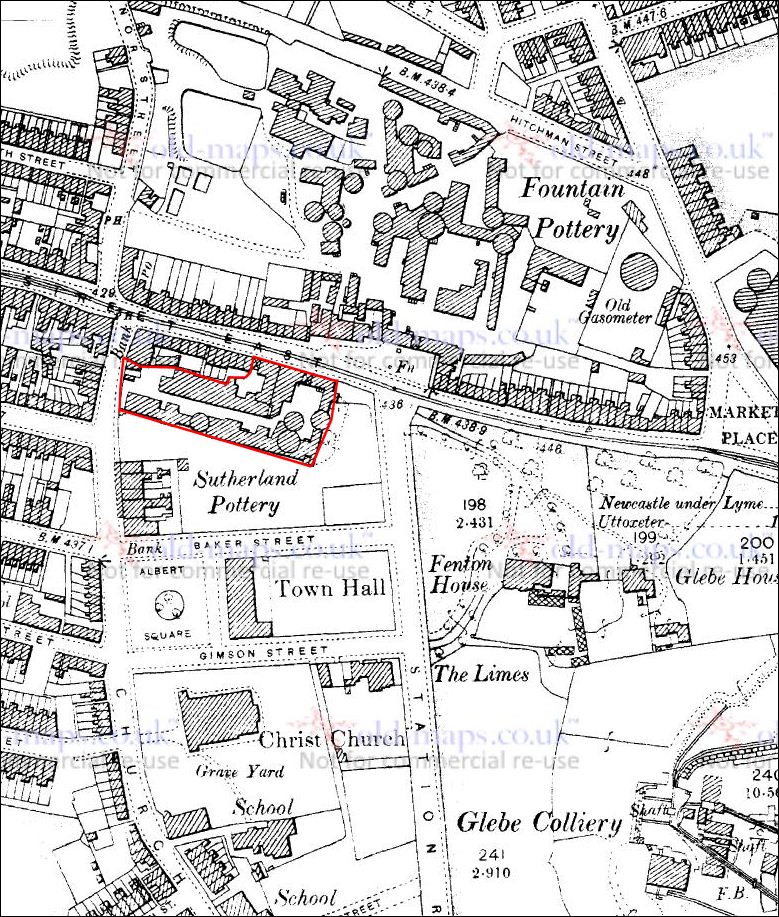 1900 map showing the Sutherland Pottery in Fenton, Stoke-on-Trent
The works were fronted on High Street East (now City Road) and
flanked by Church Street (now Christchurch Street) and
Station Road (now Glebedale Road)
---

the Sutherland Pottery in 1937 - in front is High Street East
at the top of the photo (left to right) is Fenton Library, police station and Town Hall
photo courtesy: Britain from Above
---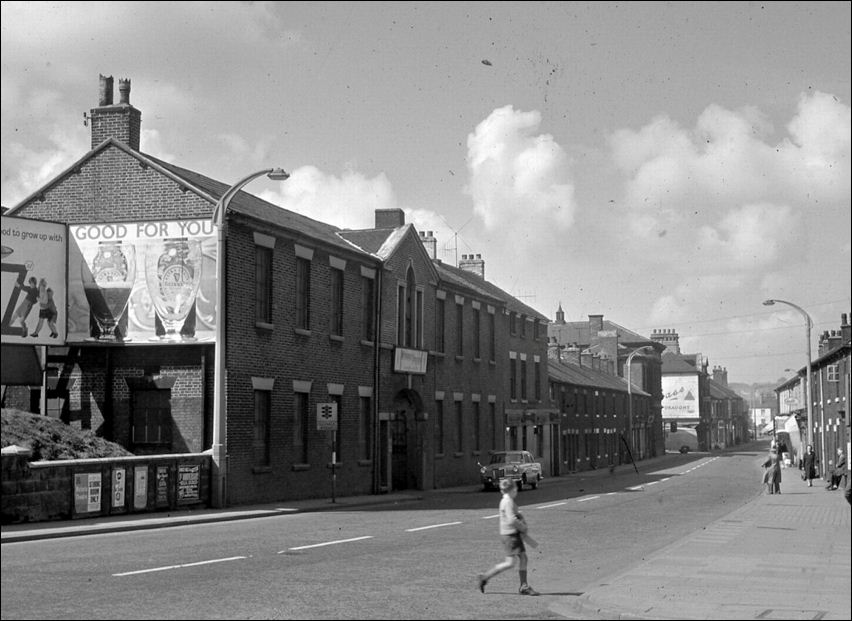 the Sutherland Pottery - 1963/4 - in front is City Road (was High Street East)
photo: Bert Bentley Archive
---
Questions, comments, contributions? email: Steve Birks
---