Cannon Street Works, Hanley, Stoke-on-Trent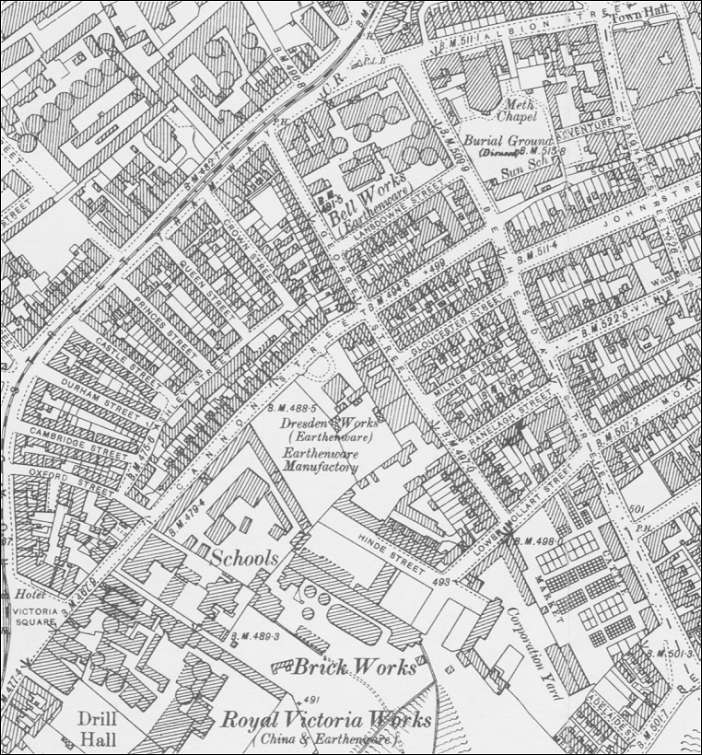 1898 OS map showing Cannon Street

Cannon Street Works

These works, dating back to the beginning of the nineteenth century, were for many years carried on by Thomas Ford (and T. & C. Ford) who here commenced business and later built a larger manufactory in the same street.
From 1875, the business was carried on by Edward Steele, who produced earthenware of the more ordinary qualities, stoneware of good useful character, majolica and Parian. In stoneware, all the usual useful classes of goods were made, and many of the designs and workmanship were of good character. In majolica, both useful and ornamental goods were produced. Parian statuary - one of the specialities of the firm - was extensively made, some hundreds of different single figures, groups, busts and animals, besides numbers of ornamental articles, being issued. Edward Steele continued to 1900. He did not mark his products.
Jewitt's Ceramic Art of Great Britain 1800-1900

James and Thomas Bevington operated for a short period (1873-75) from works in Cannon Street - probably in the latter years of Thomas Ford. J & T Bevington were also well known for their Parian work.

Questions/comments/contributions? email: Steve Birks
26 Dec 2005