Hope Street Works, Hanley
Richard Dudson (Broad Street works) 1800

The Hope Street (Hanover Street) works is now a listed building. It is used as a community and conference centre.
| Marks on Dudson Ware | Examples of Dudson Ware |

Interior of Hope Street Works
Around 1893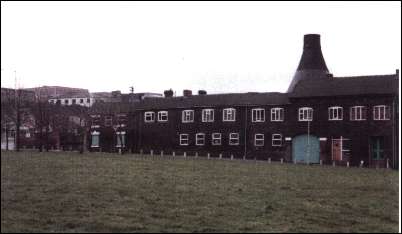 Photo taken 1983, Ian Bailey

More photos and 1898 location map for Dudsons

Hope Street Works
Established in 1800. In 1838, James Dudson entered upon the works and carried them on till his death in 1882. They were then continued by his son. At one time, ornamental china figures, vases, and services were made. The productions were later white and coloured stoneware jugs, tea and coffee pots, sugar- boxes, etc., metal-mounted goods, flower-pots, candlesticks, etc. Among the registered designs for jugs were the 'Fern', 'Argyle', 'Barley', 'Vine-border', 'Pineapple', and 'Wheatsheaf' patterns, which were produced in a variety of colours. Wedgwood-type jasper ware in brown, green or blue was also produced in quantity (Plate 45). In mosaic ware, Mr. Dudson made a variety of articles in white, drab, blue, and other bodies inlaid with a variety of colours. These included tea and coffee-pots, sugar- bowls, jugs, etc., of different shapes. James Dudson, who received 'honourable mention' in the Exhibitions of 1851 and 1862, supplied both home and foreign markets. Some ware, including jugs and rare hen boxes, is impressed- marked DUDSON. Messrs. Dudson Brothers Ltd. continue at Hope Street, Hanley, to the present day.
From Jewitt's "Ceramic Art of Great Britain, 1800-1900"

Questions/comments? email: Steve Birks