Victoria Works, Hanley
Dates: The 1893 journal (see link below) says that Cotton 'quite recently acquired' - so for the moment we have plumped for 1890?

Location: We know from the journal that the works were 'the large works opposite Shelton Church' and also previously occupied by John Adams and Adams and Bromley. Both Godden and Jewitt name the works as 'Victoria Works'. The 1898 OS map locates the Victoria Works on the corner of Victoria Road (now College Road) and Broad Street which is directly opposite St. Marks Church.
Jewitt, however, says 'these works in St. James Street' - this street is off Broad Street but is someway away from the Victoria Square end of Broad Street and Shelton Church - so I think that Jewitt was mistaken in his location.

Index entry for E. Cotton
1893 journal on E. Cotton
1956 article on the company.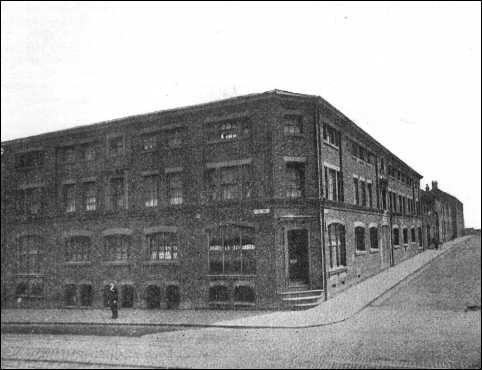 Victoria Works - Broad Street (picture around 1893)
From: "A descriptive account of The Potteries (illustrated)
1893 advertising and trade journal.
Page 22 Mr. Elijah Cotton, Earthenware and China Manufacturer"

on the journal entry.
The Victoria Works, opposite St. Marks Church on the
corner of Broad Street and Victoria Road (now College Road).

Questions/comments? email: Steve Birks