Grafton Works, Longton
The works were newly built in 1900 for Alfred B. Jones who had previously been working as a pottery decorator in hs own business since 1876.
Situated on Marlborough Road, off Wood Street, Longton. The works took its name from the adjacent Grafton Junior and Infants School, opened in 1892 - the Grafton pottery works was built on the opposite side of Marlborough Road.
From
To
Occupier
Comments

1900

1971
A. B. Jones & Sons
A family business of Alfred B. Jones and his sons A.B. and W.B. Jones.
In 1966 the business was bought by Crown House Glass Ltd. and continued to trade under the A.B. Jones name.

1966

1971
Crown House Glass Ltd.
A family business of Alfred B. Jones and his sons A.B. and W.B. Jones.
In 1966 the business was bought by Crown House Glass Ltd. and continued to trade under the A.B. Jones name.

1971

1985
Crown Lynn Ceramics (UK) Ltd
In 1971 the business was sold to the New Zealand based Crown Lynn Potteries Ltd. and renamed Crown Lynn Ceramics (UK) Ltd.
The business used the trade name 'Royal Grafton'

1985

1992
Royal Grafton China Ltd
There was a management buy out in 1985 and the business was renamed Royal Grafton China Ltd.

1992

2006
John Tams Group PLC
Tams Group Ltd
In 1992 John Tams acquired Royal Grafton China Ltd. and used this purchase as an entry into bone china manufacturing under the names 'Royal Grafton' and 'Grafton Living'
John Tams Group PLC went into receivership in 2000 and following a management buyout continued as Tam Group Ltd. continuing with the brands 'Tams' 'Royal Grafton' and 'Grafton Living'

1922 British Industries Fair catalogue advert for A. B. Jones & Sons - Grafton China

---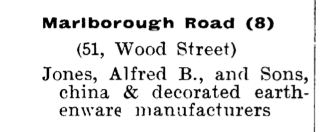 from..... 1907 Staffordshire Sentinel
'Business Reference Guide to The Potteries, Newcastle & District'
---

map from 1947 Pottery Gazette & Glass Trade Review - 11 marks the Grafton Works
| | |
| --- | --- |
| 11 | A. B. Jones & Sons |
| 12 | R. H. & S. L. Plant, Ltd. / Decoro Pottery Co. |
| 13 | Longton New Art Pottery Co., Ltd. |
| 14 | Dinky Art Pottery Co., Ltd. |
| 15 | British Anchor Pottery Co., Ltd. |
| 16 | Sampson Bridgwood & Son, Ltd. |
| 17 | Colclough China, Ltd. |
---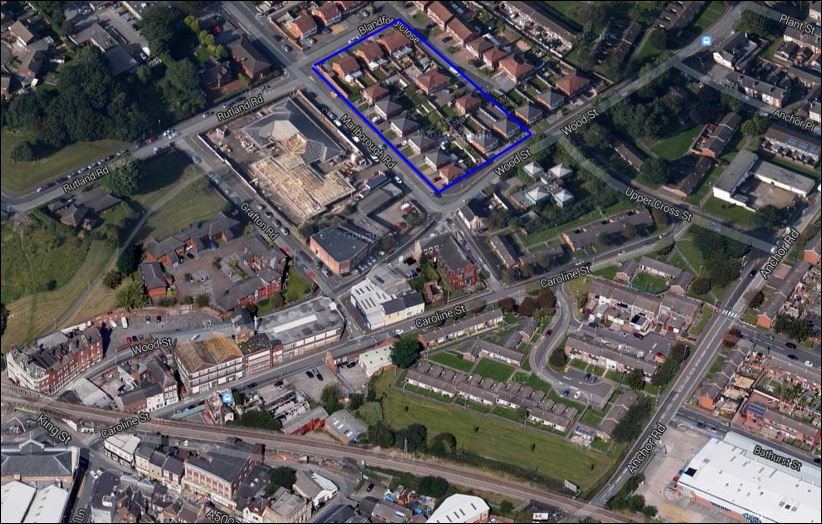 the location of the former Grafton Works is shown in blue
Google Maps
---
from..... 1907 Staffordshire Sentinel
'Business Reference Guide to The Potteries, Newcastle & District'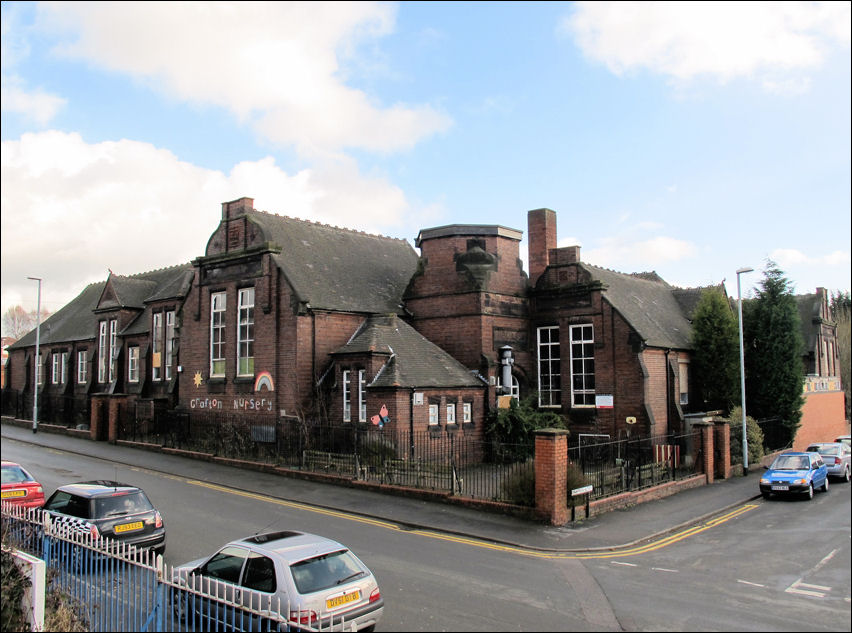 Grafton Junior and Infants School, Marlborough Road, Longton
this school was built in 1892 - the Grafton pottery works was built opposite in 1900
both school and pottery works are now demolished
---