Location and period of operation:
| | | | |
| --- | --- | --- | --- |
| A. B. Jones & Sons | Longton | 1900 | 1971 |
China and Earthenware manufacturers at the Grafton Works, Longton, Stoke-on-Trent.
Alfred Bailey Jones began as pottery decorator and seller in 1876. (probably at the Eagle Works, Station Square, Longton).

He was in partnership with John Siddall as China, Earthenware, and Glass Dealers (Siddall & Jones) -this partnership was dissolved in May 1880 when John Siddall left and A B Jones continued on his own account.

Alfred B Jones was in partnership with Elijah Brian and William Hawker, china manufacturers and trading as Robinson & Son. A B Jones retired from this partnership in December 1892.

He once again joined in business with John Siddall as earthenware manufacturers. The partners were Thomas Parker Radcliffe, Alfred Bailey Jones and John Siddall, trading as Radcliffe and Company. A B Jones retired from this partnership in March 1901 after he has set up his own business at the newly built Grafton Works.

The Grafton Works was built in 1900 in Malborough Road (off Wood Street) in Longton.

Alfred Bailey Jones was joined in business by his two sons A. B. Jones and W. B. Jones.

A B Jones was the mayor of Longton in 1905-6.

In April 1907 Edith Jones, second daughter of Alderman A. B. Jones married Harold John Plant of R H & S L Plant. Pottery Gazette, May 1907.

The father died in 1940 and the business continued under the management of A. B. Jones (Jnr) until his death in 1956, his son, Alfred Leslie Jones the managed the business.

In 1966 the business was bought by Crown House Glass Ltd. and continued to trade under the A. B. Jones & Sons name.

Crown House Tableware also owned Dema glass, Denby, Edinburgh Crystal & Thomas Webb Crystal.

In 1971 the business was sold to the New Zealand based Crown Lynn Potteries Ltd. and renamed Crown Lynn Ceramics (UK) Ltd.
subsequently: Crown Lynn Ceramics (UK) Ltd.
---

The London Gazette
14 May 1880


notice of the dissolution of the partnership between John Siddall
and Alfred Bailey Jones as China, Earthenware, and Glass Dealers.
Alfred Bailey Jones continued on his own account

---

The London Gazette
10 January 1893


notice of the dissolution of the partnership between Elijah Brian,
William Hawker and Alfred Bailey Jones as China Manufacturers,
trading as Robinson and Son - A B Jones retired

---

The London Gazette
17 March 1901


notice of the dissolution of the partnership between Thomas Parker Radcliffe,
Alfred Bailey Jones and John Siddall, as Earthenware Manufacturers,
trading as Radcliffe and Company - A B Jones retired

---

Jones, Alfred Bailey (1851-1940), pottery manufacturer, Longton.

ABJ was born in Longton in June 1851, the son of William Jones, a former customs and excise officer, of Caroline Street.

He was educated at the Zion and Wesleyan Schools, Longton. He began work at Aynsley's Pottery, Longton, at the age of ten. By 1876 he had established his own business as a pottery factor. He built the Grafton Works, Longton in 1900, making all kinds of ware, and trading as Alfred B. Jones and Sons.

In 1900 he was appointed a justice of the peace, and in November 1905 he was elected mayor, although he was not a member of the council. He served as mayor again in 1910 and was in this office at the time of federation, of which he was a supporter.

He attended the Methodist New Connexion church, and was treasurer and president of the local branch of the British and Foreign Bible Society. He acted as joint secretary of the Methodist New Connexion Conference, and represented the Longton circuit at Conference on a number of occasions. He was also a trustee of Mount Tabor church, Fenton. In politics he was a Liberal.

He married (1) Annie Howson by whom he had six children and (2) Sarah Poole. He was living at 7 Carlisle Street, Longton, in 1889 and at Spring Garden Road, Longton, in 11907. He died at Bank House, Trentham Road, Oakhill, on 6 January 1940.

'People of the Potteries'
Sources: Evening Sentinel 8 January 1940; C. Penn, Staffordshire at the Opening of the 20th Century; Pottery and Glass July-December 1956.

---


Grafton China
A B Jones & Sons
Longton, Staffs

1922 British Industries Fair catalogue advert

---
Marks used on ware for identification:
Grafton China

Royal Grafton China
Grafton was a trade name
used by A B Jones
---
A B J & S
A B J & SONS
A B JONES & SONS

---
click below for more information on A B Jones ware and marks:-
---


click for information
on the Grafton Works
---
Crested China
Crested china collecting became a craze in Victorian and Edwardian times when day trippers bought small porcelain ornaments decorated with the coat of arms of the locality to take home as a souvenir.

A B Jones made this type of ware: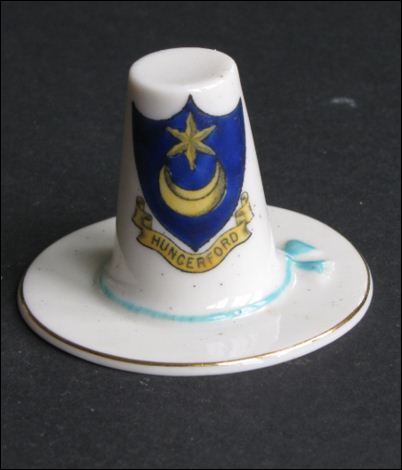 - click picture for more -

---
examples of crests from pattern book for A B Jones
- click picture for more -
---
Questions, comments, contributions? email: Steve Birks
---