Location and period of operation:
| | | | |
| --- | --- | --- | --- |
| John Aynsley & Sons (ltd) | Longton | 1864 | present |
Portland Works, Longton, Stoke-on-Trent.
His grandfather, also called John Aynsley, came to the Potteries from Northumberland, and was in business as a maker of lustre ware, the first in Lane End (Longton), in a factory on the site of Longton market (1775).

In 1861 John Aynsley built the Portland works in Sutherland Road, Longton.

John Aynsley was born in Union Street, Longton, in 1823, the son of James Aynsley and Charlotte nee Anderson, he died at Portland House, Blythe Bridge, on 7 February 1907.
---
1933 became Limited company

1948 officially listed on the Stock Exchange

1969 acquired Denton China (Longton) Limited 1945-1968

1970 Spode Limited made an unsuccessful bid to buy John Aynsley and Sons Limited

1970 Oct taken over by Waterford Glass Company Limited, Eire

1971 renamed Aynsley China Limited

1977 bought Sydney Works, Sutherland Road, Longton

1980 bought Alsager Works, Sutherland Road, Longton

1986 Josiah Wedgwood & Sons Limited taken over by Waterford Glass Group Pic, Eire

1987 Dec Management Group known as Aynsley Group Pic bought Aynsley China Limited from Waterford Glass Group PLC

1989 July bought Parkhall Works, Sutherland Road, Longton

1989 Aug trade names and patterns of Hammersley China Limited and Palissy Pottery Limited bought from The Porcelain and Fine China Companies Limited, owners of Spode Limited and Royal Worcester Limited

1989 retailing bone china with Hammersley China Limited patterns and backstamp
"Dynamic Design - The British Pottery Industry 1940-1990"
---

See a biography on John Aynsley and Gerrard Aynsley
---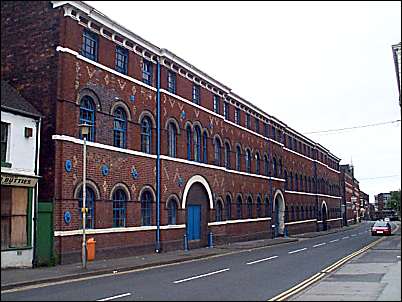 Aynsley - Prince of Wales works
more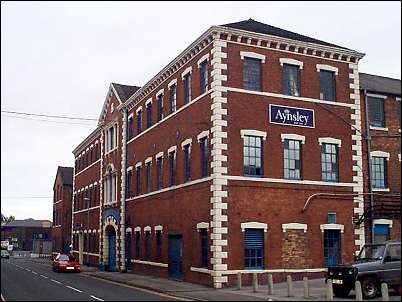 Aynsley's Portland Works in Sutherland Road, Longton
more
Initials used on ware for identification:
AYNSLEY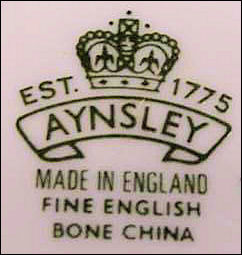 After 1891 the name 'ENGLAND' was added.

some marks carry the wording 'est. 1775'
(John Aynsley I, of Lane End (Longton) started his works in 1775)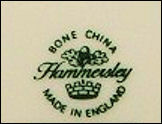 ---
The above information may not be available
for all potters - if you have information to
help complete the records then I would be
happy to include it.
email: Steve Birks
updated: Sept 2008