| | |
| --- | --- |
| James Dudson | |
Location and period of operation:
| | | | |
| --- | --- | --- | --- |
| James Dudson | Hanley | 1838 | 1888 |
Richard Dudson (Broad Street works) 1800

Thomas Dudson ran the new Hope Street works from 1809-1838

James Dudson 1838-1888

J.T. (James Thomas) Dudson 1888-1889

Dudson Bros 1898 -
---


James Dudson
Hanley, Staffordshire Potteries
The Pottery Gazette, February 2nd 1880
---


James Dudson
Hanley, Staffordshire Potteries
The Pottery Gazette, January 1885
---
- click for more -
---
DUDSON, James (1812-82),
pottery manufacturer, Hanley.

James Dudson was born in Shelton on 12 March 1812, the son of Thomas Dudson, potter, and Elizabeth nee Penny.
James's grandfather, Richard Dudson (1768-1833) had begun the family pottery business with a factory in Broad Street in 1800.

Interior of the Hope Street Works
(Around 1890)

A second works, in Hope Street, was opened in 1809 with Thomas Dudson in charge. Thomas(1786-1845) ran the factory until his death in 1845, when James took it over. The pottery produced jasperware and stoneware in various colours.
In a letter to the Potteries Examiner in 1846 James was falsely accused of installing a 'whispering pipe' in his workshop, by means of which he could hear what his workpeople were saying. He offered £1,000 for the name of the anonymous writer of the letter. What he had done was to install a speaking tube from his office down to the workshop for ease of communication. The speaking tube was invented in 1796 and adapted in the middle of the19th century for use in houses to allow the owner to speak to the servants' quarters.
James Dudson exhibited at the Great Exhibition in London in 1851 and again in 1862. The works employed 33 persons in 1851
He was an improvement commissioner for Hanley, but failed to secure election to the council in 1857. He married Jane nee Spilsbury in March 1838. By 1841 the family was living in Clarence Street, Hanley. They moved to Alsager in 1862 and James Dudson died there on 6 June 1882.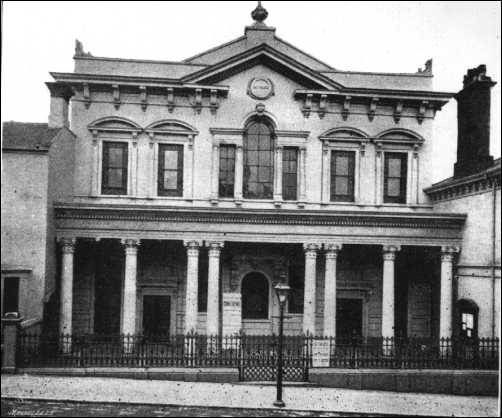 Bethesda Methodist Chapel, Hanley Town Centre
(around 1890)

His son James Thomas Dudson married Elizabeth Ann, daughter of Robert Scrivener, the ceremony being performed at Bethesda Methodist New Connexion church in September 1864 James Thomas took over the family business on his father's death.
The firm continues today, in the control of the eighth generation of the Dudson family, and specialises in the production of wares for the hotel and restaurant market.
Sources: F Burchill and R Ross, History of the Potters' Union; Census 1841, '1851; information provided by Miss Audrey Dudson; Evening Sentinel 2 September 1975, Jewitt; M and H.
---
The above information may not be available
for all potters - if you have information to
help complete the records then I would be
happy to include it.
email: Steve Birks