| | |
| --- | --- |
| Grimwade Bros | |
Location and period of operation:
| | | | |
| --- | --- | --- | --- |
| Grimwade Bros | Stoke | 1885 | 1900 |
Earthenware, Majolica and China manufacturer at Winton Pottery, Hanley and Stoke (1886-1900)

Subsequently: Grimwades Ltd at Winton, Upper Hanley and Elgin Potteries Stoke. (1900+)

---
Winton Pottery
Messrs. Grimwade Brothers established their
Winton Pottery (Stoke) in about 1886. A wide range
of useful and decorative earthenware was produced.
The 'Durham Beer Set' was made in several patterns
and sold in the 1890's at a cost from 1s 11d to 3s 9d
per set. The style became Grimwades Ltd. in about
1890. From: Jewitts 'Ceramic Art of Great Britain 1800-1900.
Grimwade Brothers was founded by Leonard Lumsden Grimwade.
Leonard had shown a natural talent for modelling pottery and it was in this field that his infant business began, in 1885. He was soon joined in the business by his older brother, Sidney Richard, another potter.

By 1890 new showrooms had been purchased in Stoke-on-Trent and London.
---
Initials used on ware for identification:
G Bros
GRIMWADE
NOTE: If the mark says "GRIMWADES" (in the plural)
then the mark is from the later Grimwades Ltd
---

G BROS
HANLEY
STAFFORDSHIRE
ENGLAND
This mark is from the Upper Hanley Works
The registration number 195689
was first registered in 1892
"WINTON" is the pattern name
- it eventually became a Trade Name of Grimwades Ltd
---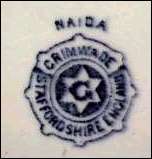 GRIMWADE
STAFFORDSHIRE
ENGLAND
This mark appears to have been used by
both pottery works as it does not
say "HANLEY" or "STOKE"
c.1891-1900
"NAIDA" is the pattern name
---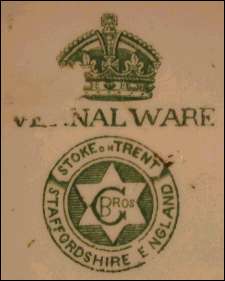 printed mark "G Bros" in star within a circular band - Crown above
c.1891-1900

STOKE-ON-TRENT
STAFFORDSHIRE
ENGLAND
c.1891-1900
These two marks are from the Stoke Works
---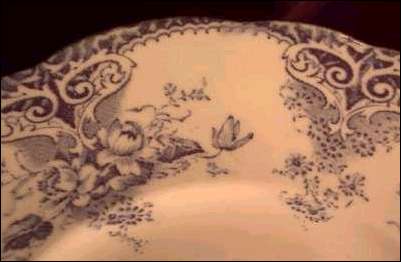 Grimwade "Nadia" 10" blue and white transferware plate.
---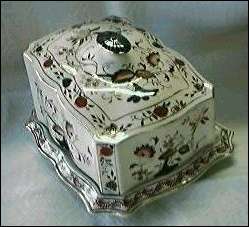 Cheese dish. It measures 9inches long,
7 1/2inches wide and approx. 5 3/4inches tall.
---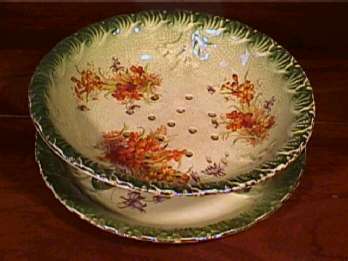 pierced berry bowl set consisting of the following pieces:
one pierced, semi-scalloped three footed bowl
measuring 8 1/8" in diameter and standing 2 5/8" tall
and one semi-scalloped underplate
measuring 8 1/8" in diameter.
Brilliant flora and fauna on a lovely
green ground background all detailed in gold
---
updated: 26 March 2004