| | |
| --- | --- |
| William Lowe | |
---
Location and period of operation:
| | | | |
| --- | --- | --- | --- |
| William Lowe | Longton | 1874 | 1931 |
Earthenware, Egyptian Black and China manufacturer at the Sydney Works (High Street & Sutherland Road), Longton, Stoke-on-Trent
Previously: "Tams & Lowe" who split up in 1874 and became William Lowe and John Tams as two separate companies.
---

William Lowe
(late Tams and Lowe)
Sydney Works, High Street and Sutherland Road, Longton

The Pottery Gazette, April 1st 1880

---

Advertisement from 1875 Keates trade directory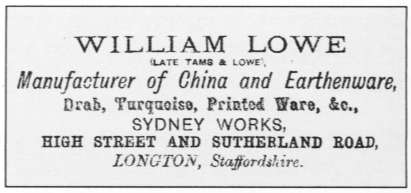 Advertisement from 1882 Keates trade directory
courtesy of R.K.Henrywood - Staffordshire Potters 1781-1900
---

Pair of vases and plant pot by William Lowe
the mark is 'Royal Sydney Ware'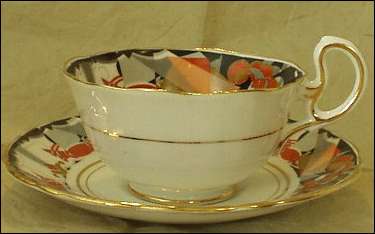 typical William Lowe cup & saucer

William Lowe cup & saucer of the "EMBLEM" pattern
---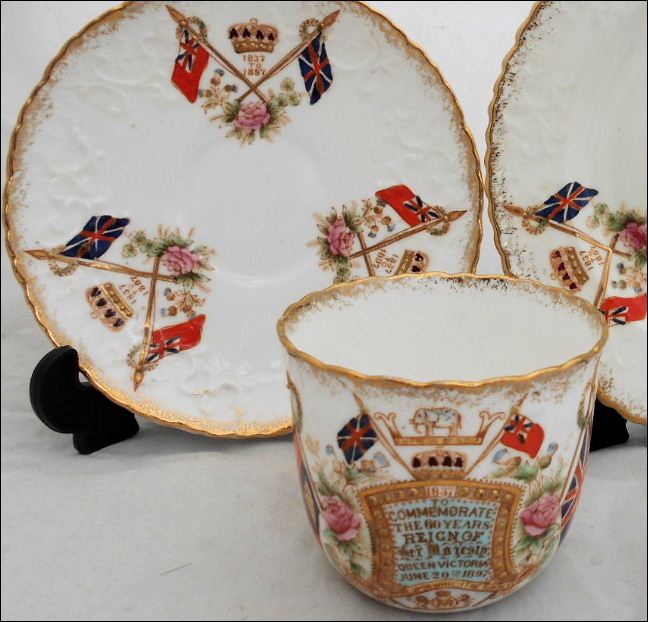 1937 to 1897
To commemorate the 60 years reign
of her majesty
Queen Victoria
June 20th 1897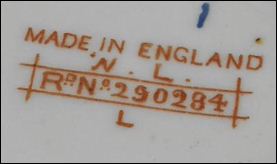 Made in England
W. L.
RdNr 290284
L
the registration number gives
a date of 1896 for the pattern registration
---
Initials and marks used on ware for identification:
Most marks occur with W L L and a crown

the second "L" stands for LONGTON which is the name
of the town where the factory was located
---

W LOWE
LONGTON
---
COURT CHINA
[crown mark]
W L
L
c.1912+
---
ROYAL SYDNEY WARE
c.1915+
---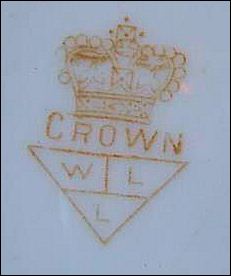 printed or impressed mark
- this mark sometimes appears without the crown mark -
1874-1912
---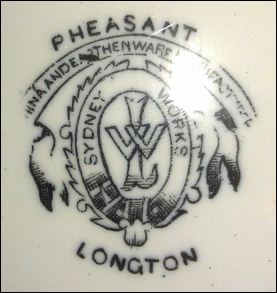 PHEASANT
China and Earthenware Manufacturer
Sydney Works
WL
Longton
'PHEASANT'is the pattern name
pre-1912
---
c.1912+


Court China
this mark is usually with the
initials W L L
"EMBLEM" is the pattern name
the registered number shown: 618630 dates from 1913
---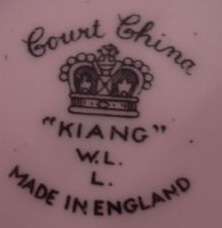 Court China
W.L.
L.
made in England
'KIANG' is the pattern name
c.1912+
---

Royal Sydney Ware
W.LOWE
L.
c.1915+
---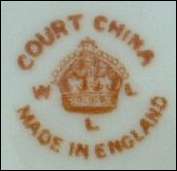 Court China
W L
L
made in England

c.1928-30
---
NOTE:
This mark is not William Lowe
it is not old or English or French



mark with script letters "WL"
and date 1895
surrounded by laurel leaves and crown above
it it the mark of modern ware by Wong Lee
---
Questions/Comments/Contributions? email: Steve Birks
---