Listed Buildings in Stoke-on-Trent and area
Tomb of Josiah Wedgwood I in the grounds of Parish Church of St. Peter Ad Vincula
---
Area
Stoke
Street
Glebe Street
Heritage No.
176 A
Grade
II
Date Listed
15 March 1993
Building: Tomb of Josiah Wedgwood I
Location:

STOKE ON TRENT SJ8645 GLEBE STREET

Description:

Tomb. Circa 1795. Stone. Squared paved area with edge coping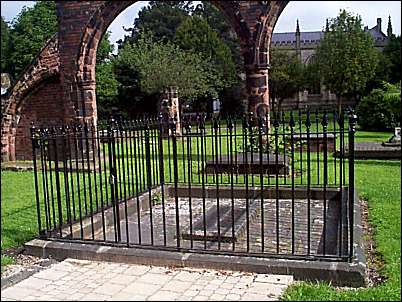 Tomb of Josiah Wedgwood I
The ruin arches of the medieval church and the present
day church in the background.
---

Tomb. Circa 1795. Stone. Squared paved area with edge coping probably covering a vault.

Originally had iron railings. Central raised panel, probably later, inscribed:

Josiah Wedgwood 1730-1795

Josiah Wedgwood was buried at the entrance the original church of St. Peter ad Vincula (demolished 1829 and then rebuilt), rather than inside the church because he was not a member of the Church of England.
---





summary of all listed buildings in St. Peters grounds

on St. Peter's Church

on Glebe Street




next: Herbert Minton Building, London Road, Stoke
previous: Stoke Town Hall