Listed Buildings in Stoke-on-Trent and area
Former meat market, Tontine Street, Hanley
---
Area
Hanley
Street
Tontine Street
Heritage No.
177 A
Grade
II
Date Listed
02 Oct 1951
Building: Originally built as a meat market, in the late 1990's refurbished as the 'Tontines Shopping Centre', in 1999 used as Waterstone's Book Shop and also a Wetherstone's Public House 'Reginald Mitchell'
Location:

STOKE ON TRENT SJ8847 TONTINE STREET, Hanley

Description: Built in 1831, classic style, rectangular with a facade of five bays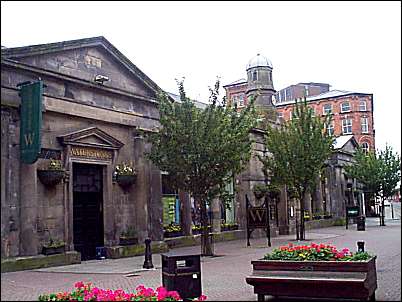 View from Tontine Square end
Webberly's book and print shop is visible in the background.
---

1831. Classic style.

Rectangular, with facade of 5 bays, the central containing an arched entrance with a cupola above.

All the side bays have Roman Doric entrances, the extreme sides being pedimented and having featured entrances with coupled columns supporting a pediment. Plain frieze; blocking course.
---

It was from this covered market that Potteries' people drew lots for tickets to escape to a hopefully better life in the New World.

Built in 1831 as a shambles (butchers slaughterhouse), the cattle market was in nearby Lower Bethesda Street.

The market closed on Saturday 14th November 1987. Three days later the stallholders were trading in the underground market of the new 'Potteries Shopping Centre' in Market Square.



Corner of the old Meat Market
Tontine Street to the left, Percy Street to the right.


Main Entrance on Tontine Street
Note the Cupola, with the clock face, over the entrance.

photos: Steve Birks 2000





next: St. John the Evangelist Church, Town Road, Hanley
Previous: Former Post Office, Tontine Street, Hanley