Listed Buildings in Stoke-on-Trent and area
Post Office Building at Hanley
---
Area
Hanley
Street
25-31 Tontine Street
Heritage No.
56 A
Grade
II
Date Listed
08 November 1991
Building: Post Office
Location:

STOKE ON TRENT SJ8847 TONTINE STREET, Hanley

Description: Built 1906 by John Rutherford, Ashlar Faced with two stories and eleven bays.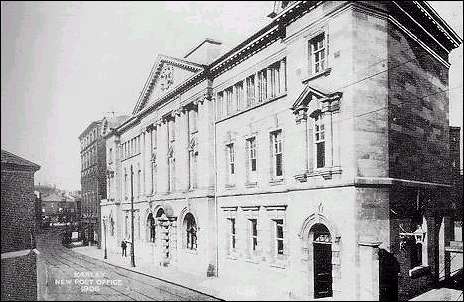 New Post Office, Hanley - 1906
The Post Office was built with stone from the Waterloo Stone Quarries at
Alton at a cost of about £13,000. Opened in October 18th 1906.
In previous years the site was a regular venue for Batty's Circus
---

Post Office. 1906 by John Rutherford.

Ashlar faced. 2 storeys and attic, facade of 11 bays (1-3-3-3-1), with outer bays projecting. Central pediment carried on paired Doric shafts and coat of arms in apex, above basement storey with central round arched entry in stone canopy, and round arched windows. Continuous band of 6 small windows in central attic storey, separated by shafts serving as mullions.

Doorways in moulded stone architraves flanked by sash windows to each side, and rounded arched doorways in outer bays, with pedimented windows over. These advanced outer bays have segmental pediments. Heavy entablature throughout.

NOTE: In 2007 the post office was closed as part of cost cutting exercise and the service moved to W H Smiths in the nearby Potteries Shopping Centre.
---



The main feature is the triangular pediment supported by Ionic columns and pilasters.

On the 1898 OS map the location of the Post Office is open space and in previous years the site was a regular venue for Batty's Circus.

Note the tram lines which ran up Lichfield Street across Tontine Square and along Tontine Street as far as the junction with Percy Street.


Pub (formerly The Waggon & Horses) - which is on the corner of Old Hall Street and Tontine Street. The Post Office building can be seen in Tontine Street on the left of the photo.





next: The Tontines, Hanley
previous: Regent Theatre, Piccadilly, Hanley