Listed Buildings in Stoke-on-Trent and area
Shop premises, St. John's Square, Burslem
---
Area
Burslem
Street
St. John's Square
Heritage No.
22a
Grade
II
Date Listed
19 April 1972
Building: Shop premises - numbers 15,15a St. John's Square
Location:

STOKE ON TRENT

Description:

EARLY C19 PAINTED BRICK, SLATE ROOF, ("JOHN BAINES SHOP" -BENNETT)
In Arnold Bennett's novel "Old Wives Tale" the shop on the left was home of the Baines Family with the sisters Constance and Sophia.

NOTE: In Bennett's novels St. John's Sq. became St. Lukes Sq.

The street just visible on the extreme left is William Clowes Street. This street used to be Church Street and ran right down to Enoch Street which ran along the perimeter of St. John's Church.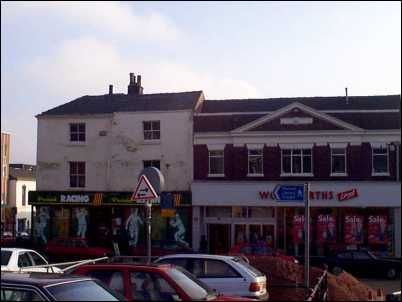 Baines shop at the bottom of St. John's Square
(the listed building is on the left)
photo: Steve Birks - Jan 2000



1909 picture of St. John's Square taken from Fountain Place
Baines shop premises are to the left side near the bottom


---

Shop premises. Converted into two properties.

Early 19th Century. Painted brick with slate roofs, hipped around corner. 2-storeyed, 2 bays to St John's Square, returning onto Church Street. 20th Century shop fronts, 4-pane sash windows above, with flat arched stuccoed heads. Part of moulded eaves cornice survives.

Used by Arnold Bennett as "John Baines Shop" in "The Old Wives' Tale".

---

on St. John's Square

---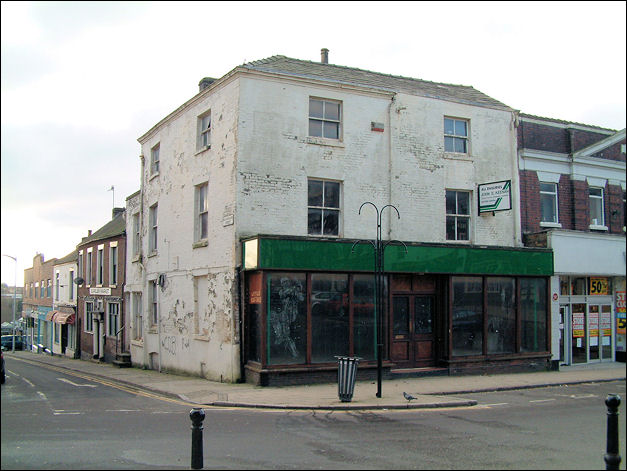 'Baines' shop in 2008






next: War Memorial, Swan Square, Burslem
previous: School of Art, Queen Street, Burslem