| | | |
| --- | --- | --- |
| | Stoke-on-Trent - photo of the week | |
Advert of the Week
Potworks of the Week

Pye Hill No.2 Colliery Clock



Pye Hill No.2 Colliery Clock - restored and installed at Whieldon Road, Fenton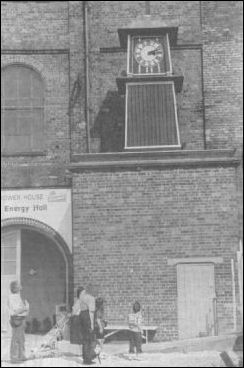 The Colliery Clock being installed at the
Hesketh Pit buildings at Chatterley Whitfield
Sentinel Newspaper
Pye Hill Colliery
The original Pye Hill colliery at Pye Hill, Jacksdale was sited in an 'exposed' section of the Nottinghamshire coalfield and was worked as an 'outcrop' where coal could be lifted from the surface of the ground. Gradually outcrops gave way to 'bell pits' which were holes dug down into the ground and hollowed out in the shape of a bell.
The original Pye Hill pit was sunk at Jacksdale, but was later known as Pye Hill No 2, when the nearby Selston/Underwood Colliery became known as Pye Hill No 1. The shaft known as No 2, was sunk in 1866.
This pit clock was installed at Pye Hill Colliery in 1902, - when the pit closed in 1985 the clock was transferred to the National Mining Museum in Nottinghamshire. In 1991 it was then relocated to the Chatterley Whitfield Mining Museum, Stoke-on-Trent.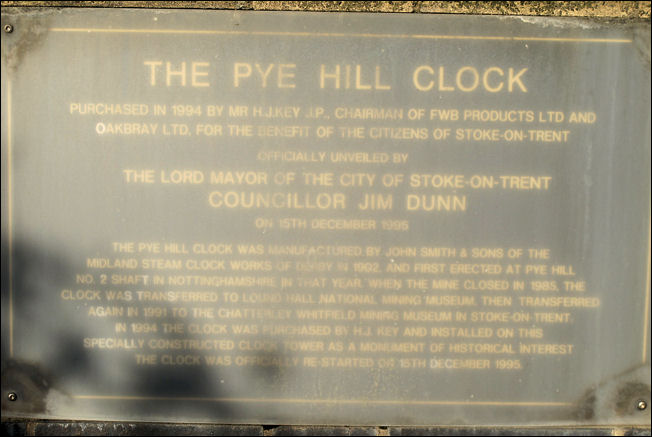 The Pye Hill Clock
Purchased in 1994 by Mr. H.J. Key J.P., Chairman of FWB Products Ltd., and Oakbray Ltd, for the benefit of the citizens of Stoke-on-Trent.
officially unveiled by
The Lord Mayor of the City of Stoke-on-Trent
Councillor Jim Dunn
on 15th December 1995
The Pye Hill Clock was manufactured by John Smith & Sons of the Midland Steam Clock Works of Derby in 1902, and first erected at the Pye hill No. 2 shaft in Nottinghamshire in that year.
When the mine closed in 1985 the clock was transferred to Lound Hall National Mining Museum, then transfered again in 1991 to the Chatterley Whitfield Mining Museum in Stoke-on-Trent.
In 1994 the clock was purchased by H.J. Key and installed on this specially constructed clock tower as a monument of historical interest.
The clock was officially restarted on 15th December 1995


the bricks for the clock tower were donated by Redland Bricks Ltd