| | | |
| --- | --- | --- |
| | Stoke-on-Trent - photo of the week | |
Advert of the Week
Potworks of the Week
1926 - memorial to scouting in Stoke-on-Trent and Newcastle-under-Lyme
Ronald Copeland (1884-1958) was chairman of the Copeland Spode pottery manufacturing company.

He was President of the North Staffordshire Boy Scout's Association.

In 1954 he dontated the Kibblestone Hall Estate, Oulton near Stone to the scouts for a training and camping centre.

This site was developed into an International Scout Camp.

The site of the Dug-Out at the bottom of Cliff Bank, Stoke
Cliff Bank was renamed to Honeywall in the mid 1950's

the memorial to the generosity of Ronald Copelandto the scouting movement
On this site in a small room known as the dug-out scounting in the Potteries and Newcastle was reorgansied and co-ordinated in 1926 through the vision and generosity of
RONALD COPELAND ESQ., C.B.E., D.L., J.P.
---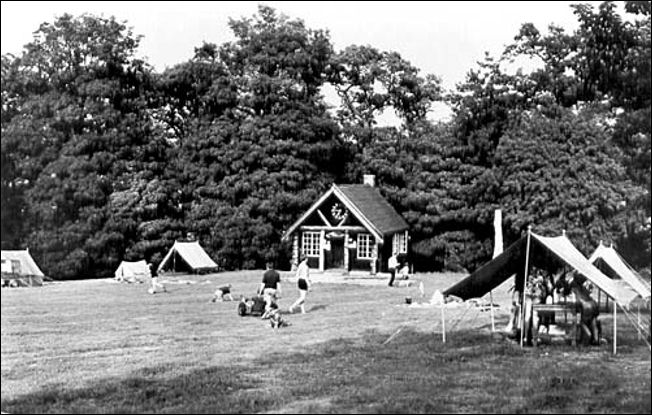 Copeland Cabin at Kibblestone Scout Camp, Stone
photo: © Newcastle Borough Museum and Art Gallery
The Copeland family owned the Kibblestone estate from the mid-nineteenth century. Ronal Copeland started the first Scout Troop in Stone in 1910. In 1921 he became the County Scout Commissioner for North Staffordshire.
Realising the need for a permanent Scout camp, Copeland, who no longer lived in Kibblestone Hall, gave two acres of the estate known as Beech Field as a memorial to his father. In 1927 this became the site of the first Scout camp at Kibblestone.
The site developed over time to include a training ground, swimming pool and open air chapel.
Kibblestone Hall was demolished in 1954, and the camp became the property of the City of Stoke-on-Trent Scout Movement in 1960.

---