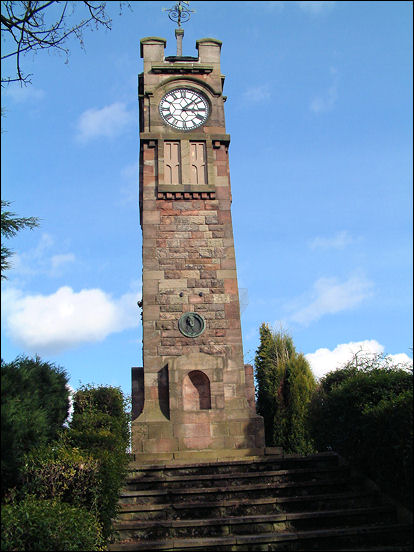 THE ADAMS CLOCK TOWER, TUNSTALL PARK, STAFFORDSHIRE
Erected in the year 1907
By the workpeople and firm of William Adams & Co., of Greenfield, Greengates, and Newfield, to the memory of
WILLIAM ADAMS, OF GREENFIELD, ESQUIRE
Born June 13th, 1833. Died March 5th, 1905.
A well known manufacturer of this Town.
On the organisation of the Volunteer movement of 1859, he was one of the first to offer himself, & in 1867 was made Lieut.-Colonel of the 1st Vol. Batt., N.S. Regiment. In 1872 he was. appointed to the Commission of the Peace for the County; & in the same year he became Chief Bailiff of this Town.
He was descended from a long line of Master Potters who helped considerably to achieve the world wide repute which English Pottery has attained One of the factories he controlled was founded by his predecessor
WILLIAM ADAMS
THE FAMOUS STAFFORDSHIRE POTTER
Baptized June I5th, 1746. Died January 10th, 1805.
Who built the first important Potteries in this Town.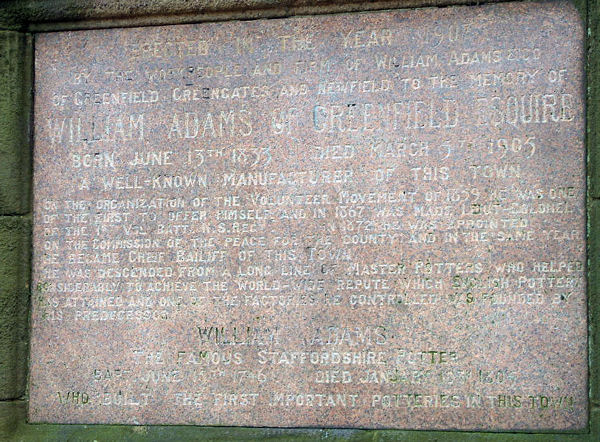 ---
The Adams Clock Tower records......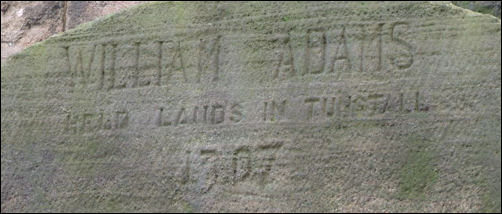 William Adams held lands in Tunstall 1307



Richard Adams owned coal mines in Tunstall 1487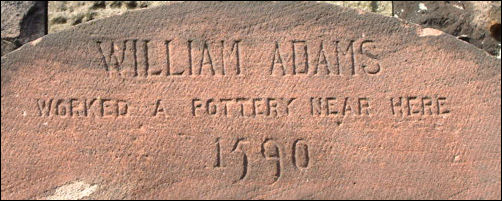 William Adams worked a pottery near here 1590



John Adams chief constable of Tunstall Manor Court 1616

---

William Adams of Tunstall
1777 - 1805

William Adams of Greenfield
1833 - 1905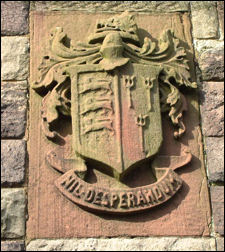 NIL DESPERANDUM
"Do not despair"
the family motto
the coat of arms, with a shield surmounted by a boar's head and a knight's helm and mantling. The shield is bisected vertically, and bears three cats on the left hand side and three tridents on the right. These are the arms of William Adams (1833-1905), impaled with those of his wife, Laura Eliza nee Worthington.