Commercial Road, Hanley, Stoke-on-Trent



Streets of Stoke-on-Trent | Commercial Road |
---


| Index of all Hanley Streets |
Commercial Road, Hanley, Stoke-on-Trent
---
Commercial Road runs off Botteslow Street to Eagle Street which where the back of the old J & G Meakins Eagle Pottery is (now part of the Wedgwood group)
There are a number of streets running off Commercial Road to Waterloo Street. These are: Picton Street, Dresden Street, Wellington Road, Balfour Street and Tintern Street.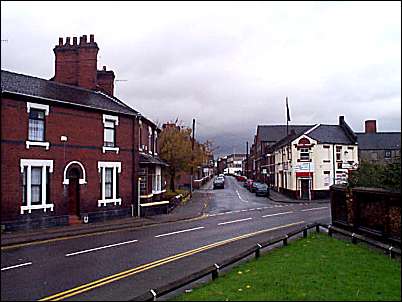 Looking down Commercial Road from Botteslow Street
The white building on the corner and the building behind it form the 'Nelson Industrial Estate' - most of these buildings are the original 'Nelson Pottery' shown below.

Nelson Pottery (picture around 1893)
From: "A descriptive account of The Potteries (illustrated)
1893 advertising and trade journal. Page 22 Mr. Elijah Cotton, Earthenware and China Manufacturer"

on the journal entry.
Nelson Pottery on the junction of Botteslow Street (was Nelson Road) and Commercial Road.
On the picture Commercial Road to the left and Nelson Road
to the right.
See entry on Nelson Pottery Works
---
Photos: Nov 2000
---

---
Did you live in this street or area?
questions/comments/contributions? email: Steve Birks