back to "The Grand Tour" index
Neville Malkin's "Grand Tour" of the Potteries
buildings in Longton





next: Longton Town Hall
previous: Christchurch, Fenton
contents: index of buildings in Longton
No 100 - St. John's Church, Longton
[since demolished in 1979]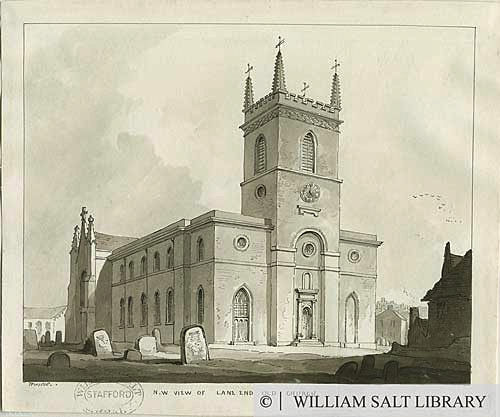 'North West View of Lane End Old Church' - 1838
Showing the Old Church of St. John (founded 1764), rebuilt 1792, and enlarged 1827. North west view showing a mixture of classical and gothic architecture. There is a classical west door in the tower under a recessed arch.
Artist: Thomas Peploe Wood.
[Reproduced by permission of the
Trustees of the William Salt Library, Stafford]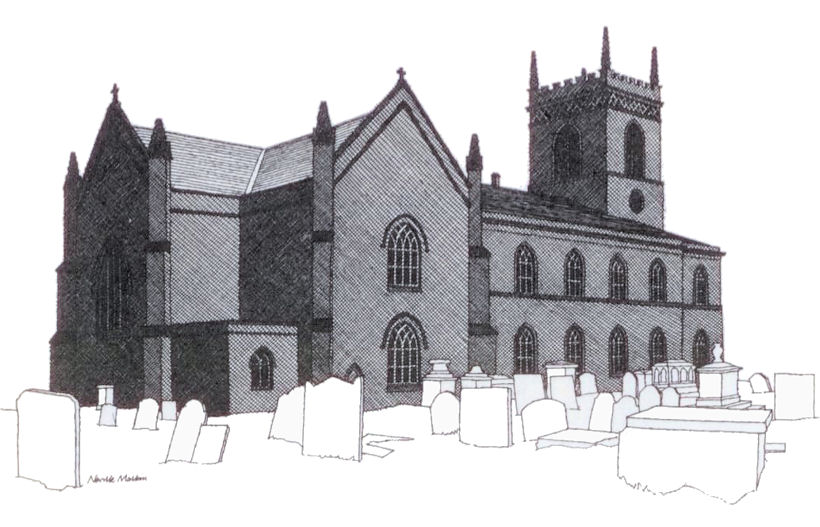 St. John's Church, Longton
pen drawing by Neville Malkin - May 1975


St. John's Church, Longton
- the church was demolished in 1979 due to mining subsidence -
photo by William Blake c.1900-40
© The Potteries Museum & Art Gallery - Staffordshire Past Track
Staffordshire Past Track
"The large red-brick parish church of St. John the Baptist at Longton stands in 2½ acres of interesting churchyard, which is shortly to be beautified at a cost of around £19,000. This work will be carried out by the Department of the Environment and the local authorities, after completion of current restoration work in the church.
The origins of a church on this site go back to 1763 when that benevolent man, John Bourne, provided funds for the building of a chapel at Lane End. This was consecrated on June 29th, 1764.

In less than 30 years the original chapel became too small for the rapidly increasing population, and also decayed to such an extent that people attending services did so at their own risk.

Realising this, the inhabitants raised by voluntary subscription enough money to rebuild the church on a more suitable scale. For this an Act of Parliament was obtained, "for rebuilding the chapel and enlarging the chapel-yard of Lane End" (1792).
The church was finally enlarged in 1827-8 by means of a grant from the Society for the Enlargement and Building of Churches, and provided an additional 523 seats, bringing the total to 1,200. This extension consists of the eastern transept and chancel, which, to my mind, is far too large when compared with the rest of the structure. The interior is arranged with a centre aisle, side aisle, and a gallery supported by cast-iron pillars. The west tower houses eight bells which were cast in 1815 and restored in 1930.
There are several marble wall monuments, one in memory of George Wood who died in 1817, bequeathing £10 to be distributed to 40 poor widows in Lane End. This practice is still continued, with 20 people receiving 50p each at Christmas."

---




next: Longton Town Hall
previous: Christchurch, Fenton
contents: index of buildings in Longton
---