back to "The Grand Tour" index
Neville Malkin's "Grand Tour" of the Potteries
buildings in Longton





next: Longton Community Church
previous: St. John's Church, Longton
contents: index of buildings in Longton

No 101 - Longton Town Hall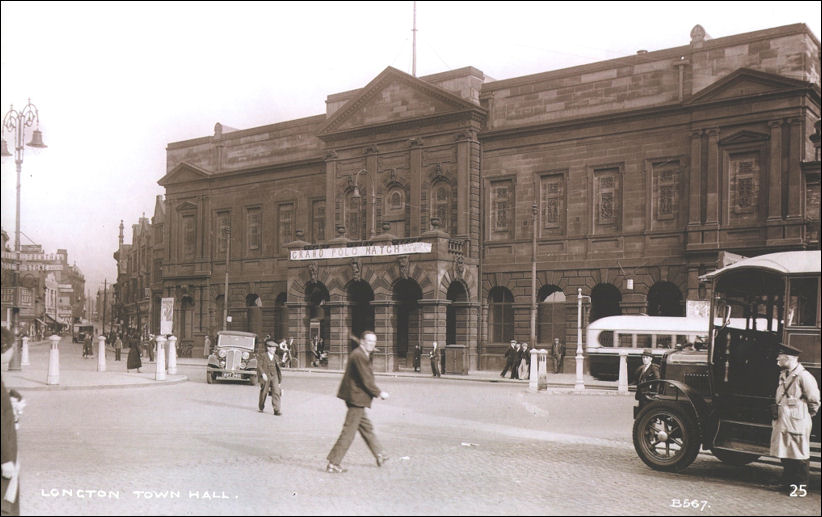 Postcard of Times Square & Longton Town Hall
the banner is advertising a "Grand Polo Match"
- supplied by Phil Rowley -

Longton Town Hall
pen drawing by Neville Malkin - December 1974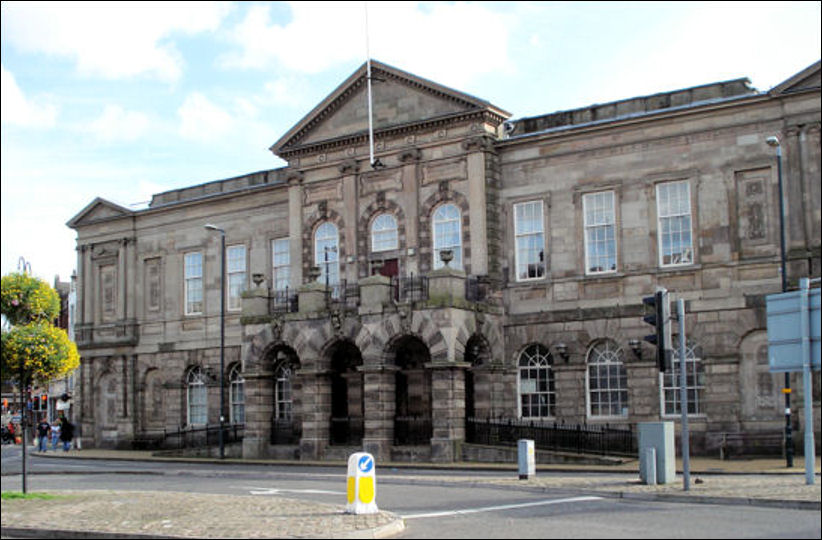 Longton Town Hall
photo: Sept 2006

"This large Town Hall at Longton stands in Times Square, which was first laid out as early as 1789.
A town hall occupied the site in 1844 but, for some reason, must have been unsuitable and replaced in 1863 by the present building, designed by Burrill in the classical style. It is constructed from large blocks of masonry, has 13 bays and a large central porch designed to admit horse-drawn carriages.
Adjoining, and at the rear, can be found the spacious market hall, whose origins appear to be a little older.
There was once great rivalry between two market sites that developed in Longton at about the same time. There was the Upper or Union Market Hall, close to the present fire station, erected in 1794 and sadly demolished recently. The existing market developed from a very small market-house, but, as it was more convenient and central, it became more popular and was therefore enlarged in 1914; it became the principal venue for market traders.
There appears to have been a spate of erecting public buildings in the Six Towns during the mid and late 19th century, which surely reflects civic pride in industrial growth and achievement.
There was Stoke Town Hall, designed by Henry Ward, begun in 1834, but not fully completed until the 1850s; Burslem Old Town Hall, by G. T. Robinson, of Leamington, 1852-7; Hanley's, by Scrivener in 1869 and originally built as an hotel; Tunstall's, by A. R. Wood in 1883-5; and Fenton's, by Scrivener and Son in 1888-9.

In recent years many of these buildings have enjoyed a well-deserved renovation, which makes me wonder whether our descendants in 100 years will consider it worth their while preserving any contemporary architecture."


Longton Town Hall - staircase to first floor
photo: Phil Rowley
---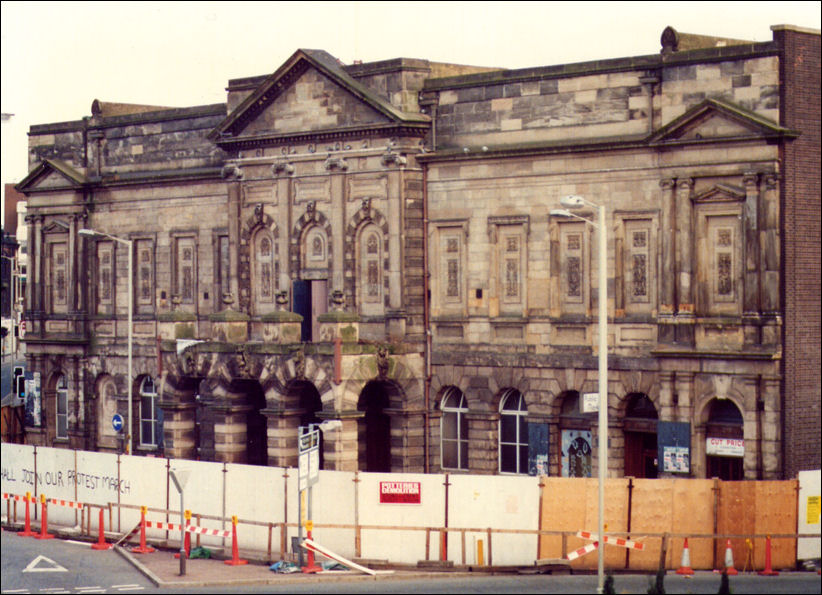 Longton Town Hall in 1986 - about to be demolished
In 1985 the local council wanted to demolish this building, however after much
public outcry it has survived and now carries a grade 2 listing
photo: Eileen Hallam

---




next: Longton Community Church
previous: St. John's Church, Longton
contents: index of buildings in Longton
---