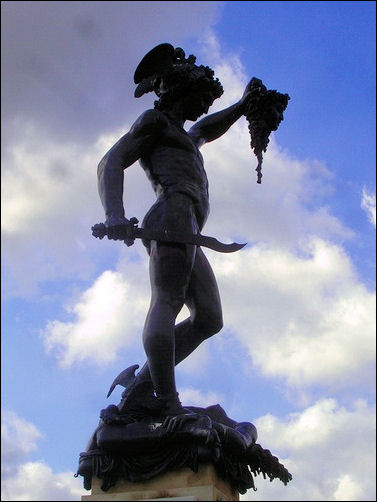 Perseus and Medusa
sculptor: Benvenuto Cellini (1553)
this copy made in 1840
The sculpture depicts a scene from Greek mythology. Perseus had promised to bring the head of Medusa to King Polydectes as a wedding gift. To slay the Gorgon, he acquired a polished shield, the breast plate of Athena, in which he could see the reflection of Medusa and which would enable him to avoid looking her in the face and thereby being turned to stone.

With the help of Hermes' sword, Hades' helmet of invisibility and the winged sandals of Mercury, Perseus succeeded in his quest and returned with the head of Medusa. Upon seeing it, the evil King Polydectes was instantly turned to stone. The sculpture shows Perseus in the act of beheading the Gorgon Medusa, looking as he does so at the reflection of Medusa's face in the shield standing by his feet.
This is the only copy of Benvenuto Cellini's Perseus and Medusa (1553) from the Loggia dei Lanzi in Florence, sculpted for Cosimo I, Duke of Tuscany.
The second Duke of Sutherland was a friend of the then Duke of Tuscany, who permitted a cast to be taken. The sculpture was installed at Trentham in 1840, during the main phase of development instigated by the Duke, which involved large scale alterations to the gardens, accompanied by the installation of balustrading, urns and a wide range of garden sculpture.
By 1907 the family considered that Trentham had become uninhabitable as a result of the pollution of the River Trent which runs through the Estate. They left the Hall, then in the process of being demolished. The statue of Perseus and Medusa was taken to Sutton Place in Surrey, where it remained until 1966, when it was restored and returned to its original site by Elizabeth, Countess of Sutherland.