Brownhills Pottery Works, Tunstall

"Brownhills is situate upon the main Turnpike Road (from Burslem to Lawton,) at the junction of the Branch which comes from Newcastle through Longport; and is at nearly equal distances from the market-places of Tunstall and Burslem; which are rather more than a mile apart. It is within the township of Burslem, which extends, north-westward, as far as an inn called High gate, close up to the town of Tunstall."

---
"There are two Potworks now carried on at Brownhills ; that of Messrs. Marsh and Haywood, and that of Mr. George Hood ; the latter situate at Highgate, and adjoining the town of Tunstall. All the dwelling-houses and population, southward, of and including Highgate inn, which are now numerous, belong to the township of Burslem, and are included in the statistics of that parish, and this portion of Burslem comprises about 480 inhabitants."
Ward - The Borough of Stoke-upon-Trent, 1843
---
From

To

Occupier

Comments

1818

1837

1842

1871

George Frederick Bowers had been a partner in Ambrose Wood & Co. This short lived business produced Egyptian Black at a works in Waterloo Road, Burslem. This partnership was dissolved on the 1st January 1842.

In 1842 G. F. Bowers took over the Brownhills Works.

In the 1851,52 directories the company is listed as Bowers, Challinor & Wooliscroft.

George Frederick Bowers continued until his death in January 1867 and was suceeded by his son Frederick T Bowers.

1872

1896

Purchased by Mr. James Eardley, of Alsager.The business was carried on by James Eardley's son and sons-in-law, Messrs. Alfred J. Eardley, Edwin Meir, William H. Bratt, Robert H. Parker, and George Hammersley, under the style of "The Brownhills Pottery Co."

Considerable alterations and extensions were made in the buildings.

1897

1904

In 1904 the business was taken over by T Till & Sons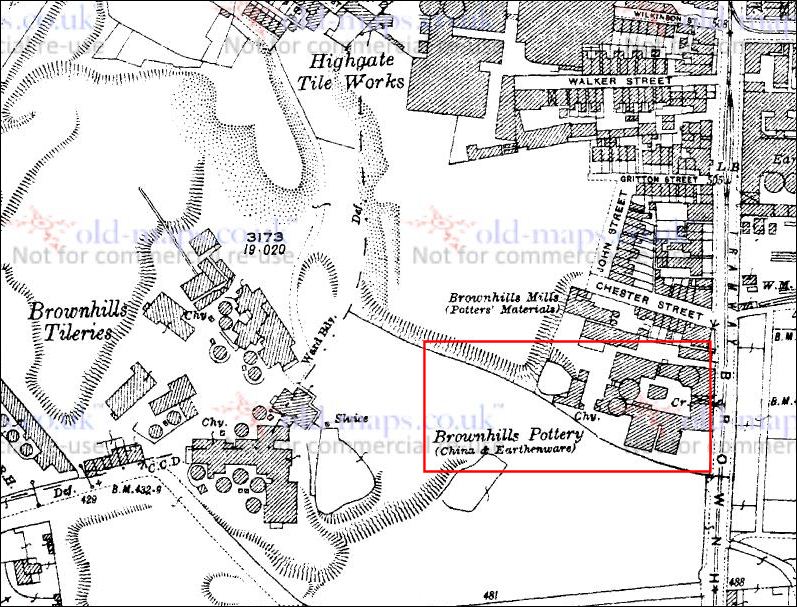 1925 OS map showing the Brownhills Pottery
---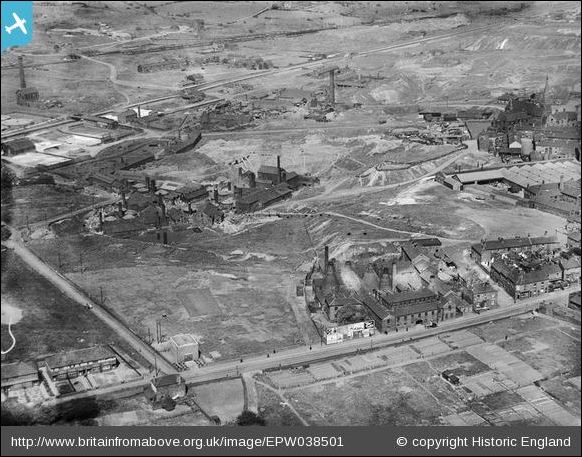 The Brownhills Tileries and the Brownhills Pottery Works,
Tunstall, 1932 - Britain from Above
---

Brownhills Pottery Works
---