| | |
| --- | --- |
| A J Wilkinson Ltd | |
Location and period of operation:
| | | | |
| --- | --- | --- | --- |
| A J Wilkinson Ltd | Burslem | 1886 | 1964 |
Earthenware and ironstone manufacturer at the Royal Staffordshire Pottery (and formerly at the Central Pottery), in Burslem, Stoke-on-Trent.
In 1881 the old Central works in Burslem passed into the hands of Wilkinson & Hulme.

1885 - Hulme retired from the business and Arthur J. Wilkinson continued on his own.

A. J. Wilkinson was the brother-in-law of Arthur Shorter who was a partner in the pottery manufacturing company Shorter & Boulton.

In 1891 A. J. Wilkinson died in an accident and Arthur Shorter was asked to manage the A.J. Wilkinson pottery in Burslem the name A. J. Wilkinson was retained.

In about 1896 the company took over the Royal Staffordshire Pottery, Burslem and soon left the old Central works.

c.1896 the business was incorporated and marks after this date have 'LTD' in the name.

A few years later Shorter bought the firm and in then in 1898 Arthur's son Colley joined him. His younger son Guy, who became manager at Shorter's in 1900, joined his father and Colley at Wilkinson's in 1905.

The two bothers, Colley and Guy Shorter were made directors of Wilkinsons in 1916.

1916 - at the age of 17 Clarice Cliff (who became the famous "Bizarre Ware" designer) started work at at Wilkinson - previously she worked for Hollinshead & Kirkham.

1928 the handpainted Bizarre Ware was launched.

With the outbreak of World War II in 1939, creative output of the factory ceased, with much of the workforce being drafted into the Armed Forces. Wartime restrictions on decorated pottery were to continue into the 1950's and the factory was never to produce pottery in the style or quantity of the pre-war period.

In 1964 Colley Shorter died. Clarice Cliff-Shorter disposed of the family shares in Wilkinsons and Newport to the neighbouring Midwinter Co. who wanted to expand production.
Formerly: Wilkinson and Hulme
---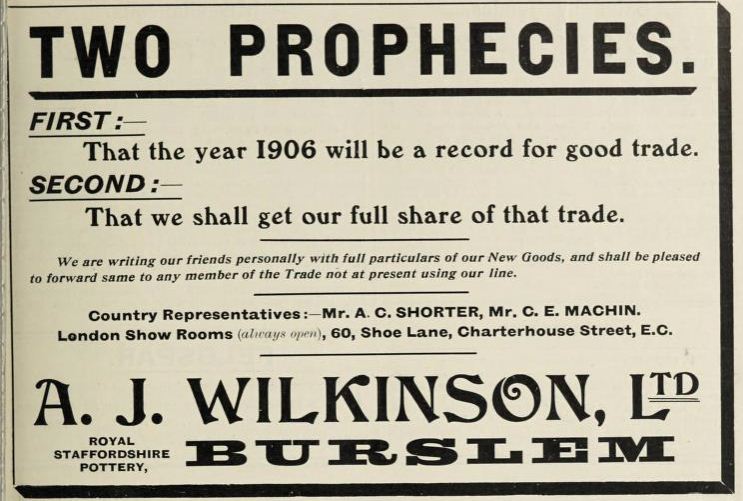 A. J. Wilkinson Ltd
Royal Staffordshire Pottery
Burslem
Pottery Gazette - January 1906
---

ironstone ware plate in the tea-leaf pattern
mark was pre-1896 (without 'LTD')

'Pastoral Davenport'

pattern originally produced (1840)
by Davenport


Clarice Cliff designed pattern 'Day by Day'

---


Clarice Cliff Bizarre Ware

---


Riser pattern
date stamp to base April 1932


---


'Rural Scenes'

c.1947+
post WWII output
---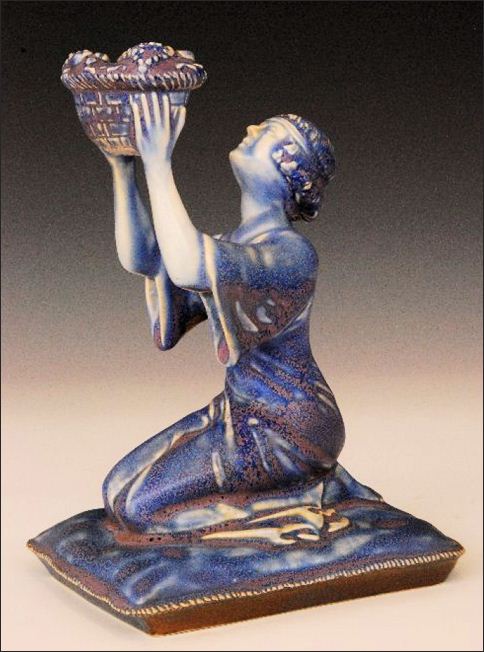 Candle holder in the form of a kneeling female figure holding aloft a basket of fruit
decorated in a matt purple and turquoise glaze
with the Wilkinson Ltd lion and crown mark
matt glazed ware was produced by Wilkinson in the 1920 and 30s
---
Marks used on ware for identification:
WILKINSON
"Ltd" was added to the marks from c.1896
ROYAL STAFFORDSHIRE POTTERY
[on early ware "Royal Staffordshire Pottery"
appears without the Wilkinson name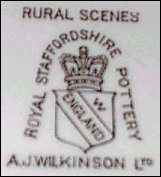 - click for details on Wilkinson marks -
---
Clarice Cliff

Clarice Cliff was born (1899) into a working class family in Tunstall. She showed artistic promise at school and left at age 13 to work as an apprentice enameller at a local factory 3 years later moving to another firm as an apprentice lithographer, at the same time she attended evening classes at Tunstall School of Art.
In 1916 at 17 she joined A J Wilkinson's pottery where her drawing brought her to the attention of the owner, Colley Shorter and he allowed her to experiment on some old stock. In 1927 he arranged for her to study sculpture at the Royal College of Art in London. Later in 1927 she studied in Paris.
After a few months there she returned to Stoke-on-Trent where Shorter set her up in a decorating studio. By 1929 her designs went into full production as 'Hand Painted Bizarre by Clarice Cliff'.
By 1931 she was an Art Director of the factory with a decorating team of around 150.
Clarice Cliff and Shorter eventually married. She died in 1972.
---
Questions, comments, contributions? email: Steve Birks
---