Silber & Fleming
AMS
Albert Marcius Silber







Location and period of operation:
| | | | |
| --- | --- | --- | --- |
| Sibler & Fleming | London | 1854 | 1898 |
Albert Marcius Silber was born in Schleswig-Holstein, North Germany, in 1833. He came to England in 1854, and, in conjunction with Nobel Hutchinson Fleming as a junior partner established a business as 'Merchants, Commission Agents and Buyers.
They established a wholesale business in Wood Street, London. They also had offices in the English city of Birmingham and in Paris.

They suppied furniture, glass, china and earthenware, watches and jewellery, silverware, carpets and other houshold items. Detailed illustrated catalogues were produced.

Nobel H Fleming retired in February 1876, the business was continued by Albert Silber. The name Sibler & Fleming was retained.

In 1882 the original London premises were totally destroyed by fire. The old premises were rebuilt on a larger scale with large showrooms and warehouse.

Albert Silber died of smallpox in May 1887. The business was continued by family members.

The business stopped trading around 1898 and was liquidated.

Silber and Fleming's New Wholesale Warehouses,
Wood-Street, London.
The Illustrated London News, 11 October 1884.

Silber and Fleming
Illustrated Pattern Book
English China & Earthenware
---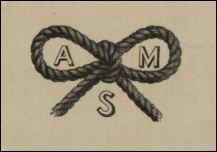 AMS
one of the trade marks of Silber & Fleming was the
letters AMS inside a rope knot
this mark would often be used on earthenware, china
and silverware produced for them
---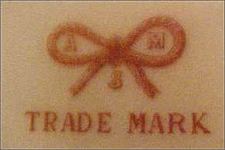 AMS
Trade Mark

"These initials, AMS occur in a bow knot type outline, on a dinner service made by Wedgwood & Co of Tunstall. This service bears the registration mark for June 1880. The initials probably relate to the retailer."

Geoffrey A. Godden 'Encyclopedia of British Pottery and Porcelain Marks'
---

cups bearing the AMS trade mark

---

plate produced to commemorate the
Golden Jubilee of Queen Victoria in 1887

Manufacturered for
Silber & Fleming Ltd
57 Wood St
London E.C.

although there is no manufacturer mark on the plate the registration number 613164 tells us that the design was registered by Wallis Gimson & Co. of Fenton on the
6th December 1886
---
---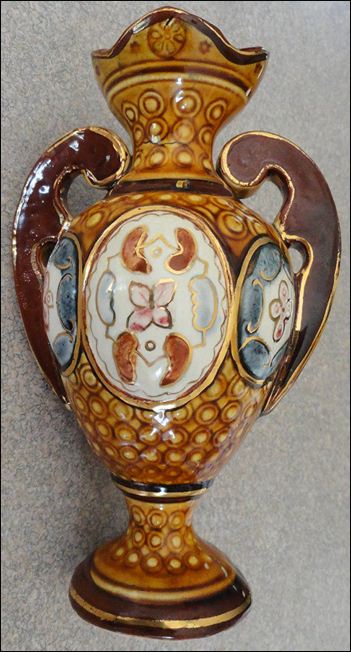 small vase with impressed AMS mark
the manufacturer is unknown
photos courtesy: Casey Prast
---
Questions, comments, contributions? email: Steve Birks
---