| | |
| --- | --- |
| C & J Shaw (Junr) | |
Location and period of operation:
Little is known about the company C & J Shaw...

Their mark appears on transferware typical of the English (Staffordshire) mid 19th C. style.

In the C & J Shaw mark the wording inside the belt mark is the Latin 'Vincit Verits' it translates as 'Truth Conquers' or 'Truth Prevails'

C & J Shaw (and later C & J Shaw Junr) could have been distributors - purchasing ware from maufacturers and selling it with their own mark (sometimes also with the manufacturers mark); or could have been manufacturers of white ware which was decorated by others.

Ware with the mark C & J Shaw appears to be most often found in Portugal and the USA

---

---

One internet source claims that C & J Shaw operated in Lane End (North Staffordshire) from 1825 to 1838 - however there is no evidence to support this - C & J Shaw do not appear in Henrywood's 'Staffordshire Potters, 1781-1900'

Godden (Encyclopaedia of British Pottery and Porcelain Marks) records the existance, in his collection of a 'mid-19th century printed earthenware dish' with the name-mark C & J Shaw, Junr. He states that he has 'been unable to trace these potters'

if you have any additional information please email me: Steve Birks
---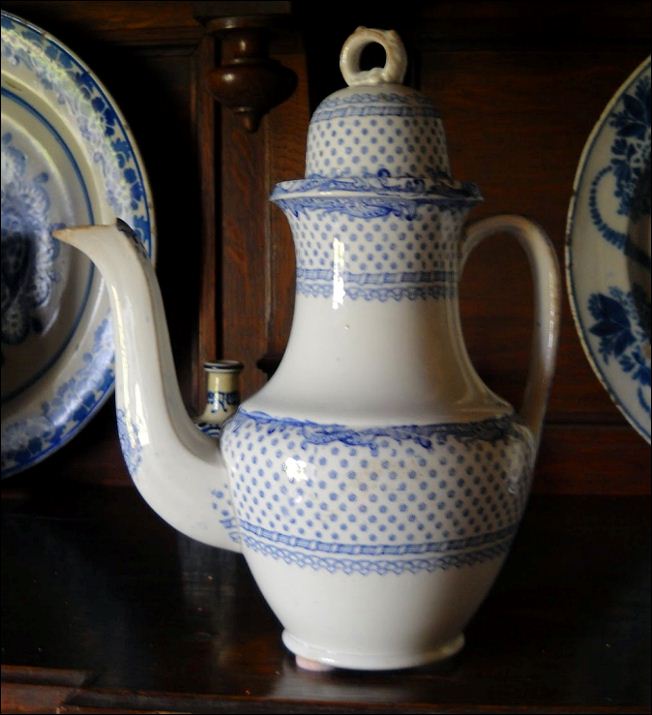 Teapot with the C & J Shaw mark
courtesy of: Luisy
---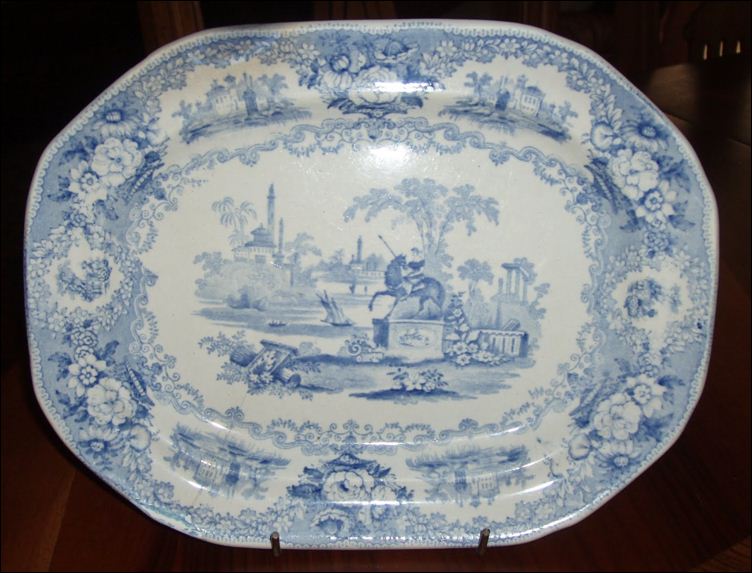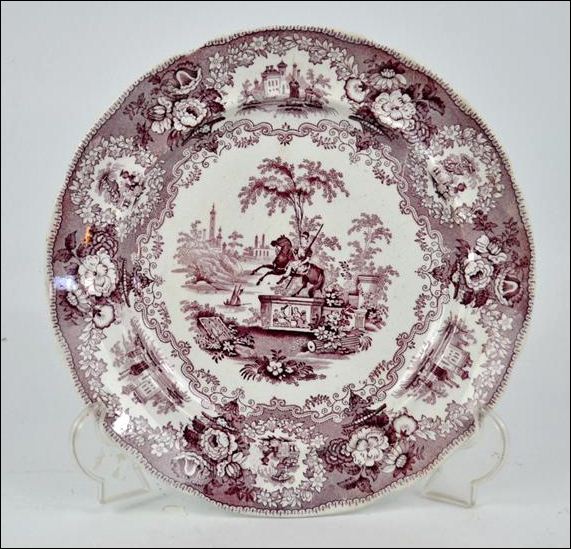 C & J Shaw transferware plate and platter with the same scene
---

Platter in one of the Venetian Scenery patterns
the back carries both the mark W & B (Wood & Brownfield) and C & J Shaw
courtesy of: Luís Montalvão
---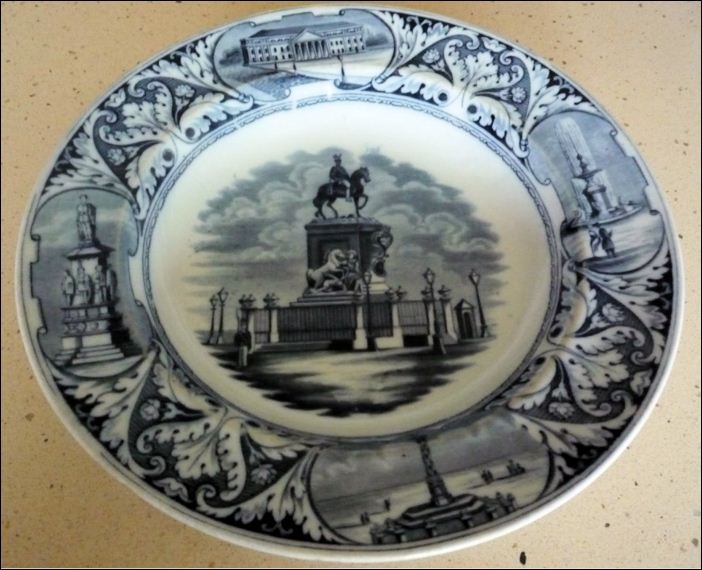 Plate in the BRAGANZA pattern
the back carries both the mark H & C (Hope & Carter) and C & J Shaw Junr
The plate shows various views of Lisbon, Portugal - in the center the statue of Joseph in the Palace Square and around the rim - the fountain of Rossio (the Public Garden), Camões statue in the square of the same name, the pillory from Town Hall Square and the Theatre D. Maria II - the pattern name is Braganza, referring to the Portuguese royal house.
The pattern registration date is 27 April 1864
courtesy of: Luís Montalvão
Marks used on ware for identification: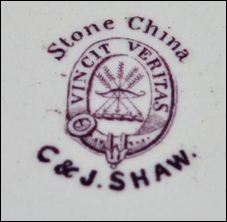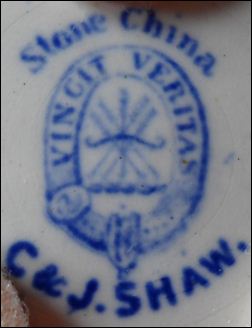 Stone China
Vincit Veritas
C & J Shaw
The wording inside the belt mark is the Latin 'Vincit Verits'
it translates as 'Truth Conquers' or 'Truth Prevails'
---
from a platter containing both the marks
W & B (Wood & Brownfield) and C & J Shaw
Wood & Brownfield operated 1841-1850
courtesy of: Luís Montalvão
---
from a plate containing both the marks
H & C (Hope & Carter) and C & J Shaw Junr
Hope & Carter operated 1862-1880
The registration diamond gives a
pattern registration date of 27 April 1864
courtesy of: Luís Montalvão
---
Questions/comments/contributions? email: Steve Birks
---