| | |
| --- | --- |
| Confused about Wedgwood? | |
As well as the famous Josiah Wedgwood several other potters used the name WEDGWOOD (or similar names) on their ware - either because their name was Wedgwood, or because they copied the name and/or ware in order to boost their own sales.
In 1848 Francis Wedgwood (son of Josiah Wedgwood II) who was one of the owners of the Josiah Wedgwood & Sons Etruria works took out an injunction against William Smith & Co to prevent them using the Wedgwood mark.
No true Wedgwood ware used a middle 'E' as 'WEDGEWOOD' or used '& CO.' or an initial 'J'
see: Josiah Wedgwood & Sons
---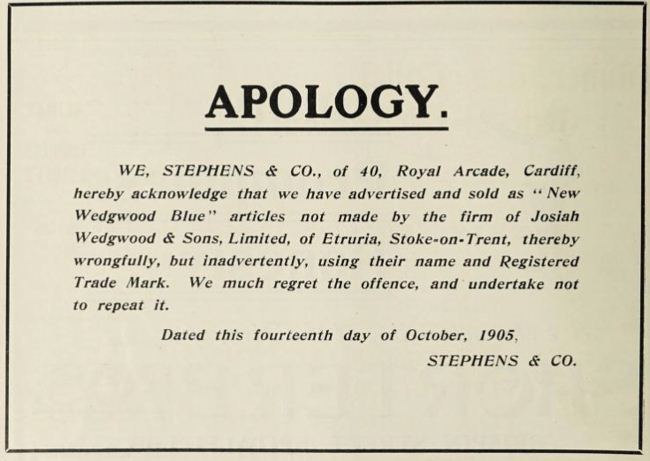 Apology from Stephens & Co who wrongly used
the Trade Mark of Josiah Wedgwood & Sons
Pottery Gazette - January 1906
---

Companies with the name Wedgwood: (click the company name for more)
---

Companies who used the name "Wedgwood" - or something similar:
(click the company name for more)
---

(click the company name for more)

---
Questions, comments, contributions? email: Steve Birks
---