Listed Buildings in Stoke-on-Trent and area
St. Mary's Pottery, Uttoxeter Road, Longton
---
Area
Longton
Street
Uttoxeter Road
Heritage No.
98 A
Grade
II
Date Listed
15 March 1993
Building:

St Mary's Pottery works

Location:

STOKE ON TRENT SJ94SW UTTOXETER ROAD, Longton

Description:

Pottery works. 1862. Brick with terracotta dressings and plain tiled roofs.
built in 1862 and Samuel Moore was producing china here.

in 1865 Samuel was joined by his son Bernard (who was 15 years old) and the company renamed 'Moore & Son'. Samuel died in 1867 and Bernard continued to run the works.

In 1870/2 Bernard was joined by his brother Samuel Vincent Moore (who was two year younger than Bernard) and by 1873 they were operating the St. Mary Works as 'Moore Bros'.
click here for more on the St. Mary Works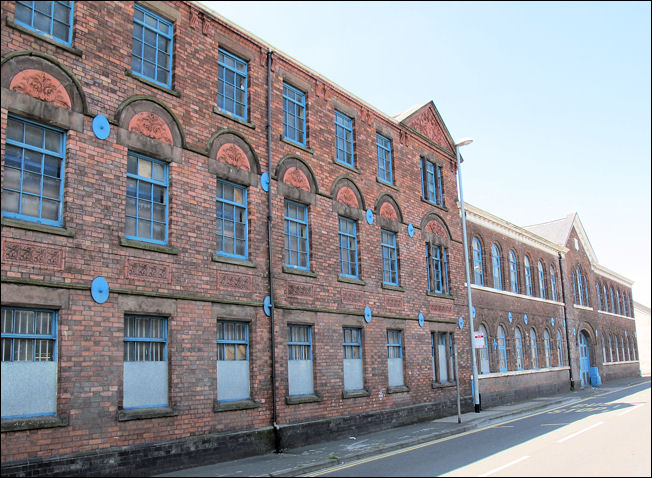 St. Mary's Pottery, Uttoxeter Road, Longton
the 1888 extension is closest to the camera
photos: 2011

---

Buildings forming part of Pottery works. 1862.

Brick with terracotta dressings and plain tiled roofs. 2-storeyed, 13 bays (6-1-6). Central pediment over entrance arch with Palladian window over, and cartouche in the apex, inscribed "St Mary's Mount Pleasant, 1862".

This entrance bay is flanked by round arched windows recessed in brick architraves with rubbed brick arched heads and keyblocks. Continuous stuccoed sill bands, and stuccoed eaves cornice. Adjoining to the left, a further range added in 1888. 3 storeys, 8 bays (1-6-1) with outer gabled bays with inserted lower windows and tripartite window over, with terracotta panels beneath them, and stone string course.

Terracotta panel in apex of pediment with date in shield and foliate swags etc. String courses continue across facade to form round-arched hood moulds over windows. Overhanging eaves carried on paired console brackets which continue across the base of the pediment.

The other buildings which form part of the present day pottery works were added between 1904 and 1969 and are not included in this or any other list.
---


St. Mary's
Mount Pleasant
1862


the original St. Mary's Pottery building - 1862


the 1888 extension to St. Mary's Pottery





next: Calcining Works, Milvale Street, Middleport
previous: Gladstone Works, Uttoxeter Road, Longton