Winton's Wood, Shelton, Stoke-on-Trent, Staffordshire.

Where is Winton's Wood?
In 1775 the road from Stoke to Hanley followed the present Shelton Old Road down to the Fowlea Valley and up what is now Stoke Road. The area bounded by the canal, the River Trent and Stoke Road was Winton's Wood & Winton's Field.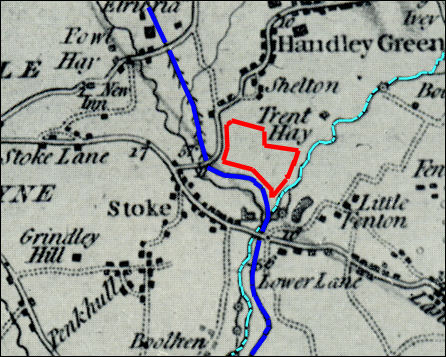 Extract from William Yates 1775 Map of Staffordshire
- showing the position of Winton's Wood in red
the Trent & Mersey canal is shown in dark blue and the
River Trent in light blue
- click for larger map -

Modern day (2007) map of the area
showing the position of Winton's Wood and Field


---
The glebe lands of Stoke Church
Winton's Field and Winton's Wood, to the north east of the map, were part of the Glebe lands of the Stoke Church.
part of the glebe estate, land belonging to the church at Stoke
map c.1800-30
This map below shows part of the glebe estate, land belonging to the church. This estate comprised over 150 acres with a third of the land in the township of Penkhull, a third in Shelton (north of the Fowlea Brook) [which included the Winton's Field and Winton's Wood area] and a third in Fenton (east of the River Trent).
The Stoke church and the rector's house (Stoke Hall) stood on moated sites which provided protection not only from attackers but also from the river which periodically flooded the meadow land in the valley bottom.


Stoke Church which was taken down in 1829
to make way for a new church on a nearby site
- picture from Wards The Borough of Stoke-upon-Trent, 1843 -
Timber from Winton Wood used to re-roof the old church
In 1843 Ward recounts:
"...the church must have been re-roofed.... probably in the sixteenth century, when Church-ales were in vogue, being voluntary gatherings of the parishioners to execute any work required for the support or benefit of the church.... It appears that Winton Wood, still part of the glebe, and retaining its ancient name, though despoiled of its woodland character, and Cliff Hay, which belonged to the Duchy of Lancaster, furnished the timber necessary for these repairs..."

---