Ceramic Trade Marks - M
Initials Used as Trade Marks - M
| | |
| --- | --- |
| | North Staffordshire Pottery Marks |
| | Minton |
Map and Photographs of Minton & Hollins factory

Section on the Minton potters
Minton

Manufacturer based in Stoke. Important producers of Porcelain and various types of earthenware under several different partnerships.

1793 to present.

Early earthenware and pre-1805 porcelains appear to be unmarked.

>> For detailed information on Minton see the book "Regency Minton Porcelain (1800-1815)" by Duncan Langford. [ISBN: 0953043401]

Mark

Description & date

this mark is ALWAYS in overglaze blue enamel; and it is NEVER on pieces without gilding.
(Ungilded pieces will have either no marking, or a pattern number only).

Before c1805 pattern numbers would usually be 'No 123' or 'N 123';
after c1805 numbers usually changed to ':123' or '.123'


c.1805-16

The Dresden crossed-swords mark used in underglaze blue on a type of floral encrusted porcelain. (sometimes confused with Coalport ware)

1820's

Several printed marks of the 1820 & 30's incorporate the initial 'M'

MINTON & BOYLE PERIOD c.1836-41

Many printed marks of this period bear the initials 'M & B'

Example of a mark used during 1841-73.

Different marks were used, many of which use the initials 'M & Co'

M & H

MINTON & HOLLINS PERIOD c.1845-68

Many printed marks of this period bear the initials 'M & H'

B B
NEWSTONE

Impressed mark on earthenware.

c.1830-60

Incised mark found on Minton parian figures and groups.

c.1845-60

Printed or painted ermine mark used on fine Minton porcelains.
c.1850-70

A similar incised mark is found on parian and other figures from about 1845

MINTON

MINTONS

The name 'Minton' occurs incorporated in many printed marks from 1851 onwards.

Basic impressed mark 'Minton' was used from 1862-72.
From 1873 onwards 'Mintons' was used.

Standard printed mark

c.1863-72

Revised basic printed mark with crown above.
c.1873-1912

The word 'England' added from 1891

Basic printed mark
c.1912-50

Often with 'Made in England' added

New printed trade mark.

1951 to present day.

CERAMIC ARTISTS

Mintons have employed many talented and famous ceramic artists and designers. Several of whom were allowed to sign their work.

L Solon

M L Solon

The most famous artist/designer was
M. L. Solon and occurs on the valuable cameo-like Pāte-sur-Pāte wares.
Some Minton ware bears impressed marks
which indicate the date of manufacture: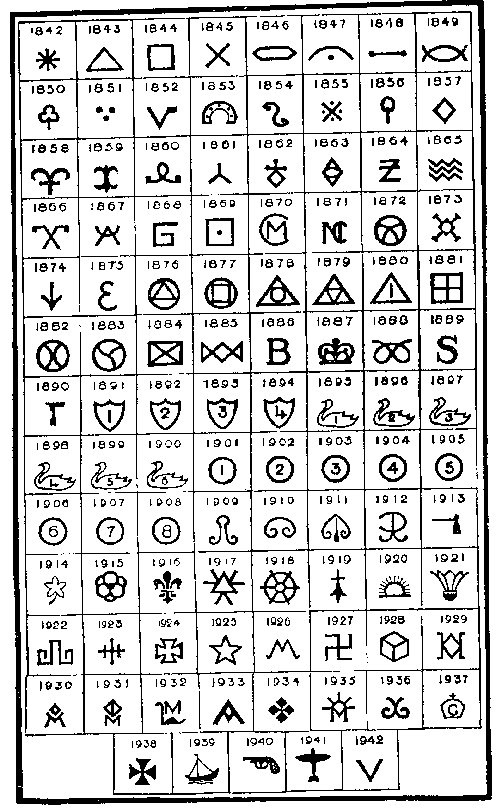 Example of the 1878
Minton date mark
During its history of nearly two hundred years from 1796, this very important Stoke firm with an international reputation has traded under various trade styles.

Thomas Minton c.1796
Minton and Poulson c.1796-1800
Minton, Poulson and Pounall c.1800
Minton Poulson and Co. c.1801-2
Minton and Poulson c.1802-8 (second time)
Thomas Minton c.1809-17
Thomas Minton and Sons c.1817-27
Thomas Minton and Son c.1824
Thomas Minton (second time) c.1824-36
Minton and Boyle c.1836-41
Herbert Minton and Co. c.1841-45
Minton and Hollins c.1845
Herbert Minton and Co. (second time) c.1847-73
Mintons c.1873-84
Mintons c.1884
Since Herbert Mintons death in 1858, no Minton has been connected with the firm that earns this respected name to the present day
<![if !vml]>
<![endif]>

Scriven's 1840 report on Child Labour
includes reports on this Potworks &
testimony from the workers.


Back to Pottery - Ceramic Trade Marks
 [Main Index Page ] [ Steve Birks Home Page ]
Questions and comments to: Steve Birks

updated: 4 March 2004