Chapel Lane (Burslem)

More on Chapel Lane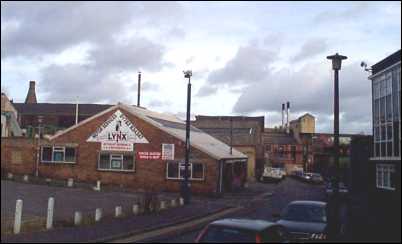 Chapel Lane which runs from Swan Square in Burslem.
One the left is the top of the bottle kiln of Moorland Pottery (in Moorland Road). On the right hand side (and right hand background) is the Royal Doulton factory which fronts in Nile Street.
---
None of the original housing of Chapel Lane still stands, they have been replaced by a car park and some small industrial units.
The Chapel Lane is against the back of the Royal Doulton print room.
Where Chapel Lane joins Swan Square there is the George Hotel (The Dragon of Arnold Bennett novels) and the Methodist Church and Sunday School Buildings.
Photos: Dec 1999
Nearby is the Wedgwood Institute which was built in 1863.
---
Burslem Photo Index | Burslem 1898 Map
[ Comments / Questions? email: Steven Birks ]