Johnson Brothers - Hanley, Stoke-on-Trent

See index page for Johnson Bros

The four 'Johnson Brothers' were Alfred, Frederick, Henry and Robert.

Johnson Bros first works: - The pottery business was originally the Charles Street (Hanley) works of William Mallor founded in 1758, taken over in 1804 by Keelling & Co and later Pankhurst who became bankrupt. The Johnson Brothers began production at the Charles Street works in 1883 - this works is long demolished and the site on the edge of Hanley town centre is a small shopping arcade and a WRVS centre.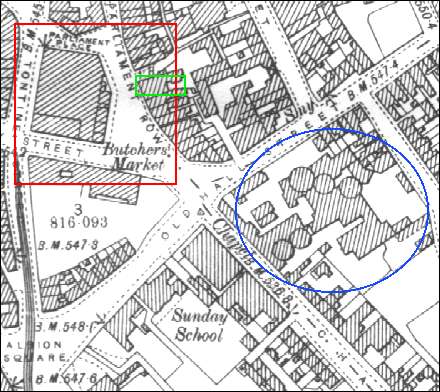 1898 OS map of the Charles Street Works.

Note how close the Sunday School is to the works - just out of sight below the Sunday School is a regular day school.

For those who know the area the works position can be identified by the Butchers Market which still stands as the 'Tontine Shops' and is a listed building.

The shop marked in green is now a McDonalds.

Bottom left is Albion Square where the Albion Hotel was built in 1902.

Just out of sight in the bottom left is Hanley Town Hall.

Johnson Brothers ware was mostly white. Later their 'Dawn Series' was developed. By 1914 the brothers owned five factories, four producing table ware and one producing sanitary ware (the Trent Factory).