Humphrey Palmer at the Church Works, Hanley
Palmer was a rival and imitator of Wedgwood from about 1760. Financial difficulties caused his failure in 1778 and the business was subsequently carried on with the help of J.Neale. Enoch Wood served his apprenticeship to Palmer.
Artists employed by Palmer
Thomas Rothwell. A designer and engraver employed at Hanley until 1778 and afterwards at Swansea.

John Voyez. The celebrated modeller who formerly worked for Wedgwood was employed by Palmer from 1769.
Work and Subjects
Palmer's work was mainly in imitation of that of Wedgwood (a court case arising at one time over his infringement of Wedgwood's patents). It was of excellent quality: Wedgwood himself remarked of it in a letter to a friend, 'The body is very good, the shape and composition very well'
Black basaltes decorated with reliefs were the first wares imitated by Palmer, evidently with some success. Agate vases, jasper seals and medallions, red wares with lathe-made patterns were copied at a later date. Mrs Palmer took an active part in the management of her husband's business. She ordered new wares from Wedgwood for copying as soon as they were delivered to the London warehouse.
James Neale (b. 1740 d. 1814) at the Church Works, Hanley
James Neale, who had been Humphrey Palmer's London agent, took over Palmer's business Hanley after his failure in 1778.
Dates and Owners
Robert Wilson was made a partner in 1786 and for a time firm was known as Neale & Wilson. The style Neale & Co. seems to have been adopted when other partners were admitted.
Robert Willson succeeded Neale, and when he died in 1801 was in turn followed by David Wilson who took his sons into partnership and traded as David Wilson & Sons. David Wilson and the sons who were in the business, except John, had died before 1817 when John Wilson became bankrupt and the factory passed to other hands.
Work and Subjects
The firm made good quality cream-coloured wares, blue-painted and lustred table ware, jasper, black Egyptian, marbled vases etc. many pieces in close imitation of Wedgwood. Designs from Wedgwood were not infrequently copied, and classical shapes and decoration figured largely in work from the pottery.
Figures made by Neale & Co. are often of considerable merit. Usually small in size, they are modelled, and coloured in a neat restrained manner (a turquoise blue is notable for its frequent use) in fine, clear enamels. The figures were generally made for easy delivery from moulds, and were sometimes gilded in a porcelain style.
Mankowitz & Haggar, Encyclopedia of English Porcelain
---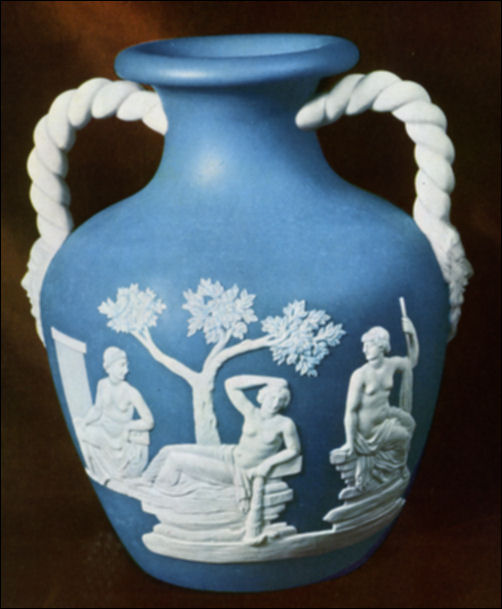 A copy of Wedgwood's Portland Vase
- impressed mark "NEALE & Co" -
about 1778-88