Globe Pottery, Cobridge, Stoke-on-Trent
Situated on the corner of Cobridge Road and Waterloo Road

The Globe Pottery Works was established in 1834

Today (2014) the site of the Globe Pottery is a Mercedes-Benz car showroom
From
To
Occupier
Comments
1834
1862
Harding & Cockson
The Globe pottery was established in 1834 by Harding & Cockson who produced china goods. From the death of Harding in 1856, the business was conducted until 1861 by his sons in partnership with Mr Cockson.
1862
1865
Cockson
From these dates the works were managed by Charles Cockson alone. At this time china ware alone was produced.
1866
1875
Cockson & Chetwynd
In 1866 Elijah and David Chetwynd became partners and the firm continued as Cockson & Chetwynd. In 1873 Charles Cockson died.
His son Charles Edward Cockson continued at the business
Another son Charles Thomas Cockson was a decorator at the business until 1870 when he emigrated to America.

"In 1866 the making of china was discontinued and the manufacture of white graniteware for the American trade was substituted. The mark is the royal arms and the name IMPERIAL IRONSTONE CHINA, COCKSON & CHETWYND or COCKSON & SEDDON or BIRKS BROTHERS & SEDDON, who continued to 1888."
Jewitt's Ceramic Art of Great Britain 1800-1900

1876
1877
Cockson & Seddon
Short lived partnership between Charles Edward Cockson and Joshua Seddon.
1877
1888
Birks Brothers & Seddon
Seddon joined as partners with the Birks brothers and they continued the manufacture of white and also decorated graniteware for the American market.
1888
1892
Hughes & Robinson
The partners were John Hughes, Joseph Robinson and Charles Billington the younger.
1893 ?
1913 ?
Globe Sanitary Pottery
The operation dates are unknown and it is assumed that this company continued from the closure of Hughes and Robinson in 1892 and that the Globe pottery Company took over from them in 1914.
1914
1934+ ??
Globe Pottery Co Ltd
In 1933 the Globe Pottery Company purchased the larger Ridgway (Bedford Works) Ltd.
From 1934 the Globe Pottery Company operated from the Bedford Works of Ridgways (who also continued to operate under its own name)
1940
1952+ ??
North Staffordshire Pottery Co Ltd
In 1940 the North Staffordshire Pottery Co. Ltd was founded at the Globe pottery works by Thomas Lawley and James Hasall.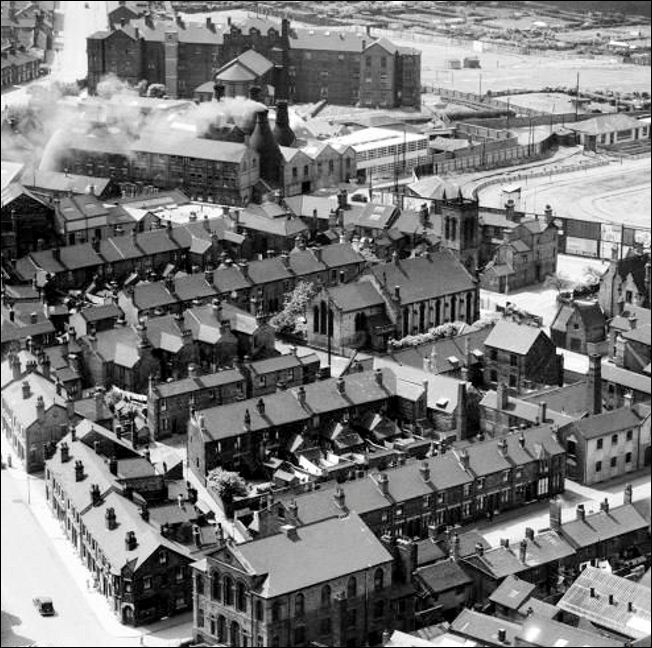 At the top left of the picture can be seen the smoking bottle kilns of the Globe Pottery Works

---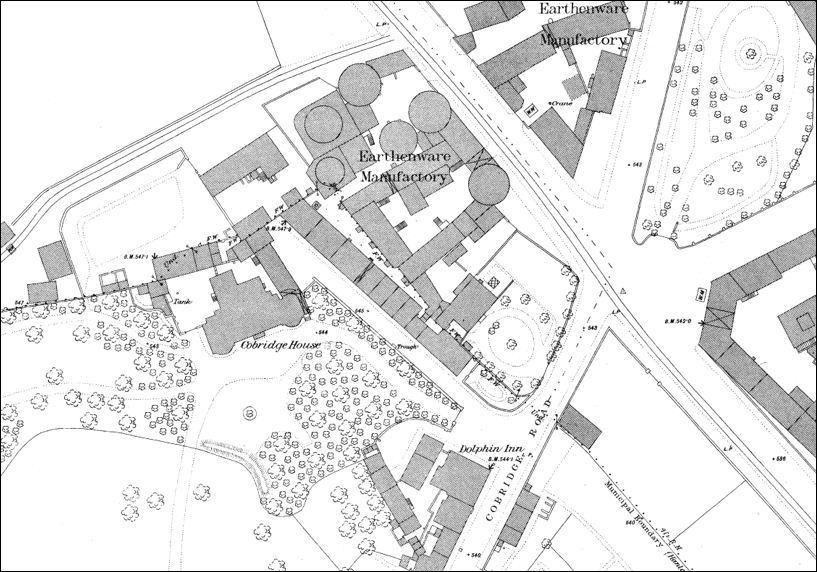 Globe Pottery Works - 1878 map
---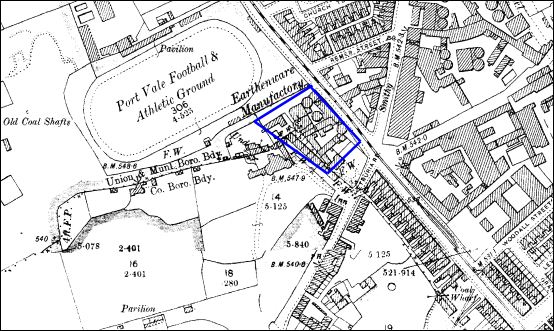 Globe Pottery Works - 1900 map
The Athletic ground next to the pottery works was home to
Port Vale Football Club from 1887 to 1913.
It subsequently became a greyhound racing track and leter reverted to
an athletics stadium run by the City Council - it was demolished in the 1980's
---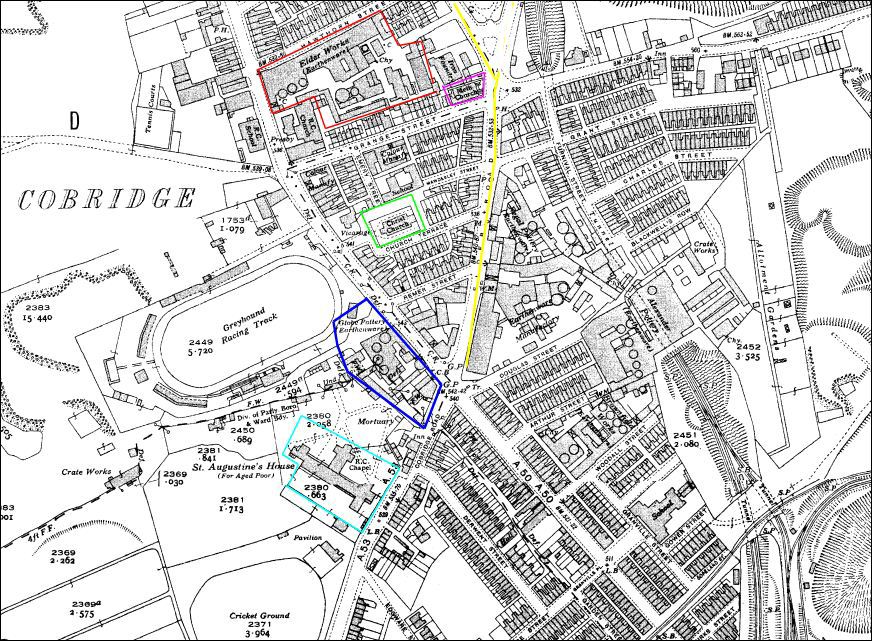 Cobridge - 1937 map
Blue = Globe Pottery Works
Light blue - St. Augustine's House, Little Sisters of the Poor
Green - Christ Church - CoE
Red - Elder Pottery Works
Purple - Providence Chapel - Methodist
Yellow Line - Elder Road
---

Google map of the same area of Cobridge- 2014
The site of the Globe Pottery is now a Mercedes-Benz car showroom
---

In the foreground is the Globe Pottery Works in 1947
immediately behind is St. Augustine's House, Little Sisters of the Poor
the road to the left is Cobridge Road
in the background is Shelton Colliery (Race Course Pit No 5) belonging to Shelton Iron & Steel
---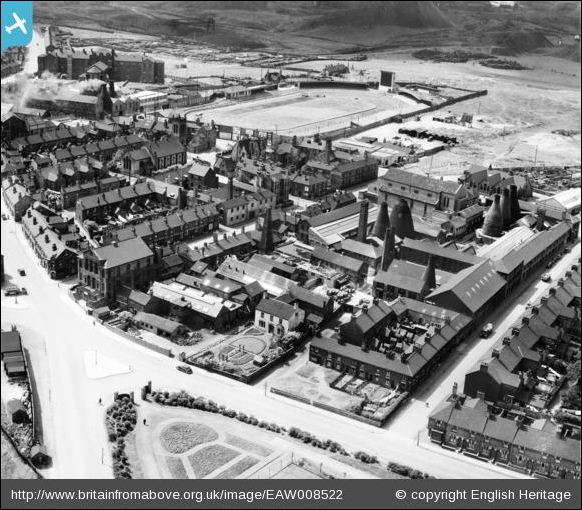 The Globe and Elder Potter Works - 1947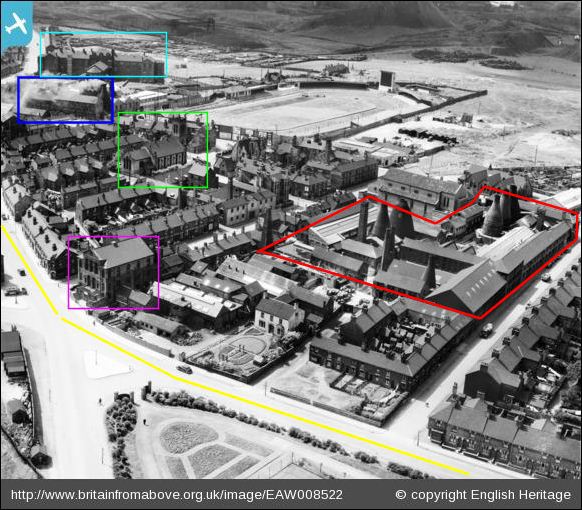 Blue = Globe Pottery Works
Light blue - St. Augustine's House, Little Sisters of the Poor
Green - Christ Church - CoE
Red - Elder Pottery Works
Purple - Providence Chapel - Methodist
Yellow Line - Elder Road
---
questions/comments/contributions? email: Steve Birks
---