| | |
| --- | --- |
| Wedgwood & Co (Ltd) | |
Location and period of operation:
| | | | |
| --- | --- | --- | --- |
| Wedgwood & Co (Ltd) | Tunstall | 1860 | 1965* |
Wedgwood & Co, Unicorn Pottery and Pinnox Works, Tunstall, Stoke-on-Trent, operated by Enoch Wedgwood (a distant relation of Josiah Wedgwood I) and his younger brother Jabez. The firm became a limited company in 1900 and effective control passed out of the hands of the Wedgwood family.
Previously Podmore, Walker and Co

* Renamed Enoch Wedgwood (Tunstall) Ltd 1965.

Taken over by Wedgwood Group and renamed Unicorn Pottery 1980.
[ see "Confused by Wedgwood?" ]
---

Wedgwood & Co
Pinnox & Unicorn Works, Tunstall
The Pottery Gazette, American and Canadian Edition, January 1st 1880
---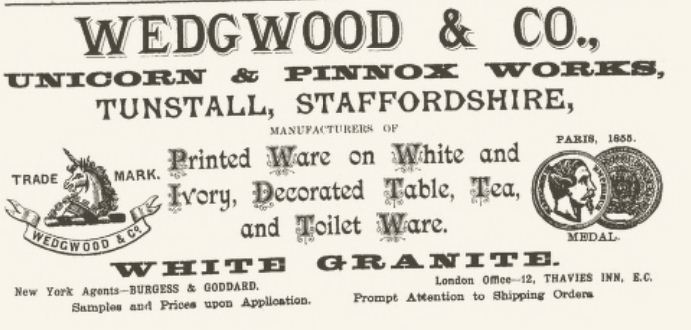 Wedgwood & Co
Pinnox & Unicorn Works, Tunstall
Printed ware on white and Ivory, Decorated table, tea and toilet ware
WHITE GRANITE
The Pottery Gazette, January 1885
---
"These were large and important manufactories of general earthenware, situated in Amicable Street and Great Woodland Street, ..... they were succeeded by Wedgwood & Co, the head of the firm being Enoch Wedgwood. The works were very extensive and gave employment to six or seven hundred persons, occupied an area of about an acre of ground and were among the most substantially built and best arranged in the pottery district.
The goods produced were the higher classes of earthenware, in which dinner, tea, breakfast, desert, toilet and other services, and all the usual miscellaneous articles were made to a very considerable extent, for the home, Colonial, Continental and American markets.
The quality of the "Imperial Ironstone China" - the staple production of the firm - was of remarkable excellence, both in body and glaze...... They also supplied large quantities of Ironstone china, specially made for the use of ships.
The Unicorn Works were entirely devoted to the production of plain white graniteware for the American trade.

Messrs. Wedgwood & Co. became a limited company in 1900 and continued to use this old title until 1965, when the new style Enoch Wedgwood (Tunstall) Ltd. was adopted to avoid the confusion which often arose between the old title (and marks) and that of Josiah Wedgwood & Sons Ltd."

Jewitt's - Ceramic Art of Great Britain 1800-1900
Initials used on ware for identification:
WEDGWOOD & CO
(impressed mark, 1860+)
WEDGWOOD & CO. LTD.
(impressed mark, 1900+)
TRADE NAMES:
IMPERIAL PORCELAIN
QUEEN'S IVORY
WACOLWARE
WACOL IMPERIAL
EVERWARE
ROYAL TUNSTALL
VITRILAIN
SEMI ROYAL PORCELAIN
---
click on the links below for more on this potter
---

This mark, with the initials, AMS
occurring in the bow knot type outline
was found on a dinner service made by Wedgwood & Co
of Tunstall - the service bore the registration mark
for June 1880. The initials probably relate to the retailer.
From "Godden's Encyclopedia of pottery marks"
Note: the above mark also found on these cups: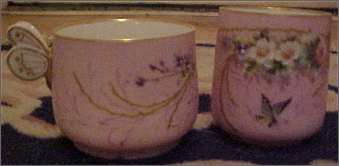 ---
Questions / comments / contributions?
email: Steve Birks